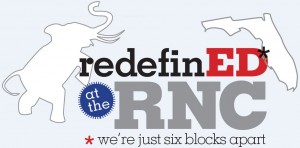 Mitt Romney hasn't talked much, if at all, about teacher pay on the campaign trail. But son Josh Romney raised the issue at an RNC event today, saying teacher pay has to rise in order to lure more top college graduates into the profession. Minutes later, George P. Bush, son of former Florida Gov. Jeb Bush, hit on the same subject.
"I think you got to pay 'em more. I think teachers need better salaries," Josh Romney said in response to a question from NBC chief White House correspondent Chuck Todd. "I think you got to make it attractive for people who are coming out of college, the best and brightest coming out of colleges, who at this point say well there's no way I can go into education, I can't make enough money to feed my family or make a living. So I'm not going to go into education, even though I'd like to."
When Todd followed up with a point about budget cuts, Josh Romney said this: "I think this is one of those areas where we can't afford to cut back. Teachers need better salaries. And there's obviously a lot of politics involved in there. There's different ways to do it. But as long as it's going to teachers … I think that's the important thing."
Josh Romney's comments came at an event for young voters hosted by National Journal, The Atlantic and Microsoft. During a different segment of the program with a different moderator, George P. Bush also raised the issue.
"Teacher salaries have barely kept pace with inflation (while) administrative salaries have increased and exceeded that of the private sector," said Bush, who lives in Fort Worth. "In Texas, what we're witnessing is a true struggle between teachers unions and administrators over this issue. How is it that no one's holding administrators accountable and yet we expect teachers to not only raise our kids but deliver superior results in the classroom?"
It's unclear whether Josh Romney was referring to salary increases across the board or for pay hikes based on performance. His father's education plan refers generally to rewarding teachers "who contribute most to student learning."
George P. Bush suggested better teacher pay could come with changing the way current funding is distributed. "We're not here to offer a new program, a new federal bureau of spending," he said. "That runs contrary to what we as conservatives hold dear. But I think if there's a reallocation of resources, and a refocus of time and energy and talents of people that are actually running our education system, I think we'd go a long way."
In yet another segment of the same event, with a different panel, former Washington D.C. schools chancellor Michelle Rhee affirmed George P. Bush's points with specifics.
The D.C. school system was one of the poorest performing in the nation despite per-pupil spending levels that were among the highest. "We were a proof point for why more money doesn't necessarily result in better outcomes," Rhee said. "Before we throw more money into the system, we actually have to look where the current dollars are going."
Among other changes, she said she cut central office staff from 1,000 to 500, and redirected much of that money to higher salaries for top teachers.