Zach Bonner first made headlines in Tampa, Fla. in 2004, a plucky 7-year-old pulling a wagon through his neighborhood to collect donations for victims of Hurricane Charley.
Today, he and his mom travel the country in an RV, raising money for social causes. His nonprofit foundation, appropriately named Little Red Wagon, is widely recognized for its work with homeless youth.
Now, there's even a movie about him playing in theaters. Not bad for a 14-year-old, but Zach, like other teenagers, still has to go to school.
Lucky for him, he can go whenever he wants.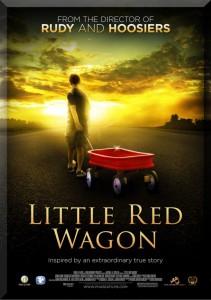 Zach is enrolled in Florida Virtual School, the largest, state-funded public online education program in the nation. It offers students free courses taught by certified teachers. And, for students like Zach, who has become famous for his awareness-raising, cross-country walks, it offers flexibility.
 "I have great teachers who understand what I'm doing,'' said Zach, a freshman this year. "They know I travel around the country to help the homeless.''
We caught up with Zach recently in Phoenix, where the film "Little Red Wagon" was premiering, and talked about how this nontraditional school setting enabled him to pursue his passion for philanthropy.
Florida Virtual, one of the state's many school choice options, gave him the freedom to set his own schedule and take classes from home – or from any place that had a computer connection. Two years ago, he received school credits while he and his family spent six months on the road during a 2,478-mile trek that ended at the Santa Monica Pier in California.
Twelve at the time, Zach said he started the hike during winter break in December so he wouldn't miss too much school. There were a few late nights, when Zach got back to the RV and had to fire up his computer to do homework. But because he could take courses at his own pace, Zach said he could easily take time off when he needed and make up work later.
Zach has participated in virtual school since kindergarten, when his mother enrolled him in the national K12 online program, he said.
"She really wanted me to go to private school, but she couldn't afford it,'' Zach said.
Eventually, she grew to like the program as much as her son, he said.
He transferred to Florida Virtual School last year because he liked the more advanced math offerings, he said. Along with basic U.S. history and English, the numbers whiz is taking honors level algebra II and science this year.
While his virtual studies have certainly made it easier to chase his dreams, Zach said he would have found a way to help others even if he attended a traditional school.
"I think this is what, maybe, I'm supposed to be doing,'' he said.
Zach became devoted to the plight of homeless youth after Charley and three other hurricanes pummeled Florida in 2004. Seven at the time, he recalled seeing children whose families' houses were destroyed.
"I was a kid,'' he said. "I still am a kid. If I was a homeless kid, I would want someone to help me.''
Three years later, he walked from south Hillsborough County to Tallahassee to bring attention to the growing number of homeless children and teens in the state.
Zach went on to hike to Atlanta and, later, Washington, D.C. He also traveled to Louisiana in the aftermath of Hurricane Katrina to hand out Christmas gifts, and, later, to Mexico, where he delivered school supplies.
Hollywood was moved. "Little Red Wagon'' is directed by David Anspaugh of "Hoosiers'' and "Rudy'' fame. The film follows Zach, played by actor Chandler Canterbury, who starred in "The Curious Case of Benjamin Button,'' from his first effort to the start of his journey to Tallahassee. It opens in Tampa on Friday.
In the meantime, Zach isn't slowing down.
In Phoenix last week, he was visiting the Tumbleweed Center for Youth Development, a drop-in center for homeless teens and young adults. "It's a place where they can grab something to eat, watch TV, take a shower,'' Zach explained.
He hopes to replicate it in Tampa through a partnership with the Lazydays Employee Foundation. The group is inspired by the company's boss, well-known Tampa Bay philanthropist Don Wallace.
Zach hopes the film motivates other young people to get involved in community activism no matter their age. For him, there's just no other way to live.
Homework can wait.