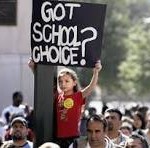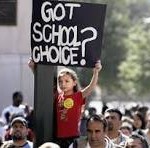 School choice is growing. DOE officials tell state lawmakers 40 percent of Florida students now attend a school other than their zoned school, reports WFSU.
School choice adds complications. Planning and zoning is a lot tougher with magnets and charters in the mix, editorializes the Palm Beach Post.
Dozen new charters coming to Duval. Florida Times Union.
Digital learning. Lee County School Board members worry about funding for state-mandated requirements for electronic learning materials, reports the Naples Daily News.
Tony Bennett. He's one of three finalists for the ed commish job, along with Charles Hokanson Jr. and Randy Dunn. Coverage from redefinED, Gradebook, WFSU, School Zone.
More budget questions in Manatee. The interim superintendent says he has found another $7 million in unbudgeted items, reports the Bradenton Herald.
Covering the coverage. Gradebook and StateImpact Florida note EdFly Blog's rebuttal to Reuters' story on Florida's academic progress.
Teacher evals. Alachua teachers are upset with the new system, reports the Gainesville Sun.