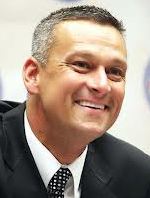 Tony Bennett. The Orlando Sentinel hopes the new commissioner, who begins work today, "treads with discretion." The Associated Press recalls his tenure in Indiana and ties to Jeb Bush.
Expand school choice now! Sort of. The Tampa Bay Times means options under district control: "The broader answer to improving public education in Pinellas is not a massive expansion of fundamental schools. It's raising the quality of all schools. But increasing the seats for fundamental schools and popular magnet programs to more closely match demand is a discussion district leaders should begin. Otherwise, they risk losing more families to charter schools and private schools — and further undermining broad support for public education."
Slow down on charter schools. The Palm Beach Post says in one editorial that the Legislature should prioritize traditional public schools over charters. It says in another that the Palm Beach County district's decision to transfer a troubled principal into administration will give lawmakers an excuse to continue favoring charters.
Checking out choice. In Alachua County, 600 middle school students turn out to see career academy options, reports the Gainesville Sun. In Duval, magnet students spread the word about their programs to prospective students, reports the Florida Times Union. In Miami-Dade, tens of thousands of parents are expected to apply for hundreds of magnet programs, reports the Miami-Herald. In Manatee, the Rock Your Robot Fair lets parents know about STEM options in public and private schools, reports the Bradenton Herald. (In Collier County, businesses urge students to explore STEM, reports the Naples Daily News.) The Tampa Bay Times annual school search section for Pinellas includes information about public and private options, including tax credit scholarships.
Amendment 8. The ACLU saw the proposed amendment, which despite perception had little to do with private school vouchers, as part of a "wide-ranging assault" on Floridians' rights last year by Gov. Rick Scott and the Republican-led Legislature, reports the Florida Current.
"Sagging schools." Tampa Bay Times business columnist Robert Trigaux: "Beneath the top tier of students, our schools at all levels are struggling to educate our kids. Businesses need to help more. And the state needs to spend less time bragging about the educational system and admit it needs assistance."
School security. Arming teachers in the wake of Newtown? Not a good idea, Senate President Don Gaetz tells the Orlando Sentinel. The Lake County School Board is slated to discuss the idea today, the Sentinel reports. Putting armed guards in school is "repulsive" but "probably necessary," writes Tampa Tribune columnist Steve Otto. Elementary school principals in Marion County like the idea, reports the Ocala Star Banner. Charter schools in Cape Coral want a school resource officer, reports WINK News. The Legislature should spend to keep kids safe, editorializes the Daytona Beach News Journal. Don't overreact, writes the Panama City News-Herald. The Advancement Project, a national civil rights group, agrees, reports the Sentinel. More from the Fort Myers News Press and the Northwest Florida Daily News.
Education spending. It's not just the amount that matters, interim Education Commissioner Pam Stewart says in response to a low grade on spending from Education Week, notes SchoolZone. A Tampa Bay Times analysis, prompted by the deaths of two special education students in Hillsborough, concludes pay for ESE aides in that district is lower than comparable districts. Supporters of the Pembroke Pines charter school system are rallying to get more money from the Legislature, reports the South Florida Sun Sentinel. To save $400,000, the Lake school district is ending busing for autistic students to travel to special charter schools in Orlando, reports the Sentinel. Brevard parents rally against school closures tied to budget cuts, reports Florida Today. Volusia officials want a change in the state's school funding formula, reports the Daytona Beach News Journal. Finally, editorializes the Bradenton Herald, a forensic audit of how the Manatee school district failed to account for $11 million in spending is being released today.
Common Core. Florida offers teachers help through a Race to the Top-funded website. StateImpact Florida.
Remediation. The numbers are too high for recent high school students headed to community colleges. Tampa Tribune.