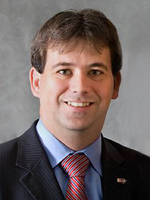 Florida state Sen. John Legg has a slogan ready for a bill he plans to file next week: "It's not your daddy's vo-tech.''
The bill will focus on "high-end, high-skilled industry certifications at the high school level,'' with one plank calling for some certifications to fulfill certain high school graduation requirements, said Legg, R-New Port Richey, who chairs the Senate Education Committee.
The certifications won't replace any requirements, but serve as substitutions, he said. The idea is to put students on the fast-track for high-tech jobs that help grow the economy.
"Career education has changed since 1982,'' Legg said. "It's evolved. We're trying to get the jobs back that we had in 2003, but we have failed. They're not coming back, so we've got to train for jobs in 2023.''
The bill, which is still being drafted, is part of a "very large package concerning career and technical education that will become a high priority for the senate,'' he said.
It complements another bill Legg filed last month that would create "STEM zones" in counties with state universities that have high levels of research activity. Legg is looking primarily at the University of South Florida in Tampa.
Senate Bill 192 calls for partnerships between the Department of Education and Workforce Florida to build a gateway to science, technology, and engineering or mathematics careers.
The zones would create education hubs, not only looking to higher education facilities to train adults, but inviting traditional K-12 schools – as well as charters and private schools – to develop innovative curriculum for students and a pipeline of highly-skilled workers. In return, the schools would receive incentives, such as tax credits, expedited permits or grants, Legg said.
Why include nontraditional schools?
"Most public schools are not very innovative,'' Legg said, noting districts like Hillsborough – with its wide variety of choice options – are rare exceptions. Private and charter schools, with their unique ties to communities and businesses, help widen the opportunities, he said.
SB 192 has not been presented in committee yet and could be merged with the other bill, Legg said.
Both focus on a theme outlined in President Obama's State of The Union address this week, in which he called for redesigning high schools to meet real world expectations.
"Let's also make sure that a high school diploma puts our kids on a path to a good job,'' Obama said. Students should be ready for a job when they graduate, like those in Germany, he said, or be well-prepared for college and well on their way toward a higher degree.