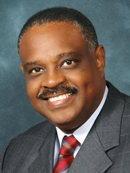 Al Lawson, an iconic Democratic lawmaker who served in the Florida Legislature for nearly three decades, has joined a nonprofit board that oversees state-supported scholarships for low-income schoolchildren.
Lawson was selected last week to serve on the corporate board of Step Up For Students, which is a state-approved "scholarship funding organization" that provides Tax Credit Scholarships this year to 51,000 students whose household income meets the threshold for free or reduced-price lunch. (Step Up For Students also oversees this blog.) The program is fueled by $229 million in corporate contributions that receive a dollar-for-dollar tax credit from the state.
"Throughout my legislative career, I was always concerned about students, especially minority students, who had no option when the regular school wasn't working for them," Lawson said. "The most important thing is to give these kids an opportunity to succeed, and this scholarship is one of those opportunities."
Lawson was praised by Step Up board chairman John Kirtley, a Tampa businessman who helped persuade lawmakers to adopt the law in 2001. "Senator Lawson has been a smart, compassionate leader in Florida for years," Kirtley said. "We're thrilled Step Up and our families will benefit from his judgment and experience."
Two-thirds of the students on the scholarship are black or Hispanic, the majority live in homes with only one parent, and their average household income is only 6 percent above poverty. State research shows they are the lowest academic performers in the public schools they left behind and, on their latest standardized test scores, they achieved the same gains in reading and math as students of all incomes nationally.
Lawson, who initially voted against the creation of the scholarship in 2001, told a newspaper reporter in 2007 that he could no longer oppose a learning option aimed at economically disadvantaged students with desperate needs: "When you have a lot of poor kids in your area that need help, and you have people saying, 'We're willing to work with these kids,' … it's hard to say no." By 2010, he was co-sponsor of a bill that expanded the program and made the closing argument on the Senate floor.
Lawson represents a growing chorus of Democrats, and specifically black Democrats, who support the scholarship. In that 2010 session, in fact, he was joined by nearly half the Democratic Caucus and a majority of the Black Caucus. He was later approached in the halls of a Tallahassee hospital by a woman who recognized him and thanked him for his vote in support; she said the scholarship had put her son on a path to college.
"I think it is great that you can get corporate support for students with these kinds of needs," Lawson said. "People who are affluent have always had these options but people who were poor did not. Now I think everyone can have the option."
Lawson left the Legislature in 2010 because of term limits and is president of Lawson and Associates, a public affairs firm in Tallahassee. He was a basketball star at Florida Agricultural and Mechanical University and had a brief professional career before later earning his master of public administration from Florida State University and opening an insurance agency.
The Step Up corporate board includes eight members, all of whom serve without compensation.