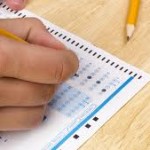 At least 13 private schools that accept the Florida Tax Credit Scholarship have applied to administer the FCAT and end-of-course exams next year.
The schools, mostly faith-based and in South and Central Florida, have submitted their applications to the Florida Department of Education, which will decide in August whether to approve them.
DOE spokeswoman Tiffany Cowie said there may be more schools that made the March 1 deadline, but the department won't know the final number until the mail is cleared towards the end of the week.
A state law passed in 2012 allows private schools with at least one student receiving the tax credit scholarship to offer the Florida Comprehensive Assessment Test and/or end of course exams, which are required in public schools.
Of the 13 schools that applied, eight signed up only for EOCs.
"The FCAT is a dinosaur,'' said Principal Sandra Basinger of St. Mary's Catholic School in Brevard County, where her seventh- and eighth-graders hope to take EOCs in Algebra I and Geometry next spring.
Like a lot of Catholic schools, St. Mary's administers the Iowa Test of Basic Skills to its students in grades 2-8. The test is as good as if not better than the FCAT, Basinger said. And with Florida phasing out the state assessment for other tests in line with the new Common Core standards, "really, I just don't think it would be worth it,'' she said.
James Herzog, associate director of education for the Florida Catholic Conference in Tallahassee, said in an email to redefinED that he has heard the same sentiment from other Catholic schools.
"From a practical standpoint, it would … not make any sense for Catholic schools (or most other nonpublic schools) to offer the FCAT for a year or two only and then have to switch again to something else … ,'' he said.
Herzog originally anticipated 30 to 40 Catholic schools would apply to give the FCAT.
"Obviously, I was way off,'' he said.
However, many Catholic schools are still very interested in administering EOC exams, he said. And here's why: With only 37 Catholic high schools in the state, many of the system's middle-schoolers end up transferring to public high schools, where they face a huge glitch.
If they took high-school level courses in middle school, such as Algebra I and Geometry, they can't receive credit for those classes until they take the EOCs in those subjects. But the EOCs aren't available at private schools.
So, the students end up taking the exams later – sometimes as much as two years later – than their public school peers, Herzog said.
St. Mary's seventh- and eighth-graders usually end up taking their EOCs during the summer before they start their public high school, Basinger said. But they have to register with the school and keep track of deadlines, which can be a headache for families.
"My parents would ask me, 'Why can't we offer it here?' '' she said. "One even offered to pay for it.''
The FCAT/EOC application allows schools to choose which state assessments they want. Many will administer a variety, from Grade 3 reading and math to U.S. History and Biology I.
In their applications, schools had to show how they would accommodate the online tests and keep them secure. The state and districts will provide training and other assistance, as they would with any new school participating in the assessments.
Here are the schools so far that have submitted applications, and which tests they want to administer:
Villa Preparatory Academy, Homestead – FCAT
Faith Christian Academy, Orlando – EOC
Cornerstone Christian School, Inc., Jacksonville – FCAT
Faith Lutheran School, Eustice – FCAT/EOC
Calvary Chapel Academy, Melbourne – EOC
Unity For Kids School, Lake Worth – FCAT/EOC
St. Luke's Lutheran School, Oviedo – EOC
Calvary Chapel School, Sarasota – EOC
St. Mary's Catholic School, Rockledge – EOC
All Angels Academy, Miami Springs – EOC
Mustard Seed Kidz, Melbourne – FCAT
Skycrest Christian School, Pinellas – EOC
Eagle's View Academy, Jacksonville – EOC