While most young men who play high school football dream about making it  to the pros, Kevin Kelly knows that it's highly unlikely he'll make it to the NFL.
"I probably won't, and I'm OK with that," he said recently. "As long as I get to have fun now, I'm OK with it."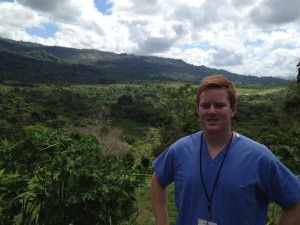 But the starting defensive end and right guard for the Father Lopez Catholic High School Green Waves has a different – perhaps more realistic – dream: Playing college football.
"I've really progressed, and I hope to play college ball," he said.
Kevin, a junior, attends Father Lopez in Daytona Beach with the help of a Step Up school choice scholarship. There, he has been able to refine his athletic and academic talents. He credits the support of his team, watchful eye of his coaches, along with the reduced team size at his school, for granting him the opportunity on the field despite the highly competitive nature of football in Daytona Beach.
"At Father Lopez, I was able to start in my sophomore year," Kevin said. "Being on a smaller team, they were able to help me more, coach me up more. The coaching was great, and my teammates were unbelievable."
While he's always enjoyed playing the game, Kevin didn't always have such a passion for football. Now, it's as if he never wants the game to end.
"When I made my first touchdown, I really didn't want to stop," he said.
Before Kevin learned he had to fight hard to win in football, he was taught that you have to work hard to succeed academically. Actually, he said, the lesson he learned at Sacred Heart School in New Smyrna Beach, where he attended kindergarten through eighth grade, pertains to life in general. His former math teacher, Aven Bacon, used a tough-love approach.
"She really pushed me. If I started to get lazy, she would threaten to put me in the lower class," Kevin recalled. "That really taught me you have to work hard to get what you want."
Bacon remembers Kevin's seventh and eighth grade years well.
"I had to push him sometimes," she said with honest laughter. "I never gave up on him. He was very, very capable. He was a nice young man, but sometimes he would walk on the edge, and sometimes he fell off a bit."
She's proud to know he's on track now, she said, and the teacher and former student now see each other often when Kevin visits Sacred Heart as an ambassador to future Father Lopez students. And they always share a hug.
"My husband always tells me that the kids coming back are my report card," Bacon said.
That kind of teacher dedication and a warm, nurturing atmosphere is why Kevin's mother, Ann Spilman, wanted her sons to attend Father Lopez .
"I went to Catholic schools,and I wanted a small community, a Christian community, obviously, because that was my background," she said.
As a single mother, it was important for Ann to send her sons to a school that would become an extension to their family. Her older son, Thomas, also went to Sacred Heart without the assistance of Step Up because, at the time, the program had different requirements under which he didn't qualify. His grandparents helped cover the cost of his schooling.
She called Step Up a blessing to allow Kevin the kind of education she wanted for him.
"I wanted him to be challenged," Ann said about Kevin. "And he is."
Not only that, she said, he goes above and beyond. The school requires 100 hours of community service hours for graduation, and as a junior, Kevin already has 500, including two medical mission trips to Nicaragua with Corner of Love, an international mission organization. Kevin's cumulative GPA is about a 3.6, but last grading period, he earned at 4.2.
"I've really tried to buckle down," he said. "I've had to show them (colleges) that I was willing to work hard."
Father Lopez Principal Lee Sayago has noticed Kevin's progression.
"He's one of our brightest students," he said. "He's a hard worker off and on the field."
For Kevin, that's the perfect mix of success, and he's prepared even if football doesn't work out at college. He plans on majoring in criminal justice and would like to one day work for the Department of Homeland Security. He's hoping to help out with the burden of college tuition by perhaps being awarded a football scholarship to a Division II school, which is where recruiters have told him he would most likely have his best shot.
"That would be a huge help to my family," he said.
FatherLopez Catholic High School, Daytona Beach
Father Lopez Catholic High School boasts more than 50 years of providing "a rigorous college-preparatory program of studies in a faith-filled environment." Founded in 1959, the school was built by the Diocese of St. Augustine at 960 Madison Ave., in Daytona Beach and replaced several area parish schools. The school was named after Father Francisco Lopez de Mendoza Grajales, who was the chaplain for the Don Pedro Menendez de Aviles's Spanish expedition to Florida. About a decade into its existence, the school was transferred to the administration of the Diocese of Orlando by which it continues to be run. The diocese purchased 80 acres of land on LPGA Boulevard in 2004 and built a state-of-the-art facility which opened its doors in 2008. The old school property was sold to finance the new campus.The school currently has 403 students, 50 of whom are Step Up scholars. In the past couple of years, the school has seen its largest enrollment increases since 1985. Of the 2012 graduating class, 100 percent of the 67 students went on to college with 63 percent attending a four-year university or college.  During the 2011-12 school year, Father Lopez added an International Student Program, recruiting students from across the seas from China and parts of Europe. The school is accredited by AdvancED,formerly known as the Southern Association of Schools and Colleges, and uses the PSAT test to measure students' academic success. Tuition for the 2013-14 school year has been set at $10,100 for non-parishioners, with a $500 annual discount for parish members.