Editor's note: Most discussions of school choice today are focused on newer options – charters, vouchers, tax credit scholarships – that are intended to empower parents without the ability or means to access the right school. But Catherine Robinson, a Tampa mother and assistant director of outreach for the Step Up For Students scholarship program, writes that old-fashioned methods can work as well.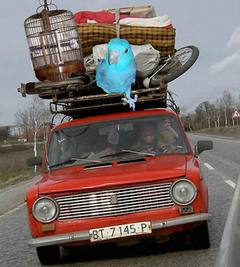 I've been through this before. Many times.
Searching for the right school for my children has never been easy, but since we all know the importance of education in determining a good future, every few years, I skip some happy hours and dedicate myself to finding the best choice for my twin sons.
Ten years ago, Jacob and Zachary were ready for preschool and over the course of several months, I researched local providers. I consulted trusted friends, official "studies" and interviewed administrators in ways that put Senate confirmation hearings to shame.
I finally decided on a school 45 minutes away from our home. Quite a drive, but my husband deferred to me in this area, as I was a teacher at the time, the way I deferred to him, as the father, when deciding which coaches to ignore at T-ball practice.
Our children did well in preschool and precedent was established.
A few short years later, in preparation for their elementary years, I conducted similar research. I looked at school grades, asked around, and visited facilities at drop off and pick up times before choosing a wonderful public school, this time only a half-hour drive from our home.
The Big Recession threw us some unexpected curve balls and we relocated to Colorado Springs. Where it snows.  In May. Within a year, we high-tailed it back to Tampa. This was 2008, the height of the economic crisis, and so we rented a home rather than buy.
I didn't realize then what a blessing that would be.
We put our children in a private Jewish school, where they would learn in a safe environment and enjoy the high expectations of a dedicated teaching staff. We rented a house right around the corner. This worked for several years until a frightening reality loomed on the horizon: Middle school.
Children change as they get older, and neighborhood schools once thought of as "fine" were now nowhere near appropriate for my particular offspring. I looked for a school that started early in the morning, required uniforms, offered a rigorous academic program, and attracted a diverse student body. We chose an IB magnet program and the Robinsons, once again, called moving vans and relocated to the area feeding this chosen middle school.
Thankfully, Jacob and Zachary won the lottery to attend the magnet program and immediately began to thrive. If they hadn't, my husband and I certainly would have moved into another area until we found the right fit. This is when I began to learn more about school choice and dedicate myself to the idea that all families should have options. The current environment is inherently unfair for kids who don't win lotteries and parents who cannot afford to move.
Now we are at the end of seventh grade. Soon, Jake and Zach will begin the process of applying to Hillsborough County's IB programs for high school. And I have a whole new set of questions.
What if IB's rigorous academic program is too challenging for our growing teenagers? What if an AP/Honors track, at a traditional high school, is a better fit? And is there any high school where the students are not allowed to date – at all?
This means I need to find the right neighborhood school, as well as a good IB program, to cover all our bases. This also means we're going to have to move again. Unfortunately I'm not finding any suitable answers when researching high school dating habits.
I'm adjusting my concerns and expectations for two boys who continue to get older and change in subtle yet important ways. Where I once was concerned with the condition of playground equipment and the length of naptime, now I'm wondering about college credit and confederate flags on trucks in the student parking lot.
Some other concerns:
–        School scores, combined with above-average FCAT results and graduation rates
–        Extracurricular clubs that indicate diversity, tolerance, and an open-minded student population
–        Experienced and new educators, with a blend of teaching styles
In other words, this final search is going to mean fewer happy hours for quite some time.
(Image from blog.pallsperra.com)