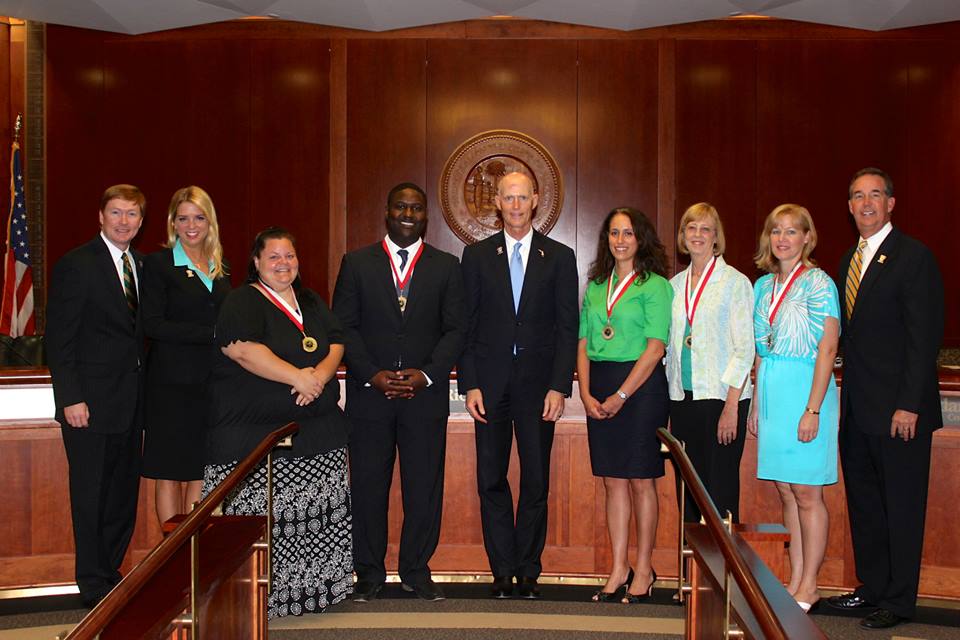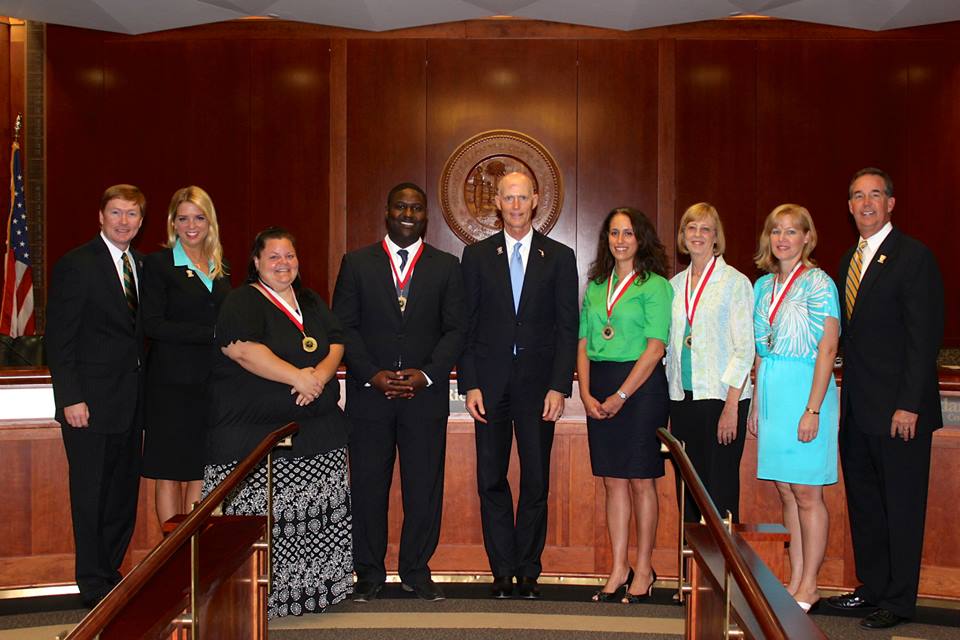 Florida's Shine Awards for public school teachers are now casting a spotlight on private school teachers as well.
The breakthrough came last week during a Florida Cabinet meeting, as Gov. Rick Scott honored four private school educators for their contributions to learning. Shine Awards are presented by the governor to Floridians who have had a positive impact on children through education. The awards typically are given to public school teachers who've shown creativity and resourcefulness when encouraging students to do their best and learn. However, this most recent group of educators are private school teachers.
"Education is critical to providing opportunities for Florida's future generations," Gov. Scott said. "That's why it's so important that we recognize the contributions of educators who are building a Florida that provides limitless opportunities for our children."
Including private schools in the celebration is one way to acknowledge that excellent teachers in a variety of settings deserve honor and praise. It is also another way to break down unnecessary barriers between types of schools as we rightfully place the emphasis on all those who teach our children.
In addition to being outstanding educators, the teachers recognized last week also have been instrumental in an empowerment project for low-income parents whose students receive Florida Tax Credit Scholarships to attend private schools. The project is centered around a "Learning Compact" between schools and parents that is intended to strengthen the relationship so they can focus together on the academic progress of the child.
The following teachers were recognized:
Lauri Curri, Sarasota County, Incarnation Catholic School – Curri is a Sarasota native and an alumnus of Incarnation Catholic School, where she teaches first grade. "Lauri's background in business and early childhood education made her a natural fit for this school," said principal Regina Housel. "She helps develop realistic expectations for both the staff and families, as they work to develop strong partnerships for the success of the students."
Sue Mattson, Sarasota County, Venice Christian School – Mattson has been teaching for 25 years and teaches first grade at Venice Christian School. Mattson also is vice principal of elementary programs and a teacher representative for the school board. She recognized a need for family involvement and helped organize Connect for Success: Parent Workshops, an ongoing partnership where parents are challenged and motivated to engage in their child's academic, social and spiritual growth.
Andrea Sherman, Pinellas County, Dunedin Academy – Sherman has taught preschool through third grade for the past seven years. She was instrumental in the development and implementation of a comprehensive plan that allows parents to work closely with school staff and be viewed as the primary educator.  Because of Sherman's efforts, Dunedin Academy proudly boasts the mantra that parent engagement is an "opportunity not an obligation." As a result of parent involvement, the school has seen a marked increase in achievement scores, student motivation and self-esteem.
Merili Wyatt, Hillsborough County, Tampa Adventist Academy – Wyatt began her teaching career 17 years ago, 13 of which have been spent at Tampa Adventist Academy. She recently was named assistant principal, but has been considered a leader in her school for years. She spearheads a successful parent-school partnership plan which provides bilingual progress reports to parents. Wyatt was the subject of a June redefinED story on Teachers & Choice.
Wyatt said she thoroughly enjoyed the awards event, held last Tuesday. "Really, I just feel very blessed and humbly honored to have been considered in that class of teachers," she said. "This isn't the most affirming field and it was nice to have a time where those sacrifices are recognized.  It was really a privilege."
Also recognized for their leadership efforts were Ettie Zaklos, founder and director of the Chabad Naples Hebrew School and Naples Preschool of the Arts; and Glen Gilzean, vice president of Step Up For Students, the nonprofit that administers the tax credit scholarship (and co-hosts this blog), and a former Pinellas County School Board member.