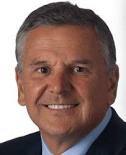 The wild debate about Common Core veered into unexpected territory Tuesday, with the board that governs education in the nation's fourth largest state having a lengthy debate about whether to actually use the term.
In response to mostly-Tea Party-driven objections, Florida Gov. Rick Scott directed the Florida Department of Education to take public input on the standards, both on its website and at three public forums. But the DOE doesn't refer to them as Common Core State Standards, instead describing them on the site as "Florida's currently adopted English language arts and mathematics standards."
That's technically true. The Florida Board of Education adopted the standards in 2010. But board member Kathleen Shanahan raised objections to the term "Florida standards," saying it could create confusion with the public and "disenfranchise" thousands of Florida teachers who are already teaching Common Core State Standards.
At one point, Shanahan asked the department's communications director if DOE was going to use the term Common Core State Standards in its communications efforts. When she indicated she wasn't satisfied with the answer – "Is that a yes or a no?" – Commissioner Pam Stewart offered that until the department is finished getting public input and making recommendations to the board, "I don't know that we know what we're going to call it."
Shanahan, who has close ties to former Gov. Jeb Bush, continued to object: "We have instructional people in classrooms teaching (CCSS) and we're all of a sudden going to walk it back and be sort of mushy about it until we get more input."
Stewart then explained that technically, teachers in grades K-2 were teaching Common Core this year, but teachers in other grades were still teaching a blend of Common Core and the previous state standards.
Board Chair Gary Chartrand weighed in next: It's okay to say Common Core State Standards.
"We're doing the right thing" by getting public input, he said. "But until such time, I believe Common Core State Standards is not a dirty word. It's something people understand. And it is a lightning rod. I understand. There's a lot of emotion around it. But let's not back away from it."