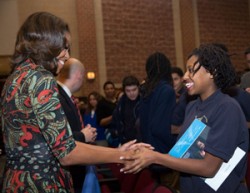 President Obama may need a dose of his wife's popularity at the moment, but don't discount the importance of her visit to some fortunate sophomores at Bell Multicultural High School in D.C. on Tuesday. This is a first lady from a tough part of Chicago who beat the odds to Princeton University, to Harvard Law School, and to corporate executive offices. And her high school choice, to which she spoke, is worth underscoring.
"Even though my parents didn't have a lot of money, they never went to college themselves, they had an unwavering belief in the power of education," Mrs. Obama told the students. "… So when it came time for me to go to high school, they encouraged me to enroll in one of the best schools in Chicago. … My school was way across the other side of the city from where I lived. So at 6 a.m. every morning, I had to get on a city bus and ride for an hour, sometimes more, just to get to school. And I was willing to do that because I was willing to do whatever it took for me to go to college."
The school was Whitney M. Young Magnet High School, opened in 1975 as Chicago's first public magnet school.  It was ranked this year by Newsweek as fifth-best high school in the Midwest. A fourth of the students are black, two-thirds are minority, and just under 4-in-10 are on free or reduced-price lunch. The academics speak to excellence: 82 percent of students take Advanced Placement classes with an 80 percent pass rate; the average ACT score last year was 27.1, with four students scoring a perfect 36; every single one of its 2012 graduates was accepted into a four-year college.
While much has been made about the private school choice the Obamas made for their daughters in D.C., Mrs. Obama's own choice for high school is at least as relevant. She wanted a different future for herself at a time when she says some of her own teachers were telling her that Princeton was an unrealistic dream. So she chose a public school outside her neighborhood that she saw as worth the hour bus ride each way. This was the late 1970s, don't forget, at a time when children in American public education had precious few options. But Michelle Obama found one, and it worked for her.
Forget the political backdrop here. Her message, particularly to students of color, is compelling.