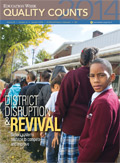 Another year, another report, another Top 10 academic ranking for Florida's oft-criticized public schools.
The Sunshine State ranks No. 7 in K-12 achievement this year, up from No. 12 last year, says Education Week in its latest annual "Quality Counts" report.
Released Thursday morning, the report for the first time since 2008 did not include overall grades or ranks for each state. (Florida ranked No. 11, No. 5, No. 8, No. 11 and No. 6 over those years.) It did, though, continue to offer grades and ranks for six separate categories, including the one that matters the most.
In K-12 achievement, Florida earned a C, up from a C- last year. Massachusetts and Maryland earned the highest grade, a B; New Jersey, a B-; and the others ahead of Florida, a C+. The nation as a whole earned a C-.
Florida has a far greater percentage of low-income students than the states ahead of it or immediately behind it (roughly 10 to 30 percentage points more). It also stands out because of how aggressively it has pursued school choice and top-down accountability.
Gov. Rick Scott credited teachers: "Today's news that Florida jumped to 7th nationwide in K-12 achievement is the result of great work by our teachers," he said in a written statement. Florida families depend on an education system that provides every student with a quality education, and that's why in our last budget we fought to provide our teachers with a pay raise and secured more than $1 billion in additional investments for K-12 education."
Education Week bases its achievement ratings on NAEP scores, AP results and graduation rates. It factors in performance, progress and achievement gaps over three sub-categories.
In "status" – which reflects overall performance – Florida came in at No. 22 with a D+. That's up from No. 30 and a D- last year. Only Massachusetts earned an A. Only four states earned B's.
In "change" – reflecting progress over time – Florida came in at No. 5 with a C+. That's up from No. 7 and a C last year. Only Washington D.C., Maryland, Massachusetts and New Jersey showed greater gains.
In "equity" – reflecting gaps between low-income and more affluent students – Florida came in at No. 4 with an A-. That's up from No. 5 and a B last year.
Florida showed particularly strong progress with grad rates and AP results. Its gains on those indicators ranked No. 2 and No. 3, respectively, over the decade-plus span analyzed by Ed Week. NAEP results were more mixed, with generally better numbers in reading than in math.
In school finance, Florida came in at No. 36 with a C-. It placed 43rd with another F in the spending sub-category. It finished No. 1 with an A- in spending equity.
The journalism accompanying the new Quality Counts report focuses on the growing pressure on school districts from a variety of angles, including the rapid growth of school choice. Several stories focus on the competition and financial complications that expanded choice brings. Check out the one on charter schools here; the one on virtual education here; the brief one on vouchers and tax credit scholarships here. The report profiles the challenges facing the Memphis school district, where charter schools are a growing part of the mix. It also offers data snapshots from a survey of district administrators, including what they think of virtual schools, charter schools and vouchers.
Other Florida coverage: Orlando Sentinel. Sunshine State News. Palm Beach Post. Fort Myers News Press, Gradebook.
Other National coverage: Columbus Dispatch.