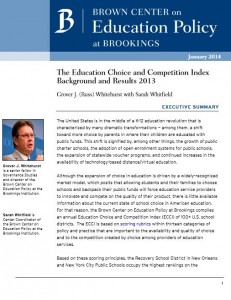 Four Florida school districts again rank in the Top 25 big districts nationally when it comes to providing meaningful school choice, according to the latest annual report from the Brown Center on Education Policy at the Brookings Institution.
The Duval County and Miami-Dade County school districts tied at No. 13, the report says, while the Pinellas County School District comes in at No. 19. All three districts earned C+ grades. The Brevard County School District was one of eight Florida districts to earn a C, coming in at No. 22.
The rankings are based on 13 categories, including the breadth and quality of learning options, including charter schools, magnet schools and virtual courses, and the accessibility of private schools through vouchers and tax credit scholarships. The think tank also looked at how well districts close or restructure undersubscribed schools; if they provide comparative data to parents; and whether they provide transportation to choice schools. (See the scoring guide here.)
There wasn't much fluctuation from last year's rankings, when Miami-Dade came in No. 10. The Recovery School District in New Orleans was again No. 1 (with an A), followed by New York City (with an A-). Denver climbed from No. 24 to No. 5 after moving to a common application for all public schools, including charters.
In all, 14 Florida districts are on the list. Thirty-four districts nationwide received F grades, including Osceola in Central Florida. (See scoring for each district here.)
As we've noted many times, Florida has vastly expanded school choice over the past 10 to 15 years, with districts themselves creating many options through magnets, career academies, open enrollment and other programs. More than 40 percent of all Florida students in PreK-12 now attend a school other than their zoned district school.
Is that enough?
"Despite their high rankings, the Recovery School District and New York City, along with all other top-scoring districts need improvements," the report says. "And, as demonstrated by the 34 districts that received an "F" grade, zip code assignments and other policies antithetical to choice still represent standard operating procedure for many school districts across the country."
Other coverage: New York Post.