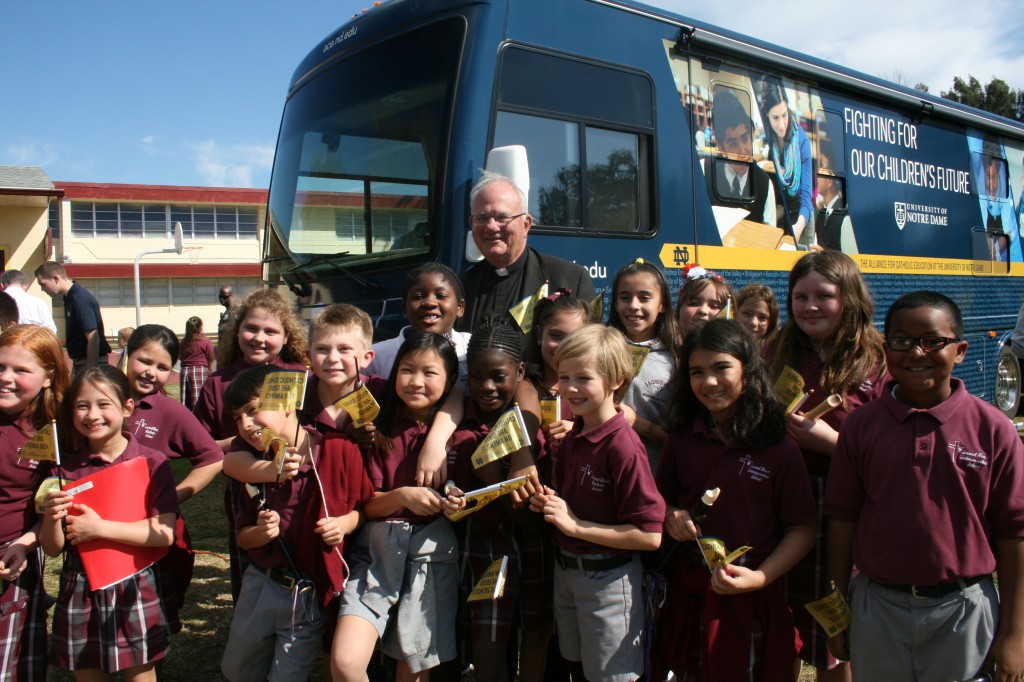 Nearly two decades ago, Sacred Heart Catholic School in Pinellas Park, Fla. was on the "death watch list,'' said Bishop Robert Lynch of the Diocese of St. Petersburg. Families struggled to afford private school tuition, enrollment dwindled and tough decisions loomed for school leaders.
But instead of closing the school, Lynch forged a partnership with the University of Notre Dame and the Alliance for Catholic Education, a graduate program that trains future Catholic teachers and leaders.
Nearly 17 years later, Sacred Heart has more than 200 students and, like other Tampa Bay area Catholic schools, is expecting more growth in the years to come. It's a success story that owes a lot to ACE.
"It saved these … schools,'' Lynch told redefinED Wednesday, during a celebration that brought a giant blue RV emblazoned with the University of Notre Dame and ACE logos onto the grounds of Sacred Heart.
The stop was part of a national 50-city tour called Fighting for Our Children's Future. It's designed to raise awareness about the value of Catholic education and the profound impact it can have on children's lives. It also stresses the need to keep Catholic schools relevant, active – and open. More than 1,300 U.S. Catholic schools have closed in the past 20 years.
"I just knew ACE coming to our diocese would be a blessing,'' Lynch told an audience of students, parents, school donors and ACE leaders. "ACE is grace. It is the catalyst. It's been the yeast that has raised the leaven – and the Catholic education."
Lynch, a former Catholic high school English teacher who described his teaching style as a "holy terror,'' was awarded the University of Notre Dame's Sorin Award, in honor of the university's founder, for his service to Catholic schools. He was joined by Alberto Vazquez-Matos, the St. Petersburg Diocese's superintendent of schools.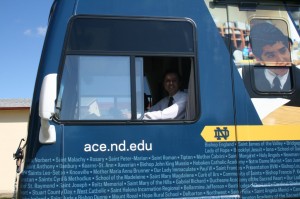 The diocese strongly believes a Catholic education should be affordable and available to as many families who want it, Vazquez-Matos said.
Also Wednesday, representatives from General Mills Co. presented Sacred Heart Principal Heather Boyle with a $40,000 check. The company is installing a new playground and helped to create a learning garden on campus.
Boyle, who participates in ACE leadership training, said her school has also experienced an academic transformation, with third-graders this year reading at a fifth-grade level and first-graders excelling in math.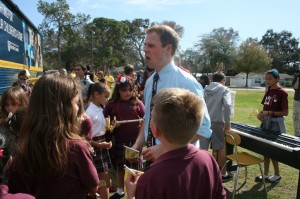 Sacred Heart has one ACE teacher this year, Kevin Casey, who teaches fourth-graders and hopes to return next year. Who knows? Maybe he'll be on the bus tour one day.
Former ACE teacher Patrick Graff is helping to drive the RV. He spent two years teaching third-graders at Incarnation Catholic School in Tampa. Now he's an assistant director of the ACE teachers program.
Four other men are on the bus, which has a tiny kitchen, flat-screen TV and beds. They're among a rotating roster of participants on the tour, which started in Dallas in November. The bus made it to Florida last week with a stop in Pensacola, and is headed to St. Joseph's Catholic School in Tampa on Thursday.
During the Tampa visit, ACE will present the University of Notre Dame Champion for Education Award to John Kirtley, founder and chairman of Step Up For Students. The nonprofit administers the Florida Tax Credit Scholarships for low-income families and co-hosts this blog.
To keep up with the bus, check out ACE's website and blog.