A contingent of faith leaders and their supporters gathered in the state Capitol Thursday to back a proposed expansion of the state's tax credit scholarship program for low-income students.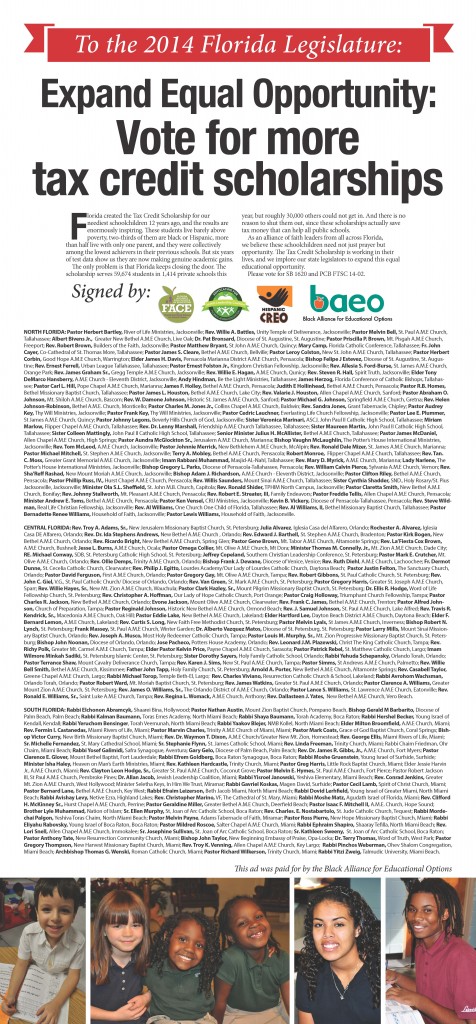 About 200 of them packed a legislative room before the proposed bill got its first hearing before the House Tax & Finance Subcommittee. More than half of them were private school students from Jacksonville, Orlando and Tallahassee, and most wore bright-yellow shirts that said, "Expanding Equal Opportunity."
"We will fight for a cause that is a righteous cause," Isha Haley with the Florida Interfaith Alliance for School Choice told the crowd. "There are too many of our babies that are dying. There are too many of our babies that can't read and write. … They need an opportunity."
One of the best things to happen to public education "is the recognition that not every school works for every child," said Robert Ward, pastor of Mt. Moriah Baptist Church in St. Petersburg. "This scholarship has helped to put many students on the right path. It is by no means a cure all … but surely it is one tool for parents who struggle with poverty."
The turnout was organized by the interfaith group, which is affiliated with the Florida Alliance for Choices in Education, an umbrella group for an array of school choice organizations, including Step Up For Students. The latter administers the scholarship program and co-hosts this blog.
Nearly 60,000 students now use the school choice scholarships to attend private schools, about 80 percent of which are faith-based. Students must qualify for free- or reduced-price to be eligible for the scholarships. Two-thirds are black or Hispanic, and test data shows they tended to be the lowest academic performers in the public schools they left.
Mikeya Brown, a 10th grader at Tallavana Christian School west of Tallahassee, described herself as "one of the fortunate ones." She said she attended public schools in Gadsden County before receiving a tax-credit scholarship in fourth grade. She said she benefited from a Christian-school environment, which her parents could not afford on their own.
"While my entire family appreciates and supports the public school system, we realized early on that it was not the right setting for us," she said.
Faith leaders also signaled their support for the expansion this week in a full-page ad in Wednesday's Tallahassee Democrat (see image at right) Signed by 223 leaders of all faiths across Florida, it urged lawmakers to back the expansion bills.
"We believe these schoolchildren need not just prayer but opportunity," it read.
Both House Speaker Will Weatherford and Senate President Don Gaetz are supporting the expansion, but Gaetz also wants scholarship students to take the same standardized tests as their public school counterparts. Since 2006, scholarship students have been required to take a comparable, state-approved standardized test but not the same test.
redefinED associate editor Travis Pillow contributed to this report.