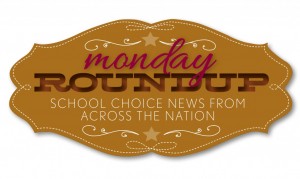 Arizona: A bill to allow children of military service members killed in action to become eligible for Empowerment Scholarship Accounts passes into law (Watchdog). Gov. Jan Brewer vetoes a bill to allow owners of S-Corps to receive individual tax credits for donations to scholarship funding organizations, but signs two bills related to Empowerment Scholarship Accounts (Arizona Republic, Associated Press).
California: Two Democrats battle for leadership of California's K-12 system: one backed by the establishment and the other backed by education reformers (Reuters).
Colorado: The school choice oriented school board in Jefferson County looks to provide more equity for charter school funding (Denver Post). Fewer students get their first choice in Denver's public school choice program (Chalkbeat).
D.C.: The D.C.Public Charter School Board hears proposals for eight new charter schools (Washington Post).
Delaware: A charter school principal says charter schools were meant to help improve the quality of public education but not intended to simply duplicate public schools (The News Journal).
Florida: The senate revives a plan to expand the tax-credit scholarship program, but the senate's version is less ambitious than the House version (Education Week, Tampa Bay Times, Florida Current, The Ledger, WFSU, Palm Beach Post, Naples News, Highlands Today, GTN News, St. Augustine Record, redefinED). William Mattox, an education researcher at the James Madison Institute, argues that private schools already face greater accountability because parents, and donors, can leave at any time (Daytona Beach News-Journal). A local public school PTA president favors school choice and says the legislature should expand options, not deny them (Tampa Tribune). The Palm Beach Post editorial board opposes expanding tax-credit scholarship eligibility from 230 percent of poverty to 260 percent because that now represents the middle class. The Orlando Sentinel editorial board opposes expanding the tax-credit scholarships without more accountability, which the editorial board defines as taking the exact same test as public school students. The Tampa Bay Times editorial board believes it is hypocritical to require the FCAT of public schools and students but not of private school students on scholarship. A private school principal says she supports school choice in all its forms because schools that work for one child may not work well for another (Context Florida). A tax-credit scholarship mom says she is thankful for a program that helps build a future for  her children and others (Daytona Beach News-Journal).
Georgia: Kyle Wingfield, a columnist for the Atlanta Journal-Constitution, says the lawsuit to stop tax-credit scholarships is based on bad logic. Fulton County approves two new charter schools (JohnsCreek Patch).
Indiana: Karen Francisco, the editor of the Journal Gazette, argues that since the NCAA refuses to accept credits from 24 virtual schools operated by K12, Inc., there are many problems associated with virtual schools. Parents choose private schools for many reasons but A-F grades isn't a high priority (State Impact).
Kansas: Gov. Sam Brownback signs into law a bill that will allow low-income students access to tax-credit scholarships (Hays Daily News). Barbara Shelly, a columnist for the Kansas City Star, says the new tax-credit scholarship program will hurt public schools.
Louisiana: School choice critics claim many private schools would close if it weren't for vouchers (Times-Picayune). Enrollment in the voucher program continues to grow (Times-Picayune). A survey of voucher parents by the Black Alliance for Educational Options finds 92 percent of parents are satisfied with their school of choice (Times-Picayune, WDSU 6). A voucher parent defends the school choice program (Times-Picayune). Two private schools in Bossier City and Shreveport are driving the enrollment growth of faith-based schools in the region (Shreveport Times).
Maine: The state's first virtual school says it will need a minimum of 243 students to be financially viable (Bangor Daily News).
Michigan: Jared Burkhart of the Michigan Council of Charter School Authorizers says the state law allowing multiple organizations to authorize the creation and closure of charter schools has allowed the school choice program to flourish (Detroit News). The Grand Haven Tribune editorial board opposes a Senate bill that would impose property taxes on charter schools and ban new schools from opening unless the current school outperforms local public school students by 20 percent or more.
Missouri: A bill in the House seeks to modify the existing public school transfer law and allow students attending schools in unaccredited school districts to transfer to a higher-performing public school within the district as well as charter or private schools (News Leader). Opponents of private schools unite to prevent students from being able to transfer from low-performing public schools to private schools (Associated Press).
New Hampshire: The New Hampshire Civil Liberties Union says the lawsuit to stop tax-credit scholarships is intended to defend the state's constitutional provision prohibiting funding of religious institutions (note: the U.S. Supreme Court has ruled that tax-credit scholarships do not constitute direct public funding of religious organizations) (Union Leader).
New Jersey: The Newark mayoral race pits a school choice supporter against a school choice opponent (Huffington Post).
New Mexico: The New Mexico Coalition for Charter Schools seeks to gain financial support and raise awareness for education reform and charter schools (Albuquerque Journal News).
New York: Charter schools in New  York City have seen their enrollments grow over the last 10 years while traditional public school enrollment has dipped slightly (New York Daily News). NYC Mayor Bill de Blasio has found space for three Success Academy charter schools (New York Times, NY1, Associated Press). Catholic school enrollment has plummeted over the last 10 years as more students enroll in charter schools (New York Post). Readers debate the pros and cons of school choice in the New York Times.
North Carolina: The Citizens Times explores the voucher debate in the state. After two-thirds of all charter school applicants were rejected by an advisory board, the State Board of Education agreed to give them a second chance (News & Observer). Two charter schools with limited open seat availability must hold new lotteries after a software error caused the schools to accidentally violate rules on admitting the siblings of currently enrolled students (News & Record).
Ohio: The state department of education recommends against allowing six charter schools to open (State Impact, Columbus Dispatch).
Oklahoma: A bill to allow charter schools to open in rural counties is voted down 26-64 in a Republican-controlled legislature (The Oklahoman).
Pennsylvania: A lawmaker proposes having the state, rather than each of the individual school districts, pay for cyber charter school tuition (Times Herald). Simply comparing charter schools to public schools doesn't paint an accurate picture of student performance, especially when half of all charter schools are concentrated in Philadelphia alone (The Mercury). A new special needs funding formula provides a "hold-harmless" provision for public school districts but not for charter or cyber schools (The Patriot-News). The Education Improvement Tax Credit helps private schools provide educations to low-income students (Daily Courier).
Texas: The state will add 90 new charter schools over the next six years (Lubbock Avalanche Journal). Children at Risk published a report showing charter schools either do really well or poorly overall (Dallas Morning News).
Tennessee: Gov. Bill Haslam's goal to create a limited voucher program for students in the lowest-performing schools fails for the second year in a row (Times Free Press). The state passes a few school choice bills but some major school choice efforts, like vouchers for low-income students in low-performing schools, failed (The Tennessean). Goodwill Industries has applied to open a dropout prevention charter school in Memphis (Chalkbeat).
Vermont: A study shows more school choice results in higher home prices in the state (Times Argus).
Virginia: Columnist Barton Hinkle says charter schools work well for low-income minorities but the state's strict rules s has left the state with just six charter schools (Richmond Times-Dispatch)
Wisconsin: U.S. Sen. Rand Paul talks about school choice and education reform at a Catholic high school (Milwaukee Journal-Sentinel, WisPolitics.com). A Jesuit group announces plans to open a Cristo Rey high school in Milwaukee (Journal-Sentinel). Alan Borsuk, a senior fellow at Marquette University, says it should be harder to open up private schools that wish to participate in the state's voucher programs (Milwaukee Journal-Sentinel).
Nation: Former Florida Gov. Jeb Bush talks about school choice and entrepreneurship at an education summit at Arizona State University (Education Week). U.S. Sen. Rand Paul takes aim at winning support from urban minority communities by promoting school choice (Crain's Chicago Business, National Journal, National Review). Democrat Howard Dean really likes charter schools (redefinED). Education experts with the New American Foundation discuss whether school choice can lead to creating a community (Education Week). Are charter schools recruiting athletes to build sports dynasties in basketball (Non Profit Quarterly)? Charter schools have become a big ideological divide within the Democrat party (Wisconsin Journal Sentinel). PBS Newshour asks if charter schools are monopolizing public resources. The Walton Family Foundation backs charter schools across the nation (New York Times).  Controlled school choice allows parents to rank their school choice preferences but the district makes the final choice in order to achieve a balance of students based on family income (Journal Standard).
World: John Carpay, a lawyer in Calgary, says school choice in Alberta, Canada is under attack from people who oppose private schools with statements of faith (Calgary Herald).