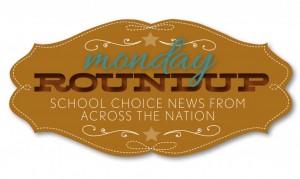 Alabama: A bill to eliminate the $7,500 cap limit on individual tax-credit scholarship donations advances in the state legislature (Decatur Daily).
Alaska: Tony Knowles, the former governor of Alaska, says vouchers have never  improved student achievement or graduation rates, so the state should spend more money on public schools (Alaska Dispatch).
Arizona: The Arizona Education Association opposes the education savings account expansion, calling them "vouchers in disguise" and claiming vouchers do not improve student achievement (Arizona Republic). Matthew Ladner, the "inventor" of education savings accounts, says school choice allows students to match their needs with the strengths of the appropriate school (Arizona Republic). State and national groups write legislation at home and abroad, including the state's education savings account bill (Arizona Republic).
Arkansas: The Blytheville School District votes to opt out of the Public School Choice Act again (Courier News).
Colorado: Parents in Jefferson County pack a school board meeting to show their support for increasing charter school funding (9 News).
Connecticut: The state Department of Education approves four new charter schools for Bridgeport and Stamford (Connecticut Post, Fox CT).
D.C.: District officials release the lottery results; 85 percent of students were accepted to a school in their top three choices (Washington Post).
Delaware: The Delaware Charter School Network says charter schools offer students choices (The News Journal).
Georgia: A group of parents sue the state over the tax-credit scholarship program (Atlanta Journal-Constitution).
Florida: The tax-credit scholarship expansion bill finds new life (Watchdog). Sen. Kelli Stargel opposes amending the education savings account bill in the Senate to include language for expanding the tax-credit scholarship program (The Ledger, SaintPetersBlog). The Florida PTA opposes tax-credit scholarships, saying they divert money from public schools (Palm Beach Post). A local Pensacola company donates $2 million to Step Up for Students to help create new scholarships for low-income students (Pensacola News Journal). The Gainesville Sun editorial board claims the truth about Step Up's waiting list is only revealed after a video highlighted by the teacher union (Step Up had actually been explaining the wait list issue as early as February 20th to reporters). Jon East, a vice president at Step Up for Students, says opponents of the tax-credit scholarship program have been distorting facts (Tallahassee Democrat, Gainesville Sun).  Ron Matus, the editor of redefinED, addresses factual distortions about the state's tax-credit scholarship program (Pensacola News Journal). Tampa Bay Times editorial writer John Romano says it is unfair to treat private and public schools differently. Gubernatorial candidate Nan Rich calls on Charlie Crist, her Democratic primary opponent, to explain his position on vouchers (Rejoice Magazine).
Charter schools in the state receive most of the state funds for capitol improvement but next to no local funds for the same purpose (NBC Miami). A conservative blogger says voters shouldn't believe liberals about charter schools (Sunshine State News). The superintendent of Duval County Public Schools pulls the open enrollment plan before the board can vote on it (First Coast News). The state senate dramatically changes a special-needs savings account bill (redefinED, Florida Current). With two "F" letter grades in a row, the Pinellas County School District will be shutting down Imagine Charter School in June (Tampa Tribune). State Impact interviews Jonathan Hage, the CEO of Charter Schools USA.ndiana: The Indiana Association of Charter Schools plans to shut down due to funding problems (Chalkbeat).
Kansas: Some lawmakers want to cut virtual school funding by 50 percent to increase traditional school spending (KWCH, KSN, Wichita Business Journal). Lawmakers continue talks about adding school choice options in with increased funding for public schools (Topeka Capitol Journal, Kansas City Star).
Louisiana: A bill will allow current voucher students to enroll in the tax rebate scholarship program (Times-Picayune). Three new charter schools apply for permission to open but local school districts oppose allowing all three to open at the same time (News Star).
Michigan: Parents of K-2 students enrolled in virtual charter schools are very satisfied with their child's progress, says Connections Academy (Detroit News). A new health and technology high school opens in Detroit, adding yet another school of choice for students in the city (Detroit News). A report from the Education Trust recommends teacher evaluations, teacher training and more accountability for charter schools (MLive).
Minnesota: A charter school bill looks to have bipartisan support in the state legislature (Education Week).
Mississippi: Republicans in the state House kill a special needs education savings account bill (Clarion Ledger, Gulf Live, Hattiesburg American, Jay P. Greene). A pilot program helps fund private school pre-k (Hechinger Report).
Missouri: The new superintendent of Catholic schools in St.Louis talks about recruiting students, diversity and school vouchers (St. Louis Public Radio).
New York: The Education Investment Tax Credit school choice program fails to make it into the state budget (The Journal News, Yated Ne'eman). The archbishop of New York is frustrated with lawmakers for killing the tax-credit school choice program (New York Post).  Catholic bishops are disappointed in the state legislature for leaving the school choice bill out of the budget (The Journal News). Assemblyman Dov Hikind (D-Brooklyn) says he is deeply disappointed that the tax-credit school choice bill was not included in the budget (The Yeshiva World News). Brooklyn residents react to the budget deal, including the absence of the tax-credit scholarship program (Brooklyn Eagle). The state appropriated $1.1 billion extra to public schools but lawmakers couldn't get a $150 million tax-credit program for private schools passed, says the editorial board of the Daily Hamodia. New York Post columnist Seth Lipsky says it is time to eliminate the state's Blaine Amendment. Charter schools allow parents to choose a new school at any time and help break up the district monopoly, says a Rochester-area charter school board member (Rochester Business Journal).
North Carolina: The Daily News editorial board want more transparency in charter school budgeting and board meetings. The state board accepts a report that calls for the authorization of three new virtual charter schools approved for four year charters (News & Observer). Chris Fitzsimon, the executive director of NC Policy Watch, which opposes vouchers, says it is hypocritical for Republicans to exempt private schools from Common Core and state testing requirements (Laurinburge Exchange). A charter school will close in April after months of financial mismanagement (Charlotte Observer).
Ohio: Charter school laws in the state may allow for-profit management companies to have too much power, including control of the school's board (Columbus Dispatch). Public school officials say busing for charter school students increases costs and reduces services to public school students (Associated Press). The Lima News editor says vouchers are a good thing for Ohio students.
Pennsylvania: Nearly $23 million in tax credits are still available to businesses wishing to donate money to help students zoned to low-performing public schools attend a new school (Heartland). The Pennsylvania Interscholastic Athletic Association wants to prevent charter schools from offering competitive sports if the local public school already offers the sport (Associated Press). Declining enrollment in the Camden area is due to increasing enrollment in charter schools (News Works).
Tennessee: A bill to allow for-profit companies to manage charter schools passes out of the House Education Committee (Times Free Press), but the House Calendar Committee kills it at the request of House Speaker Beth Harwell (R-Nashville)(Knox Blog, The Tennessean). Researchers at Vanderbilt University say there aren't enough private schools to meet demand for a voucher program (Education Week). Nearly a dozen new charter schools will open in the Memphis area and some will be operated by the state or local school district (Chalkbeat).
Wisconsin: Would Thomas Jefferson approve of vouchers? Probably, but the author of this column doesn't think so (Wisconsin Rapids Tribune). Education leaders gather at Marquette University and discuss school quality and whether all publicly funded schools (including traditional, charter and voucher schools) should be under one regulator (Milwaukee Journal-Sentinel).
Nation: Columnist Morgan Brittany of Townhall.com says Democrats face a tough time choosing between low-income school children and the deep pockets of the teachers union. Republicans focus on education and school choice as a means to improve economic mobility (National Journal). Special needs advocate Allison Hertog discusses how charter schools can ramp up the education of special needs students (Education Next). Cal Thomas, an columnist for the Indianapolis Star, says school choice benefits students but not school administrators or unions, which is why the groups oppose education options. New York Gov. Andrew Cuomo, a Democrat, has come out strong in support of charter schools and columnist Richard Whitmire wonders if that signals a coming national war over charter schools (USA Today). Chester Finn and Michael Petrilli say there are two types of education systems: standards-based education and choice-based education (National Review). The Network for Public Education wants to take back education reform from the "corporate reformers" (News-Sentinel). Democrats face difficult times as support for charter schools grows within party ranks (Daily Caller).
World: Many students in the developing world are choosing private schools (The Star).