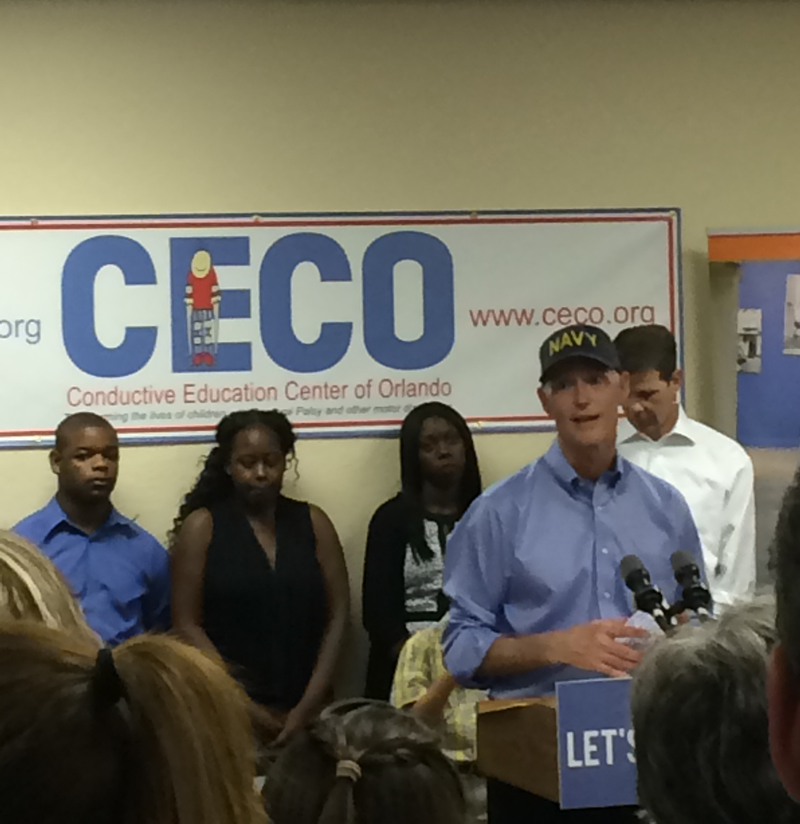 Last week, Gov. Rick Scott signed legislation creating a second-in-the-nation scholarship account program and doing away with special diplomas for students with disabilities.
But during a campaign appearance Thursday with the incoming senate president at an Orlando special education center, he said there would be more to come.
"Going forward, I want to do more," Scott told reporters afterward. "I want to expand the scholarship accounts. I want to make sure individuals with disabilities can get a job. I want to make sure providers aren't stuck with regulation that doesn't make sense."
The goal of the Personal Learning Scholarship Accounts is to allow parents of students with certain disabilities to use public money on a wide array of education-related services, rather than just tuition at a single school. Some parental choice advocates see these types of "education savings accounts" as part of the next wave in customizing education. (The Florida accounts will be administered by scholarship funding organizations like Step Up For Students, which co-hosts this blog.)
Scott, who is in the midst of a tough re-election battle, addressed a group of parents, special needs advocates, and former foster children at the Conductive Education Center of Orlando, in the backyard of Andy Gardiner, R-Orlando, who is set to become senate president after the November elections.
The center caters mostly to children with conditions like cerebral palsy. It's part of the international conductive education movement, but apart from an offshoot in Sarasota, there is no other option like it in Florida.
As a result, it draws parents from all over the country, who seek out its intensive programs that help their children develop cognitive and motor skills. "We moved from Oregon just to come to this school," said Rhonda Canfield, whose daughter has learned to walk with the help of a walker and to ride an adaptive bike.
One factor in the decision, Canfield said, was the state's McKay scholarship program, which helped her afford tuition. When children with cerebral palsy have access to therapies that enable them to leave their wheelchairs, she said, "their quality of life can be so much better."
Joseph Raymond helped start the center 12 years ago. He said that for many students, the program is intended to help them develop skills that allow them to attend public schools. But its uniqueness also helps underscore why scholarship programs should give parents flexibility.
"Parents should be able to search wherever they can to maximize the potential of their children," he said.
That was the goal of the Personal Learning Scholarship Accounts program, Gardiner told the assembled parents.
He supported a provision doing away with the special diploma. The shift toward standard high school diplomas is intended to help more special needs students graduate high school with credentials that colleges and job training programs will accept. He said lawmakers would continue pushing that effort in coming years.
The father of a child with Down syndrome, Gardiner said he does not like to say children have "disabilities." They have "unique abilities," he said, and policymakers should make sure children can get the support that allows them to realize their abilities.
He said the scholarships will allow parents to decide what that support looks like.
"The department won't be making the decision" about which therapies their children can use, he told the parents. "You'll be making the decision."