Des Moines Independent Community School District
School districts aren't allowed to base enrollment policies on race anymore. So, to achieve "racial balance," the Des Moines Independent Community School District's diversity plan allows it to base admissions and enrollment decisions on socioeconomic status.
The district looks at whether students are eligible for the free and reduced priced lunch (FRL). Eligible students are then designated as "minority students" (not kidding).
If a transfer request into the district, out of the district, or between schools within the district, causes the percentage of "minority students" within a school to tip 10 percentage points below or above the district average, the district will deny the transfer. According to The Des Moines Register, the district has already denied 245 of 386 open-enrollment requests for the upcoming school year.
Of course, basing racial balance on the demographic average of an arbitrarily drawn geographic boundary may be silly when you look at the big picture: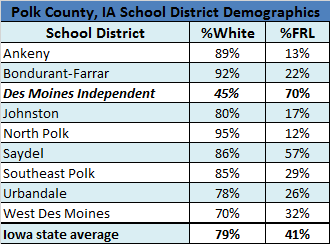 *data from the Iowa Department of Education
Des Moines Independent is surrounded by whiter, wealthier districts, making the effort to ensure racial balance within the district an exercise in futility. If one truly wanted more racial balance in schools, the quickest and easiest way would be to shut down Des Moines Independent and have it absorbed by neighboring districts.
Of course, the transfer denials could really just be about keeping $6,300 of state support per student within the district …
Grade: Needs Improvement (or closing)
South Florida Sun Sentinel
The Sun Sentinel's recent efforts to highlight bad charter schools was spoiled by over-the-top claims that charters are "unsupervised" and that "virtually anyone can open or run a charter school and spend public education money with near impunity."
The journalists noted local school districts shut down dozens of bad charter schools. Obviously, the charter schools were both supervised by, and liable to, the districts.
The story's good vs. evil narrative is no more apparent than in this unintentionally humorous graphic: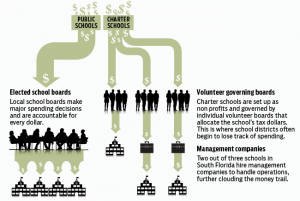 "Accountable for every dollar"? This was published the same week Manatee School District auditors revealed they can't figure out where $3 million dollars in bond money was spent. It was also published WITHIN the geographic boundary of a school district recently wracked by corruption scandals that sparked an FBI investigation, a lawsuit, and a prison sentence for a board member.
Problems exist in all sectors of education. Making hyperbolic claims about some while mostly giving others a pass doesn't make sense, and won't help kids.
Grade: Needs Improvement
Francis-Howell School District, St. Louis, MO.
No one is doing more to make the case for school vouchers than the Francis-Howell School District outside of St. Louis. Shortly after Gov. Jay Nixon vetoed a voucher program for students in failing school districts, the mostly white, upper-middle class Francs-Howell district turned away nearly 400 low-income minority children from a neighboring district.
Francis-Howell leaders announced "children have a right and a need to have quality schools in their neighborhood." In other words, your kind isn't welcome here.
Yes, every kid SHOULD have a great public school nearby. But what do you do when there isn't one? Adult school leaders apparently believe the kids should just deal with it until schools improve. The mostly low-income black students and parents of Normandy say they want choices that work now.
The state legislature needs to decide whose side they are on when it comes to overturning the governor's veto. Public schools won't take the kids, but I bet St. Louis area private schools will.
Grade: Needs Improvement