When members of the Florida School Boards Association started pulling into the Costa D'Este Beach Resort for a gathering in Vero Beach last week, some three dozen parents, private school teachers and school choice advocates were there to greet them.
They lined the sidewalk, holding signs: "My Child, My Choice." "No lawsuits against Step Up."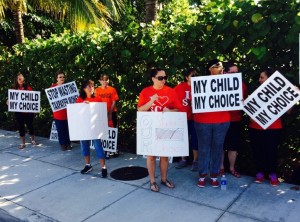 The pro-school choice contingent was smaller than expected – a bus broke down en route from Jacksonville. But it was large enough to fill the sidewalk without antagonizing the police in the sleepy beach-side town.
Catherine Durkin Robinson, director of Florida Voices For Choices, told the parents they'd be able to say they were with the movement from the beginning.
"Having the right school and the right environment for your kid – that's just a choice that people need to have," said Susan Montogmery, a Vero Beach local who had come to support her fellow parents.
Her son, Ryne, is beginning his freshman year at Johnson University Florida, a college in Kissimmee, something the mother of six said would not be possible if he had not received a scholarship to attend Master's Academy, a private school in Vero.
Voices for Choices is a new advocacy group started with the goal of organizing parents to ensure they have the same rights as Montgomery – to choose the educational environment that works best for their children.
The new group grew out of some preliminary organizing efforts by Step Up For Students, which co-hosts this blog. Robinson is a former Step Up employee. And Step Up board chair John Kirtley chairs Voices for Choices. But the new group is funded privately and has a separate staff.
Already, it's been active in a handful of elections around the state, informing voters where school board candidates stand on school choice. It also helped bring together the dozens of protesters who met the press outside the Tallahassee headquarters of the statewide teachers union after the union announced a lawsuit challenging the state's tax credit scholarship program.
The school boards group has become one of Voices for Choices' first organizing targets because it joined the teachers union in the lawsuit against the scholarship program. But Robinson said her goal is for parents to combine their energy and advocate for other options as well.
"The goal here is to create an unstoppable force, and the only way for us to do that is to realize we're all in this together," she said.
The plan is to grow a larger umbrella group that taps into the hundreds of thousands of parents with children enrolled in school choice options – from private school scholarships and home education to charter schools and virtual schools – and gives them a voice in the policy debates that can affect their children's education.
Many of those options have been available for decades in Florida, but as they grow they sometimes face political hostility or legal challenges, no matter how long their waiting lists may be.
"We're all under attack," said Laura Hanley of the Florida Charter School Alliance, who attended the rally in Vero. "It's important – especially for the parents – to come together and support it."
That does not mean attacking traditional public schools, she added, noting they, too, are "one of the choices" available to parents and should be high-quality.
"We don't want to be an enemy for anybody," she said. "We want to be a partner for the kids."