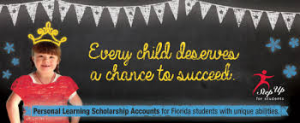 Parents can now apply for the second year of Florida's newest parental choice program for students with special needs.
Applications opened this week for parents who want to use Personal Learning Scholarship Accounts during the 2015-16 school year, more than six months earlier than in the first year of the program.
The program was created by 2014 legislation, which recently survived a legal challenge. The accounts are intended to help parents of special needs children pay for a customized set of learning options.
The accounts are available to K-12 students with conditions such as autism, Down syndrome, cerebral palsy and five other categories of special needs. They can be used to reimburse parents for private school tuition, fees, textbooks, supplies, education software, computers, therapies, full-time tutors or even college savings.
In the first year, the state Department of Education, the Agency for Persons with Disabilities and the non-profits that administer the accounts — including Step Up For Students, which co-hosts this blog and employs the author of this post — launched the new program in a matter of months. Applications for the first year opened in August, and the first round of funding started in October.
To date, 1,446 students were awarded scholarship accounts by Step Up during the program's first year, and another 41 scholarships were awarded by the AAA Scholarship Foundation. So far, parents have filed 2,235 claims, requesting reimbursement for $3.1 million in educational expenses.
More than 100 parents started applications to renew their accounts as soon as the applications re-opened for next school year.
The Legislature appropriated $18.4 million, enough to fund about 1,800 scholarship accounts during the current school year. The funding amount for 2015-16 will be decided during the legislative session that begins in March. Scholarships average about $10,000 and are funded at about 90 percent of the value a district would receive to educate a student with special needs.