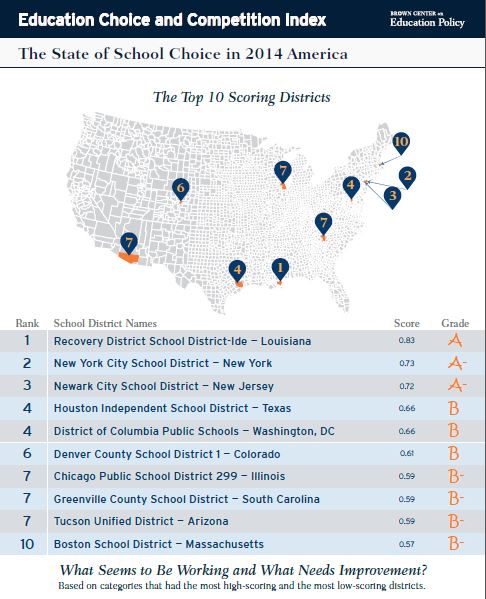 School choice is more than just having educational options. The availability of quality schools, information about them and access to them are essential to making choice work.
With that in mind, the Brookings Institute's 2014 Education Choice and Competition Index, by Russ Whitehurst and Ellie Klein, ranks the largest U.S. school districts and grades them from A to F on thirteen categories related to creating a strong school choice marketplace.
Some of the rankings might appear counter-intuitive to people familiar with the school choice landscape in Florida.
Although 52 percent of students in Miami-Dade are attending schools of choice, the state's largest school choice district was bested by Pinellas County School District, where just 39 percent of students were enrolled in schools of choice.
That's because the Brookings researchers looked at factors beyond participation in choice programs. The differences come down to district policies and transparency of information.
"We wanted to look at this from a parent perspective," says co-author Ellie Klein. Simply making choices available isn't good enough. To score well on the Brookings' Index districts needed to have meaningful options and relevant information about the options. Parents also need to be able to access the options.
Keeping parents informed about their rights to school choice is very important, says Klein, but some districts use a variety of tactics to make school choice difficult to access or understand. Klein highlighted one school district in Fort Worth that used the phrase "Gold Seal" as a code word for public school transfers.
Another district in Brownsville, TX only allowed public school transfers on one single day and only if parents filled out the correct form, in person, at a district office.
"Obviously that's not acceptable," Klein said. School choice is ineffective if parents are unaware of the options or unable to take advantage of them because the choices are costly or difficult to make.
Overall, five of the thirteen categories focus on school information and student performance data and this may lead to some counterintuitive rankings for some school choice advocates. For example, New York City, with just 17 percent of students attending schools of choice, ranks second on the index while Orleans Parish School District, where 70 percent of students attend schools of choice, ranks 29. The difference lies largely with the information made available to parents in New York City.
Florida districts see their own intriguing results within the index.
According to Brookings, Pinellas has a policy for closing schools due to declining enrollment as a result of school choice, while Miami-Dade does not. Klein also stated that Pinellas had clear, understandable steps to guide parents about school choices. Miami-Dade's website, by comparison, didn't provide parents with clear steps to access schools of choice, and presented data that was two years out-of-date. These differences were enough for Pinellas to out-rank Miami-Dade.
Florida school districts all scored poorly on transportation. Not a single district received credit for providing transportation so students could access schools of choice.
Nationally, Florida as a whole outperforms its fellow big states California and Texas on Brookings' index. California's districts are evenly distributed, but the Lone Star State dominates the lower tiers, with nine districts rounding out the bottom 20.
This year also saw some big changes in the rankings.
Newark Public Schools in New Jersey climbed 21 points thanks to an increase in students exercising choice, more transparent information and the roll out a single district-wide enrollment application, One Newark Enrolls.
By contrast, Orleans Parish fell 17 points due to missing data on student performance, graduation and mobility rates, as well as a decline in students attending "affordable" private schools.
School choice can be a powerful tool for educational equity, as students are no longer bound to a school by where they live. It also means school quality can be divorced from housing values. But choices can be limited by a shortage of transparent information, unclear guidance and a lack of transportation.
The Brookings Institute's choice and competition index sets out to quantify the components necessary to build a solid school choice marketplace — and shows that even some of the most choice-friendly districts in Florida and around the country could help students by investing in this type of infrastructure.