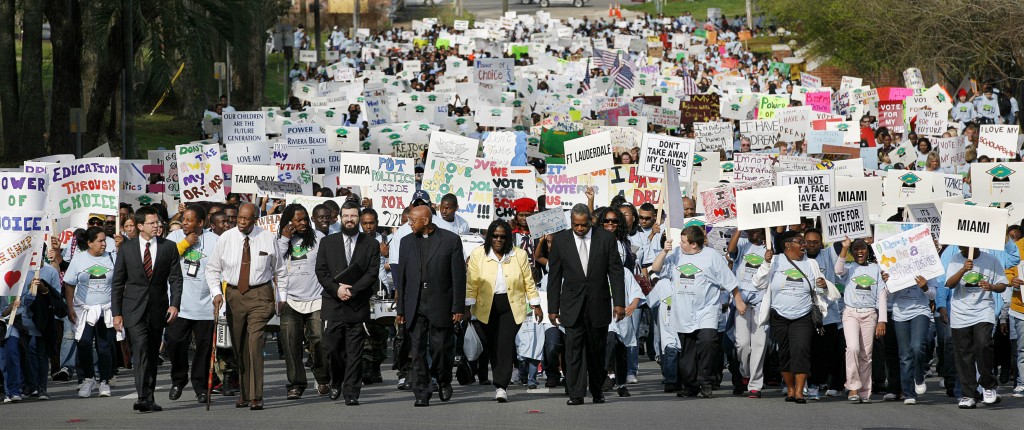 Thousands of parents, students, educators, activists and clergy are expected to rally in Tallahassee next week, in a civil-rights-steeped event opposing the lawsuit challenging the country's largest private school choice program.
Martin Luther King, III, is scheduled to headline the rally near Florida's capitol on Tuesday, a week from today, the day after the holiday honoring his father. He will be joined by Bishop Victor Curry, of New Birth Baptist Church in Miami who is also a past president of the Miami-Dade NAACP; Rev. H.K. Matthews, a longtime Florida civil rights activist; and Rev. R.B. Holmes of Tallahassee.
The rally is aimed at endorsing Florida's tax credit scholarships, and denouncing a lawsuit challenging the program, which serves more than 78,000 low-income students. Step Up For Students, which hosts this blog, helps administer the scholarships.
The Florida Education Association filed the lawsuit in August of 2014. Last year, it was thrown out by a Tallahassee judge, and is now being argued on appeal. Groups representing school boards and school administrators have since dropped out of the suit, but the Florida PTA, the League of Women Voters and the NAACP are among the remaining plaintiffs.
In 2010, some 5,500 people marched in Tallahassee in the largest rally to date supporting the program.
The FEA, Florida's statewide teachers union, has announced a capitol rally of its own on Thursday.