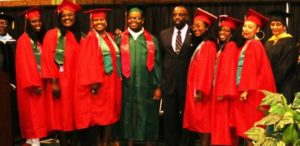 Parents in the low-income, predominantly black Normandy School District in St. Louis, Mo., have been made to feel unwelcome for years, as public school officials repeatedly fought to deny them the right to choose new public schools. Their saga may finally be coming to a close, as a three-judge panel this week unanimously rebuffed school officials' latest efforts to thwart Missouri's public-school transfer law.
The transfer law allows parents of students enrolled in "unaccredited" public school districts to request transfers to public schools in higher-performing districts. (Districts lose accreditation if  the school fails to meet certain performance goals.) The law was passed in 1993, but went largely unnoticed until two parents sued to transfers out of the then-unaccredited Clayton and St. Louis Public School districts.
Public school officials fought the law through trial and appeals courts until 2013, when the Missouri Supreme Court unanimously upheld the constitutionality of public school transfers. With that ruling, nearly a thousand children in the persistently struggling Normandy School District rushed for the door, causing a near-collapse of the small inner-city district, prompting a takeover by the state Department of Education.
Unfortunately for the parents, a victory at the Supreme Court did not secure their right to choose a new school, as public school officials scrambled to undo the law.
Renaming the district the "Normandy Schools Collaborative," state officials at the Missouri Department of Elementary and Secondary Education (DESE) claimed the "new" district was suddenly no longer unaccredited. That interpretation meant thousands of future transfers could be denied. State officials created other rules to force students back into Normandy. Addressing one legitimate flaw in the transfer law, officials stated public-school transfer students could only receive $7,200 in public funding. Districts were not required to accept the students with this lower payment, and wealthier districts had long been charging more than $7,200 to accept transfers.
Hundreds of students who had been allowed to transfer in 2013-14 were suddenly denied the opportunity to remain in their new schools.
A different rule to forced another 121 Normandy students back into their old district, by requiring students to have spent at least one semester in a Normandy public school during the 2012-13 school year (two-years prior).
The mostly white, upper-middle class Francis-Howell district initially denied hundreds of student transfers, but backtracked after bad publicity and a scolding by the state's governor. Instead of a blanket denial of transfers, the district's leaders said they would accept any transfer student who arrived with a court order.
Rex Sinquefield, a local businessman, philanthropist and boogeyman for progressive St. Louis activists, and the Children's Education Alliance stepped in to foot the legal bill for the low-income families seeking to transfer into the Francis-Howell district. Sinquefield and the Alliance would go on to fund the current legal battle, arguing the state unlawfully altered the Normandy School District's accreditation status to create a new barrier to transfers.
State education officials lost in trial court in February of 2015, but appealed to the court that ruled this week in favor of parents. Officials may still appeal this ruling to the state Supreme Court.
Students denied transfers could have had new private options available, as the Missouri legislature passed a voucher program in 2014 for students in unaccredited school districts, but it was vetoed by the governor.