GAINESVILLE – Last week, the Florida Board of Education approved a plan that would consolidate the two public schools in Jefferson County, Fla. and convert them to a charter school.
As the board voted, Bill Brumfield, the newly elected school board chairman, breathed a sigh of relief.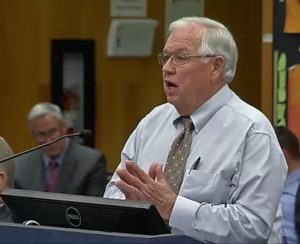 "Thank God," he said.
Thursday's vote ended months-long saga to win approval for a plan to turn around the struggling North Florida district.
And it sent one of the state's most impoverished and persistently struggling rural school systems down an uncharted course.
State board members remarked that Jefferson is preparing to launch a miniature version of the great experiment in New Orleans, in which the school district handed the operation of nearly all its public schools over to charter school providers in the wake of Hurricane Katrina.
New Orleans "is a model, potentially, that can offer some hope" about what can happen when charter schools work with a district to raise student achievement, board member Rebecca Fishman Lipsey said, "especially where there's high levels of poverty."
Right now, four charter school operators may be candidates for the job. They include a network associated with one of Florida's largest management companies, the organization that revitalized public schools in a small Central Florida town, and a mom-and-pop Palm Beach County charter school founded by a Jefferson County native.
Over the next two weeks, the district will court these organizations, and try to find one that's up to the task.
"We're turning over to a charter school to save the district, for the children's sake," Brumfield told the state board, which rejected three earlier, state-mandated turnaround plans, deciding the district couldn't get the job done on its own.
Brumfield said parents, many of whom he'd taught over four decades as an educator, were ready for a big change.
"They all want this. They want something new," he said. "They see Governor's Charter [Academy] over in Tallahassee, and they want something like that, but in their community."
Decades of struggle
Jefferson County's school system is an outlier in many ways.
It's home to two of the state's most persistently struggling schools. More than half of its high school students have been retained in a grade at least twice. Just seven percent of its middle schoolers scored on grade level on 2016 state math assessments. In the second-lowest performing district, 26 percent were on grade level.
Jefferson is Florida's smallest school district, with just over 700 students. It has lost more than 1,000 students since 2001. Half that decrease happened in the past five years.
Florida school districts tend to struggle to accommodate constant growth. No district in the state has faced the opposite problem on such a staggering scale.
No district in Florida has a higher rate of private school enrollment. During the 2015-16 school year, for every private-school student in the county, there were just two students enrolled in local public schools.
That same year, there were fewer than five public-school students for every homeschool student in Jefferson County, a figure that is also unparalleled. Statewide, on average, there are more than 33 public-school students for every child taught at home.
Parents who leave local public schools don't just turn to private options. By the dozen, they've enrolled their children in neighboring counties, using Opportunity Scholarships, requesting special exemptions from the school board, or even renting property across county lines.
Perpetual flight has sapped the district's revenue. It has some of the highest per-pupil funding in the state, but remains in fiscal distress.
Brumfield was elected superintendent in 2008. He pulled the district out of an earlier financial emergency, and moved its central office to a smaller building. To save money, he and the HR director came in on weekends and painted the building themselves.
But he also faced a state-assessment cheating scandal. And he watched a small, low-performing charter school sputter and close.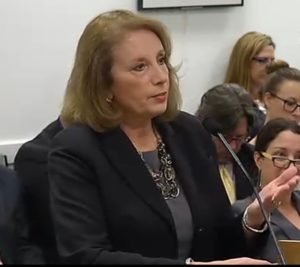 In 2012, voters replaced Brumfield with Al "Pee Wee" Cooksey. The fiscal and academic woes continued. Last November, voters ousted Cooksey after a single term, just like his predecessor.
Turnover at the schools themsevles was even greater. Brumfield said he could recall 10 principals hired over the past eight years.
The newest superintendent, Marianne Arbulu, has signaled she wants a fresh start. In an interview after the state board meeting, she quoted the old saying about the definition of insanity. She had already begun talks with potential charter school organizations.
"I've expressed to the companies I've spoken with that they'll have our full support," she said.
Who will run the charter school?
Right now, four charter school organizations could be in the running to take over Jefferson County's public schools.
Asked which organizations they were, a spokeswoman for the state Department of Education referred comments to Jefferson school officials. She said the state is supporting the local district in its decision-making, but not dictating its selection.
Arbulu said she didn't want to name specific organizations, since the district was still in the early stages of talks.
Still, we have been able to confirm three of their identities.
One potential operator is Mater Academy, a nonprofit network associated with Academica, a giant, South Florida-based charter management company. It runs 26 charter schools on 16 campuses, including eight where more than 90 percent of students are economically disadvantaged. None of its schools has a letter grade below C. Most are in Miami-Dade County.
Through a spokesman, Antonio Roca, the organization's president, said "Mater is honored to be considered," but it was too early in the process to comment further.
Another candidate, the Lake Wales charter network, operates six schools in central Florida, and may soon add a seventh. A majority of the system's students are children of color, and it includes two schools that list 100 percent of their students as economically disadvantaged.
Lake Wales has some things in common with Jefferson. It's a system of charter schools that were converted from traditional public schools after a community demanded change.
Jesse Jackson, the Lake Wales superintendent, met with district officials on Friday. He said he got to know Jefferson County during his previous job. He was the director of Florida State University's lab school, which drew hundreds of Jefferson students into neighboring Leon County.
He said the Lake Wales schools, once under-enrolled, have attracted parents who previously sent their children to private schools, or to public options in neighboring towns. Now, most of the charter schools have waiting lists.
With the right leadership, he said, the school could gain the trust of educators who might come to work there. It could attract financial support from donors in and around Tallahassee. And it could convince parents to invest their time — and re-enroll their children — in Jefferson public schools.
"Our approach would be a whole-community approach," he said. "It won't just be trying to make the school better. It will be an effort, as we do in Lake Wales, to make the entire community better."
Emma Banks, the founder of Inlet Grove Community High School in Palm Beach County, said in an interview that she was eager to throw her hat in the ring.
She applied to open a charter in Jefferson County in 2013, but the school board rejected the charter application. She said she suspects that at the time, the district did not want new competition. Now, it's a different story.
Banks operates a school that was also converted from a traditional public school. More than nine in ten students are children of color. More than eight in ten are economically disadvantaged. And it consistently receives A's and B's from the state. It pushes all of its students to graduate with industry certificates and college acceptance letters in hand.
"You've got to believe in these kids," she said. "I feel like all these kids can learn. I might be wrong, but I haven't been wrong in a long time."
Parents demand change
Asked about the prospects of a charter school takeover, many parents said change is long overdue.
"Somebody needs to take over," said Nikki Trammell, a mother of two school-age children. "This has been going on for maybe 20 years, and it's just been covered up."
She transferred her son to a middle school in Leon County. But her daughter, a high school student, remains at Jefferson County Middle-High School — in part, she said, because paperwork allowing her oldest child to participate in the state's Opportunity Scholarship Program, which offers public school choice to students in low-performing schools, didn't arrive through the mail on time.
"I'm hoping to see fresh faces in the school board office, just new leadership altogether," Trammell said. "The kids' morale is so low."
Summer Salls sends two children to schools in Leon, which is more convenient for her because she lives near the county line. But the district's struggles have affected her family in another way. She's currently trying to sell her house.
"I'm hoping that the changes will be fruitful," she said. "It's very hard to get young families to come and look at property in Jefferson County because of the school system."
Sheryl Webster recently moved to Monticello, the Jefferson County seat. She said she was prepared to rent a one-bedroom apartment in Leon County so her son could continue attending Godby High School, where he's thrived in an information technology program.
Fortunately, she said, the Jefferson school board granted a waiver allowing him to continue at Godby. But she said she would rather her son drive less than five minutes up the road than make a daily trek of a half hour or more to Tallahassee.
She said she and other parents were eager to help out in local schools — if only their calls were returned.
"We know, economically, Jefferson County is not going to grow unless they have a great education system," she said.
Can it work?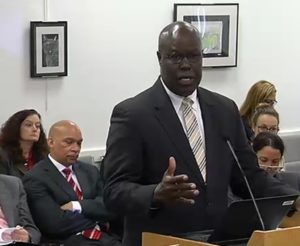 Brumfield, the school board chair, said he, too, had begun recruiting potential volunteers from Jefferson's illustrious alumni. They include the likes of Roger Isom, a former nuclear submarine commander and award-winning naval engineer.
Still, state board members like Michael Olenick were skeptical. Some of the same people overseeing the charter school effort held leadership positions during the district's turbulent history.
"Your heart, your soul, it's there," he said. "What I still question is the ability."
He wants the state board to check in periodically over the coming weeks. If Jefferson doesn't look like it's bringing in a charter organization that shows promise, the state may have to get more heavily involved.
Hershel Lyons, the state's chancellor for K-12 education, said state officials planned to help the district every step of the way, from recruiting and vetting potential charter school operators to hiring qualified educators.
He said they'll draw lessons from charter school-led turnarounds around the country.
"We're doing something different that's proven to work in a similar demographic," he said. "One of the things I lose sleep about is, I do not want to be having this conversation a year from now. Let's not even talk about five years from now."