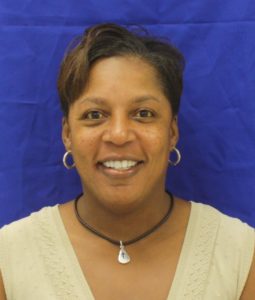 Growing up in a single-parent, low-income household in the late 1970s, Julie Lueallen had fewer opportunities to excel in education.
Now, she's the principal of East Ridge High School, one of the highest-performing schools in south Lake County, Fla.
Growing up, she said, she was an average student who had potential. Her teachers did not steer her into honor courses, which at the time were the only classes available for students to receive more rigorous coursework that would prepare them for college.
"It was all in your grades," she said. "Nobody even talked about opening that world to me. They counseled kids, but not the kind of kid like me."
Lueallen, a product of nearby Tavares High School, said she had some excellent teachers. But she might never have gotten onto a college-preparatory track without an advocate who knew the school system well and argued on her behalf: her mother.
"If my mom was not pushing I wouldn't have gotten into honors courses," she said. "Having a parent that is savvy in a high school curriculum. That is important."
Now, as a principal, she advocates for all students to take advantage of the opportunities she and her mother had to fight for. Her school has emerged as a leader in Florida's effort to push more into Advanced Placement courses and toward college credits.
According to a new report from the College Board, the nonprofit that administers the AP program, Florida ranks fourth in the nation in the percentage of graduating seniors who have passed at least one AP exam, which can lead to credit for an entry-level college course. Over the past decade, low-income children of color have driven most of the state's improvements.
Beginning in the 1990s, Florida leaders decided to open AP courses to more low-income, black and Hispanic students. The College Board, which administers AP exams, has adopted an equity and access policy, which states:
We encourage the elimination of barriers that restrict access to AP for students from ethnic, racial and socioeconomic groups that have been traditionally underrepresented. Schools should make every effort to ensure their AP classes reflect the diversity of their student population …
National studies are mixed about whether AP courses help students perform better in college.
According to Lake County school district officials, though, taking college-level courses help students improve reading and writing skills they'll need at the next level, even if they fall short of an AP exam score that will lead to college credit.
"You live your experiences and you learn by them," said Lueallen. "Advanced Placement's open enrollment policy offers underrepresented students access to rigorous courses. I don't want any kid to go through school and not have access to the courses we had. Not if they are willing to go through them and work hard. All of them are determined kids. It is our job to advocate for these kids and push them and put them in the right places. What happens to the kids whose parents work every day? They don't have time to advocate to the principal about putting their kids in higher level courses. That is our job."
Lueallen continued: "My job is not to get our kids prepared for a high school diploma. It is to prepare them for the future."
Making connections
As Lueallen walked the halls of East Ridge, students greeted her warmly. A young man came around the corner wearing a hoody. She pulled it down gently, patting him on the shoulder.
Students are not allowed to ride the school elevators, so when the elevator opened and a student popped out, Lueallen had words for him. "You know you are not supposed to ride the elevator," she said.
Instead of scoffing, the student smiled and gave her a hug.
"You are hugging me because you do not want to get in trouble," she said laughing.
Lueallen said the school's culture encourages students to be their own advocates. To help them excel in rigorous courses, she said, educators have to connect.
She credits the teachers and students with the AP program's success.
"Most of the teachers that teach AP have a strong relationship with kids," she said. "You have to have somebody that motivates and pushes them. We do have a support system for some of our kids that go there. We do that through tutoring. We have to support them. If we work with them we can get them through this."
In 2002, East Ridge began offering three AP courses to 65 students. By 2016, the school offered 23 AP courses to 1,060 students, representing all demographics: 44 percent white, 35 percent Hispanic, 13 percent black. Nearly half qualified for free- or reduced-price lunch. Overall, nearly half the students take AP courses.
"Our demographics for East Ridge High School match up with who these kids are in AP," Lueallen said. "We are representing every demographic at East Ridge High School."
Lake County Schools Superintendent Diane Kornegay said Lueallen is a "champion for making sure under-represented students are not overlooked" in access to AP courses.
"She is a strong and passionate advocate for all students," Kornegay said.
The number of students passing AP exams at East Ridge High School has increased since 2003. In 2003, East Ridge High School students passed 39 percent of the AP exams they took scoring a 3 or above. That number increased to 44 percent in 2016. The state average in 2016 was 49 percent.
In other words, Lueallen said: "Even though we opened it up to more students we are still moving forward in progression for pass rates."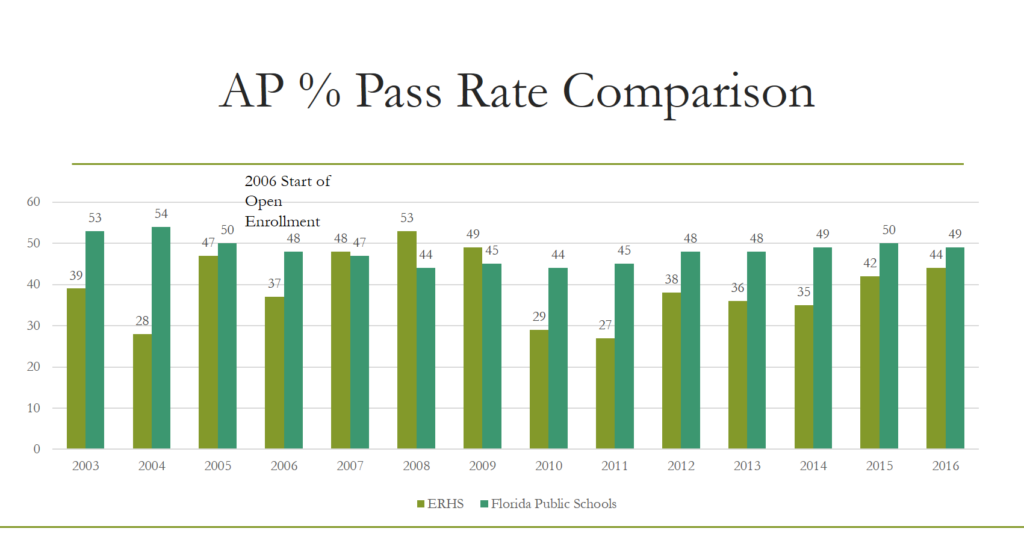 In specific courses, East Ridge is also showing gains. For example, in Calculus, 90 percent of students scored a 3 or higher, compared to 57 percent for the state and 60 for the national average.
"East Ridge is leading our district without a doubt," in AP, said Lake County's Chief Academic Officer Bill Miller. "It is an initiative that spotlights college enrollment."
Miller said for many students, college is not on their radar for the future. AP courses help them develop a college mindset.
Access pays off
Sara Sympson, associate director for the College Board, said research shows that nationally students who take AP exams are more likely to enroll in a four-year college than similar students who don't take AP exams.
She noted the percentage of Florida's public school graduates earning a 3 or higher on an AP exam has increased 11 percentage points over the last 10 years, from 18.5 percent in 2006 to 29.5 percent in 2016.
An article in The Journal of Educational Research published in 2015 cites similar successes. It also notes some caveats.
Despite the noteworthy body of research in support of the AP program, the findings are not uniformly positive. The number of AP courses taken by a student, for example, has been shown to be unrelated to students' freshman college GPA after controlling for socioeconomic status and academic variables.

….

In some non-College Board studies, AP participation also failed to correlate with degree attainment within five years of starting college and college GPA. Perhaps these results were found because most AP students only take one or two AP courses and exams, which is a number that is neither sufficient to meaningfully reduce enrollment time in college, nor high enough to differentiate between good college-bound students and truly exceptional ones.
Another study from the College Board showed that AP students, particularly "those who earn higher AP exam scores, are likely to earn higher first-year grade point averages and higher subject-area GPAs in college than students who do not take an AP exam."
A key part of students' success in the program at East Ridge is having support from teachers and administrators, Lueallen said. Done right, exposure to rigorous coursework better prepares students for college.
"It has been the whole process of offering the right courses and getting the right kids with the right teachers," she said.