Teachers in Florida's district-run public schools are nearly four times as likely to be "chronically absent" from the classroom as their charter school colleagues.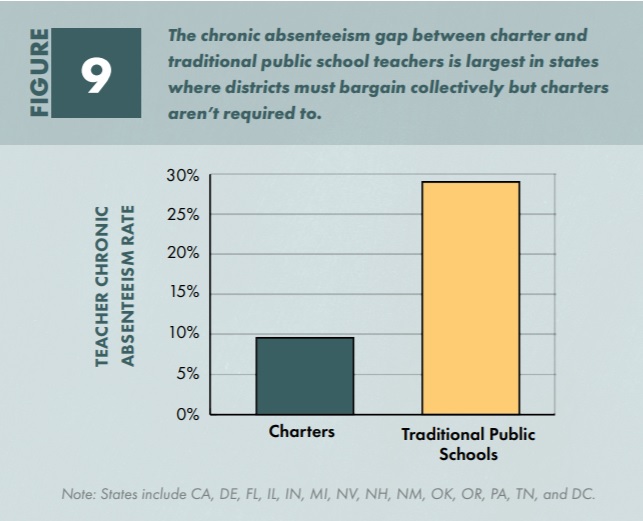 And that's not all, according to a new report from the Thomas B. Fordham Institute.
Florida is home to several charter school networks with unionized teachers and collective bargaining contracts. The municipal charter system in Pembroke Pines is one example. Teachers in those schools are twice as likely to be chronically absent than their colleagues in the majority of charters that aren't unionized.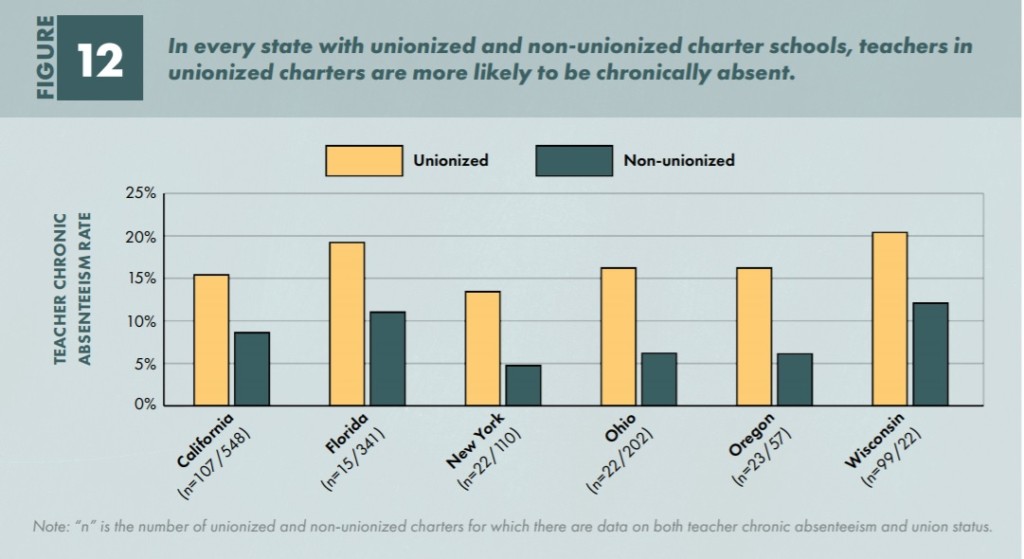 In other words, teachers in unionized schools have a greater tendency to miss work more than 10 days out of a school year. And that can affect students. Studies have found teacher absences hurt student learning, and that schools with higher concentrations of disadvantaged students tend to have higher teacher absenteeism rates.
Folks at Fordham acknowledge teacher attendance is the sort of "input" measure that doesn't typically interest the think tank. It prefers to focus on schools' "output," i.e. student results.On that count, students in Florida charter schools and traditional schools tend to make roughly the same test score gains, after controlling for demographics and other characteristics. But charter graduates may do better according to some later-in-life outcomes. And some individual charter networks really crush comparisons with traditional public schools. Others, including several networks focused on helping would-be dropouts, drag down the performance of charters as a group.
In other words, better teacher attendance hasn't given Florida's charter schools a huge performance advantage — at least on average. Conversely, if traditional public schools could close the teacher attendance gap with charter schools, perhaps they might do better in some comparisons.
The Fordham report comes as more employers allow employees to work from home or set flexible hours. These accommodations make it easier to juggle the occasional doctor's appointment, sick child or trip to the DMV without missing a day of work. For classroom teachers, however, that sort of freedom might seem untenable. They're expected to be in the classroom whenever students are.
Randi Weingarten, the head of the American Federation of Teachers, raised this issue in a statement pushing back on the report. Her organization counts Florida's statewide teachers union as an affiliate.
Teachers, most of whom are women, face unique stressors, including caring for families and working beyond the school day. To really understand absenteeism, we need to address the root causes, not draw conclusions from raw data. Leave polices exist to ensure kids can learn in a safe and healthy environment, and they should be supported.
…
Educators at charter schools, most without the benefit of a collectively bargained contract, are often forced to quit because they don't have leave and vacation provisions to fall back on. The reality is that charter schools need better leave policies, not worse ones, a fact ignored by Fordham.
Fordham's Amber Northern and Michael Petrilli aren't blind to the "stressors" teachers face. They write in the report's introduction:
Like everyone else, educators occasionally have to miss work. They get the flu, too. And anyone who has never actually taught would be wise not to underestimate the challenges that teachers face, especially in high-poverty schools and those with many at-risk children. We begrudge no teacher for taking a "mental health day" now and again, or needing to be home to care for a sick child of her own.

Yet we also know that teachers are the single most powerful instrument that schools have to boost student learning. When teachers miss school, students miss out on education.
That's the core tension. The question is how best to resolve it.
Report author David Griffith notes the rate of chronic teacher absences doesn't just vary among charter and traditional public schools. It also varies widely from one state to another. That suggests the type of school organization, and the rules it sets, have a major bearing on the amount of time teachers miss.
Kevin Hesla of the National Alliance for Public Charter Schools argues in a blog post that networks of autonomous public schools are well-suited to create arrangements that balance the needs of students and teachers.
From our own lives, we intuitively know that we do our best work when we have high levels of engagement, agency, and autonomy. The increased levels of autonomy and flexibility that is provided to charter schools (and charter school teachers) likely results in increased levels of engagement and lower levels of chronic absenteeism. Additional research on incentive systems that properly balance personal leave and the needs of students could help push the public education sector forward.
Indeed, diverse school models — including virtual schools — can help create working conditions that are more amenable to young parents. This Florida public school teacher's experience illustrates that.
There's probably no one best way to ensure teachers show up in the classroom reliably and have the freedom to attend to life's demands that arise outside of work. Teachers, like students, should have options.