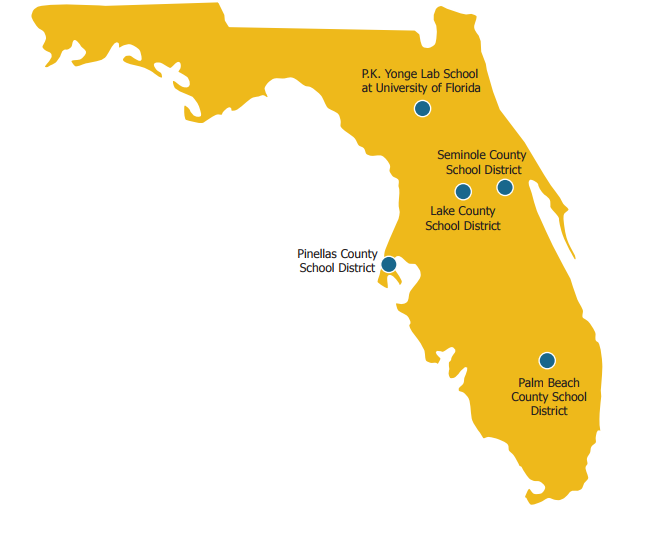 Florida's "bottom-up" approach to personalized learning is moving from planning stages to real changes in the classroom, according to a new report by the reform advocacy group ExcelinEd.
The report follows up on last year's look at three states that enacted policies to promote personalization. It noted Florida's approach is somewhat unique, because it's allowing different school districts, as well as a university lab school, to pick their own approaches to personalized learning and its close cousin, competency-based learning.
Competency-based learning gives students the opportunity to advance to higher levels of learning based on their mastery of the topic rather than the amount of time they spend in class.
A 2016 law created a competency-based learning pilot program for the Pinellas, Palm Beach, Seminole County school districts, as well as the University of Florida's P.K. Yonge Development Research School. It allows them to apply to the Florida Department of Education for waivers from state regulations that might stand in their way.  A fourth district, Lake County, has backed away from the initiative.
The report notes Florida's approach is flexible and locally driven. And it highlights some of the changes already happening in public schools around the state. Among them:
Palm Beach County's Accelerated Math Program allows students as early as third grade to get a jump start in math. Advanced students who participate can finish three years' worth of coursework in two years' time. The pilot in Palm Beach County focuses on gifted and mathematically talented students in 66 elementary schools, and it's expanding to more campuses.
P.K. Yonge has overhauled report cards to embrace "standards-based grading." Alongside traditional A-F grades, middle-school students bring home reports that detail the standards they're expected to meet and whether they've mastered them.
Pinellas County schools have created scoring rubrics that enable students to show mastery of standards through various "performance tasks." That could allow different individual students to prove they've met the same learning standard in different ways.
Karla Phillips, ExcelinED personalized learning policy director spoke about the critical importance of competency-based education.
"It is the next evolution in meeting kids' needs," she said. "If there is not a system of mastery-based progression ingrained in these models then you risk losing equity and rigor."
In its report, ExcelinEd points out several lessons learned from Florida's pilot programs.  Competency-based education should be seen as an "extension of the district's work to improve the quality of instruction." And it's crucial for districts to provide professional learning and support for teachers as leaders in the classroom.