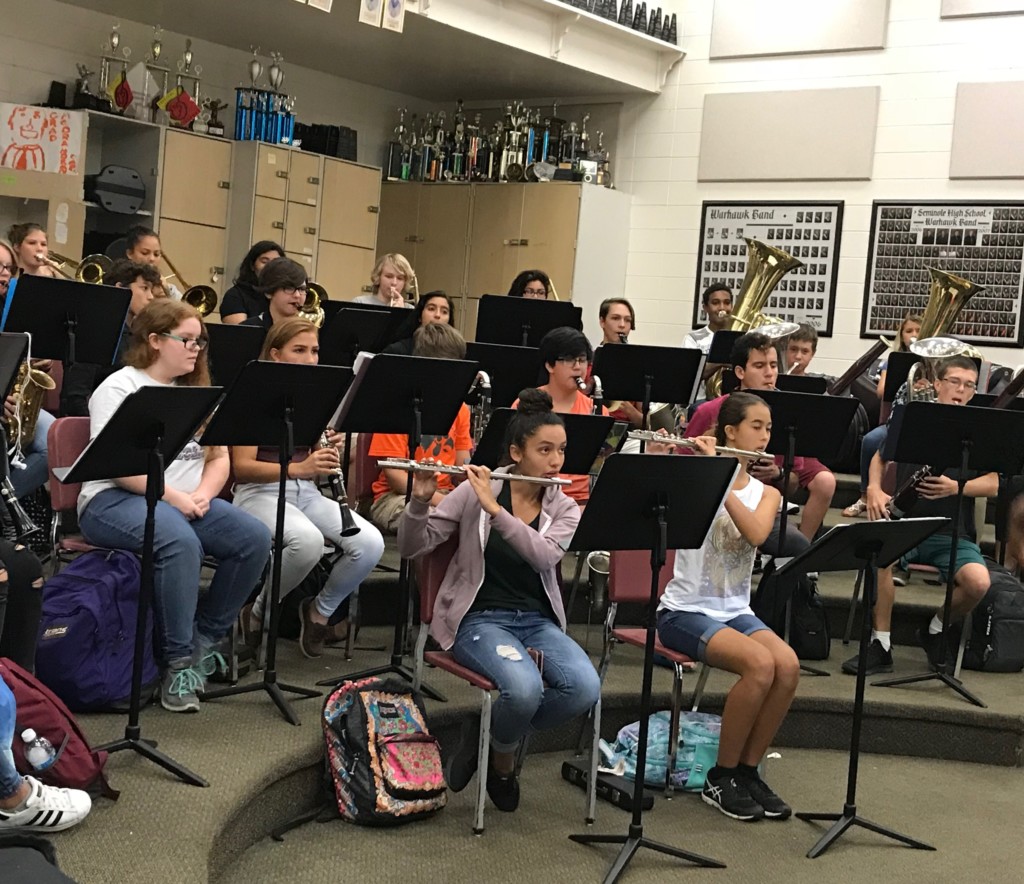 In 2014, graduate rates surged throughout Florida, continuing years of growth. But numbers at Seminole High School were going in the opposite direction.
Once an A-rated school, it had slipped to a C. In 2007, Newsweek recognized it as a top high school in the country. But in the years that followed it faced mounting competition from within the Pinellas County school district. A nearby fundamental program at Osceola High School and an International Baccalaureate program at Largo High were drawing high-achieving students.
Jane Lucas, Seminole High's assistant principal, said at the time, she identified the crux of the problem. Students were disengaged.
"We want to be the high school that wouldn't let any child fall through the cracks," she said.
Thomas Brittain, principal at Seminole High, had just become the principal. He agreed something had to change.
Administrators began working on a plan to transform their high school from the bottom up. Lucas described the ensuing changes as "de-institutionalizing the institution."
Seminole High wound up throwing out some old-school conventions, like bell schedules. It started offering new programs tailored to students' career aspirations. It now includes seven in-house academies, built around themes from theater to engineering to sports. The new structure held on to core classes but gave students a variety of projects outside the classroom based on real-life concepts such as business and engineering. Rather than penalize students who struggle, they look for ways to help them succeed.
Lucas said Brittain, who joined the district in 2013, took the helm at just the right time.
"I remember his first meeting with our faculty and staff," she said. "He put forward his vision talking about how students need to be engaged and cared for."
At the time, officials across the Pinellas school district were starting to talk about personalized education.  They were preparing to apply for a grant from the Bill and Melinda Gates Foundation to support a new approach.
Flash forward a few years, and people who visit Seminole High School find a more humane learning environment. The school tries to treat students with respect and expects them to take ownership of their learning.
"No bells seems to bring a sense of calmness," Lucas said. "We are treating people the way they want to be treated."
Seminole High, home of the Warhawks, is home to more than 2,000 students.
Brittain said it all comes down to giving students choices.
"The larger the school, the more rules people tend to make. It doesn't have to be that way," said Brittain. "We have taken a lot of rules away and asked students to be responsible."
Personalizing education
In 2015, after the first wave of changes, Seminole High's graduation rate improved 7 percentage points to 96 percent, the highest graduation rate in Pinellas County. The graduation rate for black students hit 100 percent. Officials also reported a 78 percent reduction in disciplinary referrals.
School officials credit the foundation of personalized learning. They say students are more engaged. They also cite a new method of mentoring students.
However, since 2014 the school's grade still stands at a 'C' in the state's A-F rating system.
In response, Brittain said he did not believe a single letter grade defines the success of a school. Parents, he said, want to know their children will be ready for life after they graduate.
Lucas said recently a recruiter from Harvard contacted the school and emphasized top universities aren't just looking for students who can sit in the classroom and take notes or exams. They are looking for skills students can apply outside the classroom.
Amy Rubin, guidance department chair at Seminole High, said out-of-school activities, like internships, help students set themselves apart from other college applicants.
"In the real world you are not going to sit and take a test," she said. "It is how you interact with people. Those soft skills are not always taught in the classroom."
Lucas said the academies help students build those real-world skills.
"We now have kids who have designed a school store, pitched a proposal to a board, authored a book," she said. "All these things are not in a traditional transcript."
Lois McKee, the assistant principal, said the academies give students a purpose for coming to school.
"I have seen a transition of students excited about coming to school," she said. "They have something to look forward to each day. They get the bigger picture of their place, not only in the school, but in society in general."
Piloting change
In 2014, Pinellas County was one of six in the nation to receive a $3.1 million grant from the Bill and Melinda Gates Foundation's Next Gen Systems Initiative to help prepare students for personalized learning. Lake County schools received the same grant, but decided to pull out of the program under new leadership this year.
The grant enabled the district to provide flexible learning environments, like the one at Seminole High. It's also creating tools like learner profiles, which show each student's skills, strengths and weaknesses.
Brittain said after the grant was approved the school held professional development sessions with teachers and took them to places such as Sea World and the Florida Aquarium for training.
"We couldn't change students without changing teachers first," he said.
From there, the teachers could transfer the concepts and foundation to the students.
School district officials are now preparing to implement competency-based learning. They want to give students the opportunity to advance to higher levels of learning based on their mastery of the topic rather than the amount of time they spend in class.
Brittain said the shift will enable teachers to focus on problem areas for individual students.
"For example, if (a student) can show competency in social studies, now I can take that student and give them extra help in a subject where they are struggling," he said. "It is being able to help a student with their greatest need."
The other advantage to personalized learning, Brittain said, is that it helps educators and students connect.
"I see a strong relationship between these successes we are having and the amount of engagement we have," he said. "The more engaged, the greater chance of success."