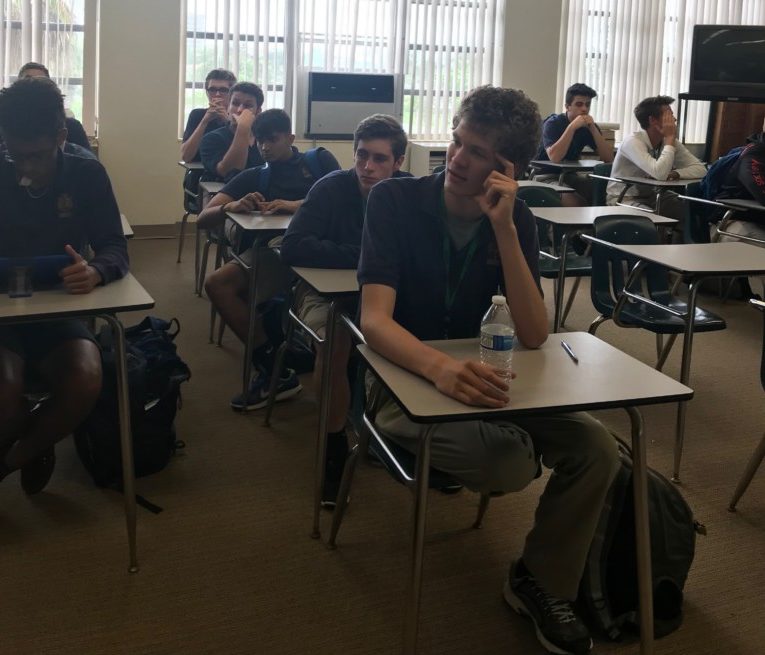 WEST PALM BEACH, Fla. – Like many Catholic schools, Cardinal Newman High School has worked to reinvent itself over the years to draw students.
In 2005, it became the first Catholic school in Florida to offer an International Baccalaureate program. It's added college prep courses and is preparing to add more science, technology, engineering and math initiatives.
The new programs may help the school respond to an increasingly competitive school choice landscape. The surrounding Palm Beach County school district has added magnet, IB and career academies. Charter schools have proliferated, and now enroll more than one out of 10 students. But they face competition too, and charter enrollment actually fell this year.
In this environment, faith-based private schools don't only have to attract families but convince them to pay tuition.  Schools like Cardinal Newman have found that faith may be their biggest competitive edge.
"The difficulty for a school of Newman's nature is it is a tuition-driven school," said Rev. David Carr, the president of Cardinal Newman High School. "When these programs are offered in the public school, somebody says, 'I can go to Suncoast Community High School, and it is free. They are not coming because Newman has an IB program. They want to be at Cardinal Newman."
A major reason they want to be at Cardinal Newman, Carr said, is the Catholic faith.
"It is our mission to educate the whole child: mind, body and spirit," he said. "You don't teach faith because you can't. What you have to do is bring out the faith that is within. That is what it is all about."
Aidee Iscoe's son, Daniel, recently graduated from Cardinal Newman. She said the spirituality and friendly-family atmosphere draw her to the school.
Daniel is now interning during the summer for Congressman Brian Mast. On his first day, his mother said, he decided to wear his red Cardinal Newman shirt. He wanted people to know where he went to school.
There is a sense of community in the school that stays with students after they graduate. Several Cardinal Newman alumni have come back to teach there. That sense of belonging to a bigger family is prevalent.
"We walk through tough times with families," said Terry Fretterd, assistant principal and IB coordinator.
Katie Kervi, the principal of St. Juliana School, also emphasized that sense of community is a powerful part of Catholic schools' identity.
When one of the students' moms was in a car accident recently, Kervi said there were 10 parents around her, comforting her.
The Great Recession took a heavy toll on Catholic School enrollment, in Palm Beach County and around the country. But in recent years, it has stabilized. Palm Beach County accounts for nearly two-thirds of Catholic-school students in the Diocese of Palm Beach. Since 2011, enrollment in the diocese has fluctuated between 6,100 and 6,300 students.
Statewide, enrollment in Catholic schools has gone up by more than 3,000 students since 2011. That growth has been spread among early learning, primary and secondary school students. And the percentages of Catholic school students who are black and Hispanic have increased.
Private school choice programs have helped. At Cardinal Newman, 66 of 500 students use tax credit scholarships, which help low-income and working-class students pay tuition. The scholarships rarely cover the full cost of private high schools, which tend to be more expensive than elementary and middle schools. For that reason, 2017 legislation helped increase per-pupil funding amounts for older students using tax credit scholarships.
For Catholic schools that serve the lower grades, like St. Vincent Ferrer Catholic School in Delray Beach, a combination of Catholicity and a commitment to continuously improving educational programs has also been key to attracting families.
"When you are in a tuition-driven school you need to be marketing and selling it to the customer," said Vikki Delgado, the school's principal.  "The marketing can be the message you are giving to them."
The school experienced an increase of 43 students after a nearby Catholic school closed in 2013. But it's added another 50 students over the years because of the Catholic identity the school prides itself on, Delgado said.
"It is the way we treat our students," she said. "It is the way that we are looking out for them and pointing them to those amazing, God-given talents that are given to them. It is a safe, disciplined environment."