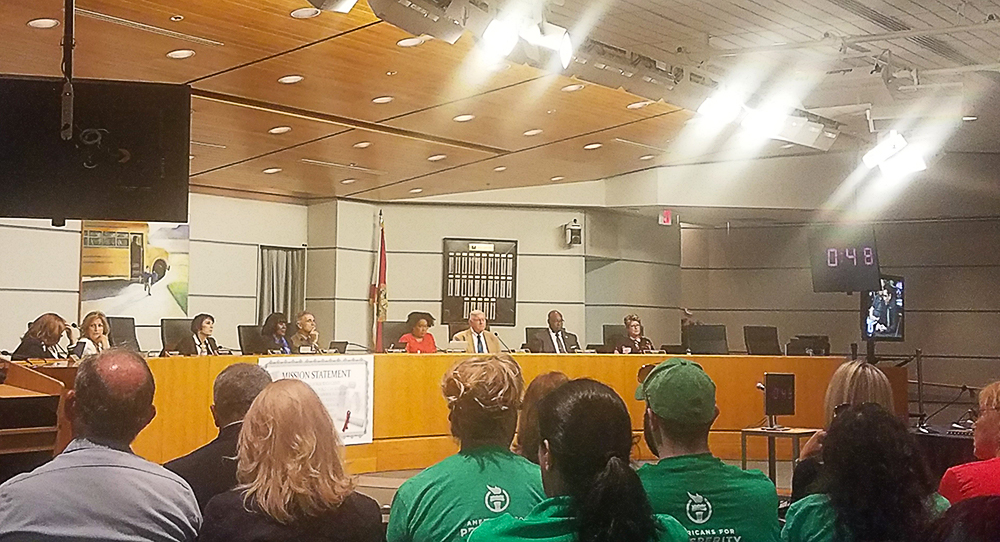 The Palm Beach County School Board voted unanimously Wednesday night for a proposed tax referendum expected to generate approximately $200 million a year for traditional public schools – and none for charter schools.
The decision followed a hearing attended by roughly 20 charter school parents, teachers and leaders who argued that charter schools should be entitled to their fair share of the tax money.
LanaAnn Marsh, a parent who sends her children to charter schools, said the traditional public school system failed her children. She said her daughter suffers from a mental disability but is welcomed and treated well in her charter school.
"If it wasn't for these schools I wouldn't be able to hold a job," she said.
Linda Terranova, principal of Western Academy Charter School, said the School Board was discriminating against a group of students because they are attending a charter school.
"You are elected by the people to represent all public school students and that includes charter school students," she said.
Lynn Norman Teck, director of the Florida Charter School Alliance, said parents deserve the choice of where to send their children to school.
"These are parents who pay taxes and they choose every day where to send their child," she said.
The board was not swayed by the arguments. Instead, board members cited a legal opinion from Miami appellate attorney Elliot Scherker. He told the board that charter school laws do not list "additional voter approved tax increases" as a potential source of funds. Therefore, he said, "The board does not have an obligation to share with the district charter schools any proceeds from such a referendum."
School board members also accused some charter schools of misusing funds.
"I have to agree with the attorney with regard to what the law requires," said Karen Brill, school board member. "In an ideal world, we could selectively choose to share the fund with the charter schools that are properly managed and financially sound. There is nothing in the law that would permit us to choose who gets the money. I can't give money to any charter that blatantly misuses funds."
Charter schools are operated by organizations that receive approval from district school boards. Schools Superintendent Donald Fennoy orginally sought to share revenue from the proposed tax referendum with the nearly 50 charter schools that the Palm Beach district authorizes. But he changed his recommendation after facing opposition from School Board members, the Palm Beach Post reported.