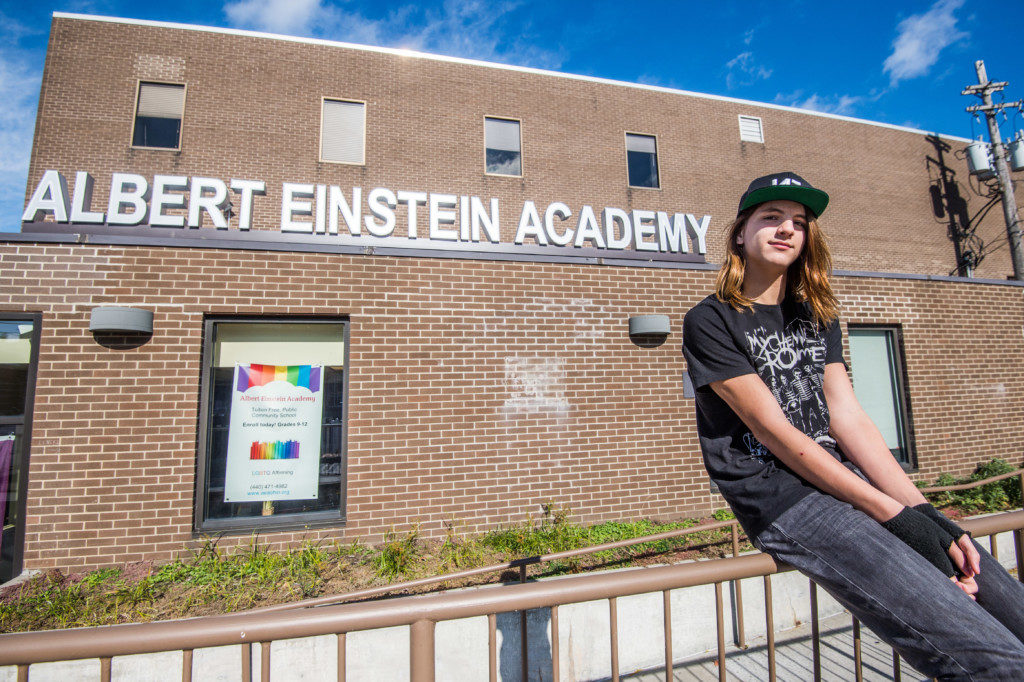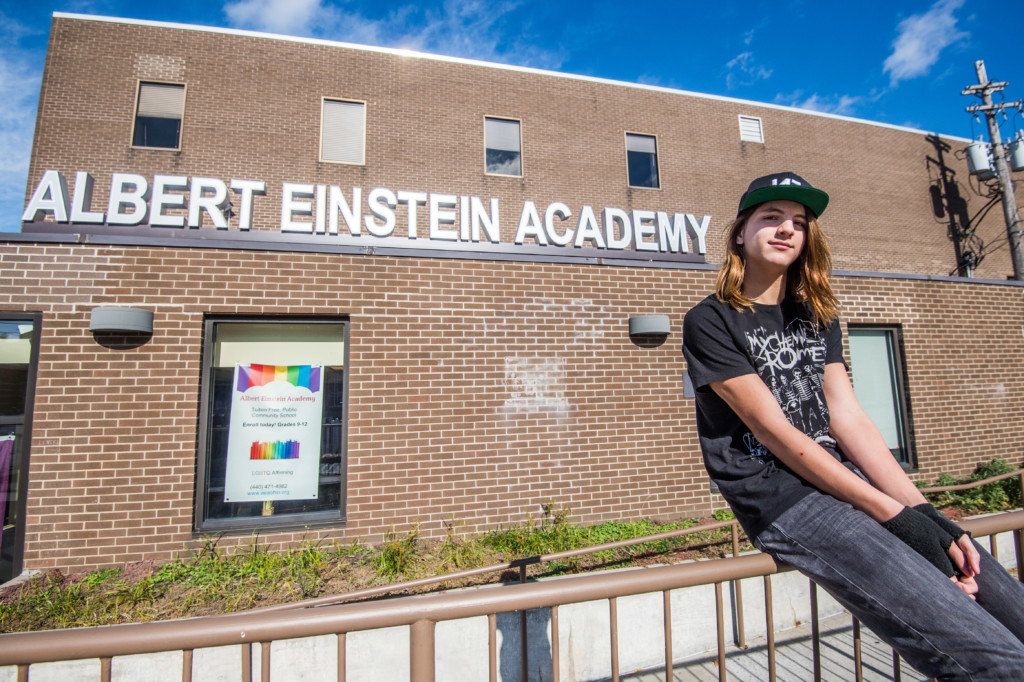 LAKEWOOD, Ohio – Last June, Kasey, 14, was walking to the bus stop, en route to an LGBTQ center, when the sign came out of nowhere. It was emblazoned with rainbow colors, in a window of the block-long building that houses a warren of doctor's offices, a Brown Sugar Thai … and now, a new school.
"Albert Einstein Academy," it said. "LGBTQ Affirming."
For Kasey, dreading yet more bullying in a district school, the sign might as well have said, "LIFE SAVING."
The Albert Einstein Academy is a charter school. It opened in August to serve mostly LGBTQ high school students in metro Cleveland. Nearly 40 enrolled this fall; another 15 signed up to enter as ninth graders next fall. About 80 percent, like Kasey, identify as LGBTQ.
The school's emergence in a leafy, Midwestern suburb has drawn little attention, but it spotlights a tangle of thorny issues. The high rates at which LGBTQ students are harassed. The fear it could get worse given a national climate growing less tolerant. The extent to which school choice can be part of the solution.
There's a Florida connection, too. This fall, the Sunshine State began offering a private school choice scholarship for bullying victims – the first of its kind in the nation – that is drawing praise and scrutiny. Praise, because it's giving desperate students and parents more options. Scrutiny, because while some of those options are LGBTQ friendly, others are not.
These issues aren't black and white, but they may be life or death. Perhaps nobody understands the complications better than LGBTQ students who've been bullied, and whose parents now have options – even if it's one option – they didn't have before.
Ultimately, said Henry, an 18-year old junior at Albert Einstein Academy, who's been in five schools in the past five years, "There's a need for a school where people can feel like they belong."
***
Over the past few decades, America has radically changed its attitude about all things LGBTQ. To take views on same-sex marriage as but one indicator: Twenty years ago, Americans opposed the idea 62 percent to 35 percent, according to Gallup. Now they support it, 67 to 31.
Yet for many LGBTQ students, schools are still war zones.
LGBTQ students are two to three times more likely to experience bullying than non-LGBTQ students. The most recent survey from the LGBTQ student advocacy group GLSEN, released Oct. 15, offers plenty of painful details.
Nearly 60 percent of respondents felt unsafe at school because of their sexual orientation, while 45 percent felt unsafe because of their gender expression. One in three missed at least one day of school in the past month because they felt unsafe or uncomfortable. One in 10 missed four or more days. LGBTQ students in public schools reported higher rates of hostility than peers in private schools, including faith-based schools. But it's clear no school sector is immune.
It's also clear the repercussions are tragic. LGBTQ students are three times as likely as non-LGBTQ students to suffer from depression or anxiety, and more than twice as likely to experiment with drugs and alcohol. Only a third report being happy. And while 15 percent of non-LGBTQ high school students considered suicide over the past year, 40 percent of LGBTQ students did.
That's worth repeating.
Every year. Forty percent. Consider suicide.
***
Kasey is tall and slim, with kind eyes, black Converses, and enough lovable slacker aura to conjure Keanu Reeves  in "Bill & Ted's Excellent Adventure." It's hard to imagine how a kid this funny and warm could be so filled with hurt they spent middle school careening from one fight to another. But it's a fact.
There's the boy they popped for calling a friend a crack whore. The boy with the wire-rimmed glasses they punched so hard, metal sliced his cheek. The boy they tried to tackle after a lunchroom taunt, "tray lady," that was meant to demean more than their long hair.
Kasey said they didn't know it at the time, but the rage stemmed from confusion and repression. They didn't seek help when they were called a "girl," a "f****t," a "gender f**k." They figured they were big enough to take care of it. But perpetual combat took its toll. Kasey failed seventh grade, then turned to an on-line school to avoid another year in "that hell hole." It worked. They got a reprieve for shot nerves and caught up on credits. They came out to friends and family.
Finally, Kasey thought. It's getting better.
But up ahead, high school loomed. Dread returned. Kasey recounted what awaited like somebody with PTSD. Whispers. Slurs. Isolation. Hate.
"I knew I would be bullied so much I'd say, 'Yeah, I'm straight,' " Kasey said. "I knew I'd end up losing all the progress."
Then what?
***
The Lakewood school is the third for the Albert Einstein Academy of Ohio. From the beginning, the 5-year-old network's mission has been to serve struggling students, mostly from district schools. Bruce Thomas, its superintendent, said helping LGBTQ students was a natural extension.
"We identified a problem that continues to exist and isn't being adequately addressed in other settings," Thomas said. "Doesn't every student deserve to have what they need?"
Thomas doesn't fit the school choice stereotype. He was a district educator for 31 years. He worked his way up to superintendent. He led a teachers union. His own education included Catholic schools and military school. The pony tail suggests a rebel emerged.
Only a few schools in America put special focus on LGBTQ students. Among the others: Harvey Milk High School, a district school in New York City, and The Alliance School, a charter school in Milwaukee. In 2016, a trans teacher established Pride School Atlanta, a private school for LGBTQ students, but the school declined participation in Georgia's tax credit scholarship program. It closed in September.
AEA didn't choose Lakewood by accident. Lakewood could be Mayberry, if Mayberry voted 2-1 for Hillary and its city council put up signs that said, "Co-Existing with Coyotes." At the park along Lake Erie, acorns crunch underfoot and lovers etch hearts into tree trunks. Here, the image makes folks smile, no matter whose names are scrawled inside.
***
AEA vows support "for all students regardless of race, religion, and sexual orientation across the spectrums of gender and sexuality." The faculty page features a photo of Ellen DeGeneres. "Find out who you are, and be that person," says the caption. "Find that truth, live that truth and everything else will come."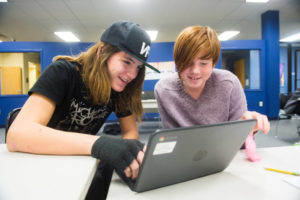 The restroom is marked "ALL GENDER." The signature in staff emails notes preferred pronouns. The enrollment form asks for "sex assigned at birth" and "gender," with options being "man," "woman," "non-binary," "transgender," or "write-in."
The teachers are different, too. They receive special training in how best to work with LGBTQ students. Some are members of the LGBTQ community themselves.
"We wanted the kids to be comfortable," Thomas said. "And we wanted experts who could tell us what we didn't know."
The school has a full-time intervention specialist with LGBTQ expertise. It has a strong relationship with the nearby Cleveland Clinic, which just opened a family health center that includes specialized services for LGBTQ persons.
Empowering students is part of the programming.
Twice a week, teachers hold advisory meetings, with 10 to 12 students from multiple grade groupings. Once a week, there's a school-wide meeting. Students share what's working, and what's not, and propose potential remedies.
"We tell them, 'You're the pioneers,' " said principal Leah Kozlowski, who previously led a Montessori private school. " 'You're shaping this school.' "
***
Do rainbows taste bittersweet? To some AEA supporters, they do.
On the one hand, "We're saying, 'You're so different, you need your own school'," said Laura, Henry's mom. "This is a bubble. This is not the world. This is not America. It's not even Ohio. When (Henry) walks outside of it, what's going to happen?"
On the other hand, Laura appreciates AEA is safe. That it's giving its students a say. That its teachers are "crazy committed." For Halloween, they coordinated shirts with different colors, so together they'd be a rainbow.
"How cool is that?" Laura said.
"I love that it's there," she said of the school.
Henry is polite, brainy, serious, mature. Maybe that's the result of overcoming challenges that would make most of us crumble. Henry and his younger sister were adopted. His sister is autistic. He's still coming to terms with gender dysphoria.
Henry could be in college now, studying to be a herpetologist – his current goal – had he not been crippled by anxiety and depression. He considered suicide in fifth grade. He spent three years in 10th grade. The first time through, in a district school, he frequently became so distraught in the car line, he couldn't breathe. The principal, he said, would threaten to drag him into the building. Walking in didn't became routine until a trusted teacher became his daily escort.
Even then, Henry skipped, often. Feigned sickness, often. Anything to escape the hushed voices that made him feel so belittled and outcast, he wouldn't speak.
It's no wonder, he said, "My grades sucked."
Last year, Henry's mom used an Ohio school choice scholarship to enroll him in a Montessori school. The school had a number of openly LGBTQ students. Henry did well. But when it closed unexpectedly, he and his family were in a bind again. When Henry heard about AEA, he was skeptical.
"I knew all the trouble and drama that comes along with being LGBTQ," he said. "I knew it would be a lot of mentally angsty teenagers."
But three months in, Henry is closing in on straight A's – and conceding he was wrong. "I didn't factor in people's willingness to change their behavior for the collective," he said.
People like James.
A black Adidas hoodie pairs well with James's swagger. But it belies his heart. James isn't LGBTQ. He was expelled from his prior school. He wouldn't have agreed to AEA, he said, had he known its mission. But now, he's glad he's here.
"This school changed me," he said. "I didn't have any interest in the LGBTQ community. But now I'm exposed to it, I'm cool with it. Everybody's cool, you know?"
"We're all equal. That's the way I look at it."
***
After years of report cards with mostly D's and F's, Kasey got a surprise this quarter: One C, one D, the rest B's. "Best grades I ever had," they said.
Things wouldn't have been as good at the other school, Kasey said. And not just with grades. Probably would have been suspended, they said. Maybe expelled, they said.
Maybe worse.
"Who knows?" Kasey said. "I might not be alive."
Editor's note: Some LGBTQ persons (Lesbian Gay Bisexual Transgender Queer/Questioning) prefer gender neutral pronouns – for example, "they" instead of "he" or "she." This post respects their preference. The students and parents quoted here requested, for security reasons, that last names not be used. Also, Florida's Hope Scholarship for bullying victims, referenced in this post, is administered by Step Up For Students, the nonprofit that publishes this blog.