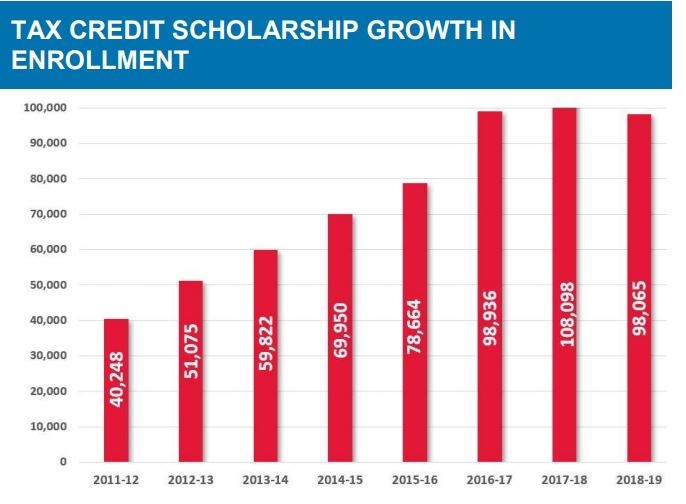 Enrollment in the nation's largest scholarship program for economically disadvantaged K-12 students dropped this fall for the first time in 14 years. The decline was caused by a slowdown in corporate contributions and has led to an extraordinary gap between scholarship supply and demand.
"We're working hard to raise more scholarship funds, but we're bumping up against a ceiling," said Doug Tuthill, president of Step Up For Students, one of two state-approved scholarship funding organizations. "It's devastating to see how many qualified students are being turned away."
The Department of Education reported that, as of September, the Florida Tax Credit Scholarship was serving 98,039 students in 1,780 private schools. That's 3,603, or 3.5 percent, less than the same reporting period last year. It's also 10,000 less than last year's final total.
In the previous 13 years, the average annual growth rate was nearly 20 percent.
Smaller increases in annual corporate contributions are the driving factor. Under the scholarship law, companies that contribute to approved nonprofit scholarship organizations receive a 100 percent credit against six different state taxes. The cap on those credits increases 25 percent following any year in which 90 percent of the cap is raised, which allowed the program cap to grow from $140 million in 2010 to $874 million in 2018.
The corresponding climb in corporate contributions allowed scholarship enrollment to triple during that period. But according to the Department of Revenue, tax credit reservations have begun leveling off. Last year, companies pledged $639 million in contributions, which barely met the 90 percent threshold. This year, against a larger cap of $874 million, tax credit reservations through November totaled only $637 million.
In turn, scholarship amounts for Step Up students increased roughly 4 percent this year. The result has been an abbreviated application season and a 2018-19 waiting list of 14,474 approved students. (The DOE report included no enrollment numbers for AAA Scholarship Foundation, which served 1 percent of students last year.)
The approved waiting list understates the actual demand because it includes only students for which Step Up verified income eligibility. Over the summer, Step Up stopped accepting and evaluating applications that had no chance of being funded.  Step Up received scholarship applications from 170,096 students before shutting down the online application system on June 29, though not all the applications were completed. Given previous years application growth and utilization patterns, Tuthill projects Step Up would have served about 70,000 more students had it had the funds.
Earlier this year, state lawmakers approved some new fundraising tools for the scholarship program, including a new credit on the commercial lease tax and a provision allowing scholarship organizations to receive an alphabetized list of the top 200 corporate income taxpayers. Tuthill says those changes have yet to translate into significant increases in fundraising.
The effects of the scholarship gap this fall are still being felt. Earlier this month, a Miami school principal wrote to Governor-Elect Ron DeSantis to highlight the hardship of nine low-income students at the school who had failed to get scholarships. Two weeks ago, a parent called Step Up to report the death of a close friend's child. The parent, according to Gina Lynch, Step Up's vice president of operations, wanted to know whether that child's scholarship could be transferred to her own. The subject line of Lynch's email to Step Up staff: "A sad example of why the wait list is so bad."
The Tax Credit Scholarship was created in 2001 to give parents access to learning options they could not otherwise afford. The program provides $750 transportation scholarships for children attending public schools in another school district and private school scholarships worth up to $6,519 in elementary, $6,815 in middle and $7,111 in high school for students whose household income is no more than double the poverty rate. Those whose household income is between 200 and 260 percent of poverty are only eligible for partial scholarships.
This year, the average household income for scholarship students is $25,746 – or 9.1 percent above poverty. More than two-thirds of the students are Hispanic or black and more than half are from single-parent homes.
For the past decade, state research has shown that the students who choose the scholarship were struggling in the public schools they left behind and are now making the same academic gains in reading and math as students of all income levels nationally. The Urban Institute reported last year that students who remain on the scholarship for at least four years are 40 percent more likely than their district school peers to attend college.