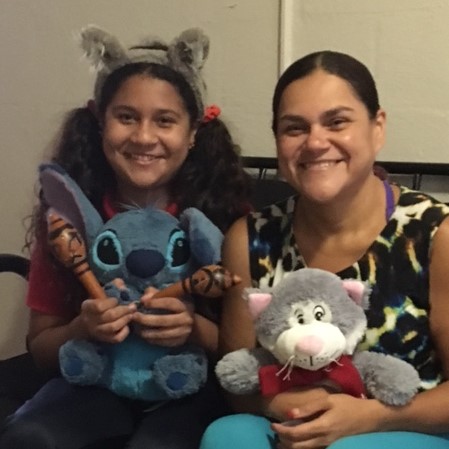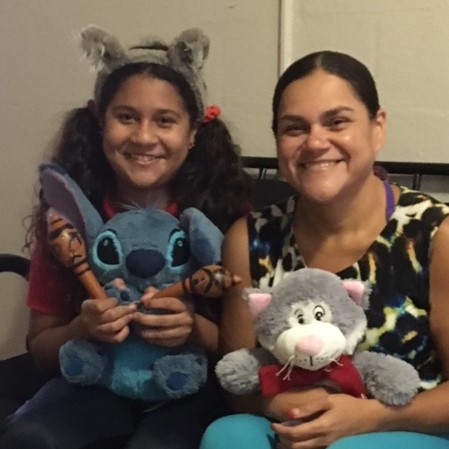 TAMPA – Aleena Martinez bounded into her family's small, sparsely furnished living room as if it were an inflatable bounce house. A pair of blue rabbit ears crowned her dark curls and a menagerie of stuffed animals filled her arms.
The 12-year-old abandoned the animals on the couch and ran to the kitchen, where she began rummaging in the cabinets. She returned waving two boxes of cake mix – one vanilla, one brownie.
"We'll bake one, then we'll put them together," Aleena told her mother, Damaris Lorenzo. "It's science!" she announced with enthusiasm.
Aleena had just arrived home from her neighborhood school in east Tampa, a bundle of energy. She doesn't dislike the school, but she's finding it much different from the one she attended in her native Puerto Rico. Aleena, who is on the autism spectrum, is more comfortable in a smaller school setting. Distractions can trigger her post-traumatic stress disorder, a result of her family's harrowing exodus to Florida in the wake of Hurricane Maria.
Her mother would have preferred to send Aleena to private school but cannot afford the tuition. The fifth-grader, along with nearly 1,900 other Florida children, has landed on a wait list for a Gardiner Scholarship for students with special needs in the wake of a demand that has outpaced state funding.
Damaris received encouraging news last week when Gov. Ron DeSantis pledged to eliminate the wait list for the 2019-20 school year. In speaking engagements in Jacksonville and Orlando, DeSantis said he has allocated enough money in the 2019 state budget to provide relief to families eager to find the most appropriate educational environment for their children.
Administered by the nonprofit Step Up For Students, which hosts this blog, the scholarship serves nearly 12,000 special needs students. Families can use the funds to pay for a variety of educational services, including private school tuition, tutoring and therapies, in addition to contributions to the Florida Prepaid College Program. The scholarship has enjoyed broad bipartisan support since its inception in 2014 and was expanded in 2015 to include students like Aleena who are on the autism spectrum. Those students now account for 66 percent of scholarship recipients.
Damaris learned about the scholarship when she saw it advertised on benches near her neighborhood.
She began envisioning using the money, which this school year averages $10,400, to pay for private school tuition and speech, occupational and group therapies for Aleena.
"I know of a private school here where she would be better off," Damaris said. "It's a smaller setting with one-on-one (instruction), and all the students get iPad tablets and there's music and arts. I know she would like it there."
Damaris didn't leave Puerto Rico with Aleena and Aleena's older brother voluntarily. Five days before Hurricane Maria devastated the island, she underwent a complicated abdominal surgery. When the island became flooded and lost power, Damaris scrambled to find hospital care. Her surgical wounds became infected, and without access to a doctor or antibiotics, her condition rapidly deteriorated.
"I caught sepsis in my whole body," she said.
Damaris eventually found a doctor who approved her departure from the island, but travel out of Puerto Rico was limited. She had to leave her extended family behind.
After arriving in Tampa, Damaris spent a couple of months in a hospital while the family adjusted to its new home. None of it was easy.
"Aleena doesn't really like a lot of change," Damaris said, adding that post-hurricane, her daughter began experiencing hallucinations triggered by post-traumatic stress disorder. The girl is undergoing evaluation for bi-polar disorder and schizophrenia.
Despite Aleena's challenges, Damaris is happy her daughter has made progress – and friends – at the neighborhood school. But she is convinced the private school will be a much better fit.
Meanwhile, Aleena who has disappeared into another room, suddenly reappears in the living room singing and "flossing," doing the popular side-to-side dance move inspired by the online video game "Fortnite."
She interrupts her recitation of things she loves, including painting and riding her purple Schwinn bicycle, with a panicked cry.
"The solar-system project! I left it at the therapist," she says. "I need it; it's a project. I don't have any more paint."
Damaris assures her they can return to the therapist's office to retrieve the project, but the trip will have to wait. The weary mother, still recovering from a medical procedure she endured the previous day, sighs with a grin.
"It's like this all the time," she says.
A Gardiner Scholarship would provide some much-needed help.