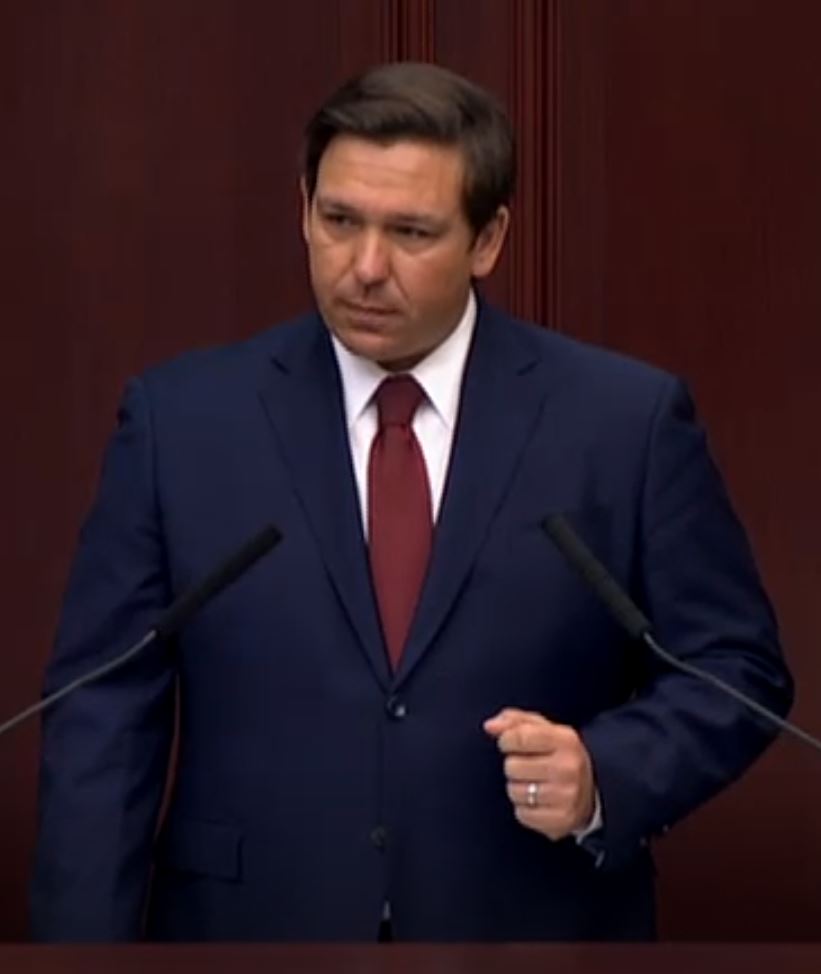 TALLAHASSEE – In his first State of the State address Tuesday, Florida Gov. Ron DeSantis reiterated his pledge to end the waiting lists for parents seeking the Florida Tax Credit Scholarship (FTC) for lower-income families and the Gardiner Scholarship for students with certain special needs.
About 13,000 families are on a waitlist for the FTC Scholarship, and over 1,900 are on the Gardiner waitlist. (The scholarships are managed by non-profits like Step Up For Students, which hosts this blog.)
"Education opportunity shouldn't be limited by parental income or ZIP code,"
DeSantis told a joint session of the Legislature. "One way Florida has expanded opportunity has been through the Tax Credit Scholarship program for students from low-income families. More than 100,000 students – nearly 70 percent of whom are African-American or Hispanic, with an average family income of roughly $26,000 per year – are utilizing the scholarship."
DeSantis stressed that the results have been positive, citing a recent Urban Institute study that found tax credit scholarship students are 43 percent more likely to attend a four-year college and up to 20 percent more likely to obtain a bachelor's degree. Students who use the scholarship more than four years are up to 99 percent more likely to attend college and up to 45 percent more likely to earn a bachelor's degree.
During a trip to Orlando last month, DeSantis was moved by testimony from Shareka Wright, a single mother of three who drives a garbage truck for the city. Two of her sons are on the FTC waiting list.
One of Wright's sons is doing well in an Orange County district school, but she said her younger sons need a different educational environment — one son is struggling academically and the other has been bullied. Wright works about 60 hours a week to be able to afford private school tuition for them.
"Shareka is doing her best to give her boys a better future," DeSantis said. "I'm not satisfied to see hard-working parents like Shareka mired on a waitlist, and so I'm proposing to eliminate the waitlist by creating a new Equal Opportunity Scholarship that is similar to the tax credit scholarship.
"We are a big, diverse state and one size doesn't fit all when it comes to education.  Let's stand with working moms like Shareka and empower them to choose the best learning environment for their kids."
Enrollment in the FTC program dropped for the first time in 14 years in 2018-19.  In the preceding 13 years, the average annual enrollment increase was 20 percent. The dip was due to slower growth in corporate contributions, according to the state Department of Revenue.
Demand for the program remains strong. Parents for more than 170,000 students had started applications by the time Step Up For Students halted the application process in June. Step Up already has awarded more than 84,000 scholarships for 2019-20, approximately 20,000 students ahead of last year. New students are starting applications at a rate of more than 1,000 a day.
DeSantis last month proposed a state-funded "Equal Opportunity Scholarship" to eliminate the FTC waiting list.
Under the governor's plan, funding for the scholarship program would come from the Florida Education Finance Program (FEFP). The scholarship award amount would be a slight discount of the district average per-student funding in the FEFP, allowing funding to follow the student. The maximum number of students eligible to receive a scholarship would be equivalent to 0.5 percent of statewide public school enrollment for the first year, providing opportunities for approximately 14,000 students. Each year thereafter, the number of eligible students would increase by an additional 1 percent of statewide public school enrollment.
On Feb. 21, state Sen. Manny Diaz (R-Hialeah), who chairs that chamber's Committee on Education, proposed a "Family Empowerment Scholarship" to eliminate the FTC waitlist. Details of the plan are in Senate Bill 7070.
DeSantis declared last month that parents of special needs students will not have to worry about the Gardiner Scholarship as long as he is governor. Tuesday, he repeated his promise to eliminate the Gardiner waiting list, highlighting one family waiting for relief.
"Donna and Michael Holt are here with their son Levi, who has Down syndrome," DeSantis said. "Levi is on the waiting list for a Gardiner scholarship.  Students like Levi have unique abilities that require a customized learning environment that the Gardiner (Education Savings Account) can provide."
Step Up funded 11,276 students with Gardiner scholarships averaging $10,389 during the 2018-19 school year.
Step Up currently is accepting new and renewal applications for the Gardiner Scholarship and already has awarded more than 6,000 scholarships for 2019-20.
Bills to enhance the Gardiner Scholarship program were filed in the House and Senate this week.  HB 1051 and its companion SB 1380 were filed by Rep. Elizabeth Fetterhoff (R-DeLand) and Sen. Keith Perry (R-Gainesville), respectively.
If passed by both chambers and signed by the governor, the changes in the bill would allow parents to apply for the scholarship the day their child turns 3, and would permit parents to use the scholarship to pay for tuition and fees associated with art, music or theater programs.
The bills also would make it easier for parents to renew their scholarship. Renewing parents no longer would be required to get a notarized "sworn compliance statement," which is required to notify the Department of Education (DOE) of the parent's intent to accept the scholarship and not enroll in other publicly funded educational options.
The bills also would require the DOE to create a secure website that allows parents to submit all required information in order to maintain program eligibility.
"The Gardiner scholarship is our way of saying that everyone counts and that these are lives worth living," DeSantis said. "We stand with you, and we want to get rid of that waiting list."