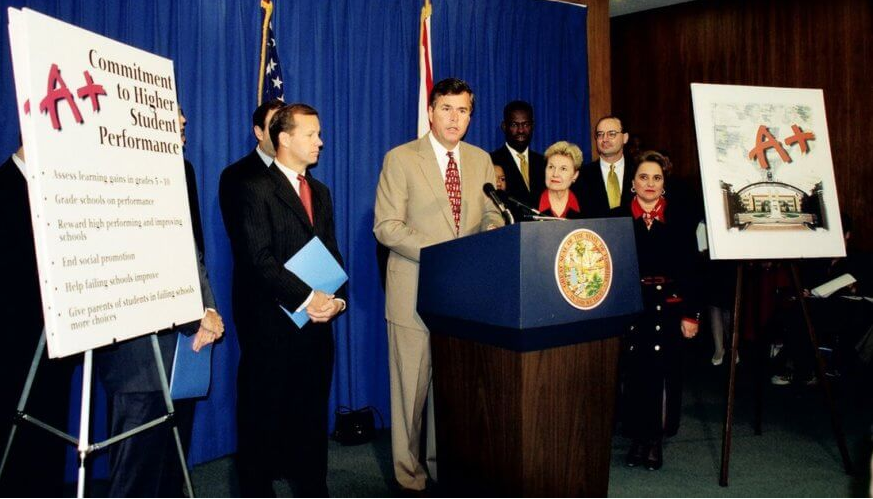 "I think we're in for a renaissance in public education."
With these words, Gov. Jeb Bush signed into law on June 21, 1999, a bill that set in motion his vision for the future of education in Florida.
The A+ Plan, which had been Bush's top campaign promise when he ran for governor, aimed to toughen standards for teachers, students and schools. It called for the state to assign letter grades to all schools, end social promotion and institute statewide testing in grades 3 through 10.
The plan's philosophical underpinnings ran deep.
According to testimony Bush delivered before the U.S. House of Representatives three months after the bill-signing, its foundation rested on three fundamental principles: meaningful and undiluted accountability that would allocate different consequences for success and failure; zero tolerance for the latter, which Bush acknowledged could be "extremely difficult and painful"; and the belief that Florida's education system must be child-centered, not system-centered, or even school-centered.
The most controversial provision of the plan allowed students in failing public schools to obtain vouchers that would pay tuition and fees at participating private schools, including nonsectarian and religious institutions. It was this provision that set off a firestorm of controversy from voucher opponents that resulted in a lawsuit filed on behalf of the Florida Coalition for Public Education, which consisted of 17 organizations including the NAACP, the Florida PTA and the League of Women Voters.
Twenty years later, critics still argue the merits of vouchers. Some continue to argue the merits of the A+ Plan itself. But it's hard to argue with the fact that, largely as a result of the plan, Florida's families today enjoy access to one of the country's most robust sets of education options, including public school choice, public charter schools, virtual learning and homeschooling. Many also have access to private school scholarships for low- and middle-income families, students with disabilities and bullied students.
In an opinion piece published Wednesday in USA Today, Bush reflected on these options, as well as on the upswing in student performance since 1999. He credited the positive turnaround to Florida's willingness to continue to adopt bold and innovative education policies and expressed optimism that even more success can come in the next 20 years – as long as the state continues to "keep pushing the envelope until each and every child gets the great education they deserve."
To read a series of stories authored by redefinED contributors commemorating the 20th anniversary of the A+ Plan, click here.