I wrote in my last column about a new presentation on education in the American South from Bellwether Education Partners, a national nonprofit focused on changing education and life outcomes for underserved children.
As I noted, Bellwether Education partners tabulated the number of K-12 students participating in private choice programs by state. Florida has the largest scholarship tax credit program for low-income families, the largest voucher program for students with disabilities (the McKay Scholarship) and the nation's largest Education Savings Account program (Gardiner Scholarships), also for children with disabilities.
Have Florida students benefited from this embrace of private choice?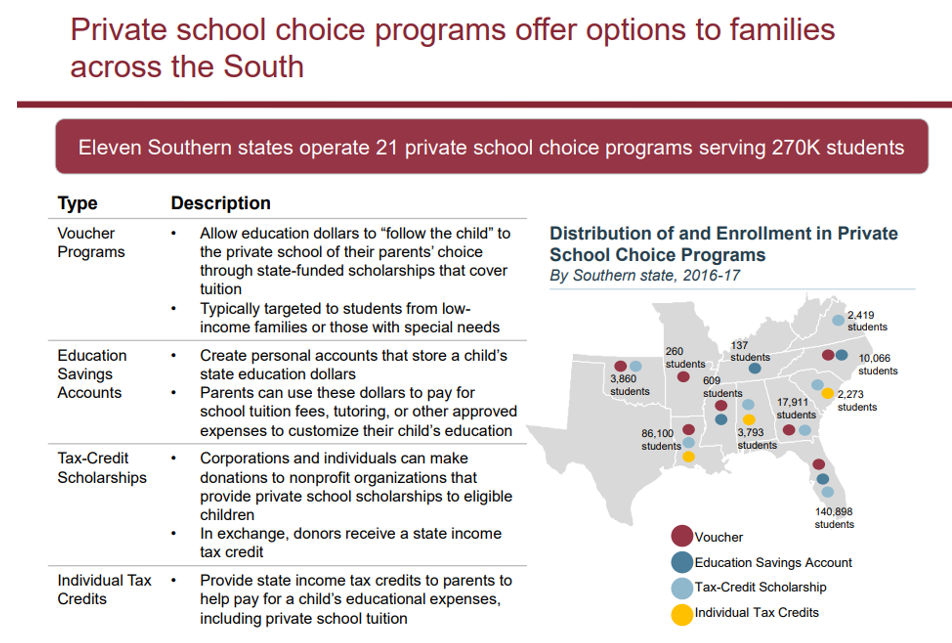 Louisiana has the second largest number of private choice participants, but a large majority of those students participate in a tuition tax deduction program providing a limited amount of assistance. If we excluded this program from consideration, Florida would have several times more private choice program participants as the rest of the region combined. Georgia, Louisiana and North Carolina each operate multiple private choice programs. Tennessee passed a second program in 2019.
Texas and Florida are the two giants of the American South. Both states have large, rapidly growing and highly diverse student populations, and both states earned reputations as national leaders in K-12 reform efforts during the 1990s. Florida, however, has been an enthusiastic adopter of private choice programs for low-income students and students with disabilities. Texas has yet to pass a private choice program of any kind.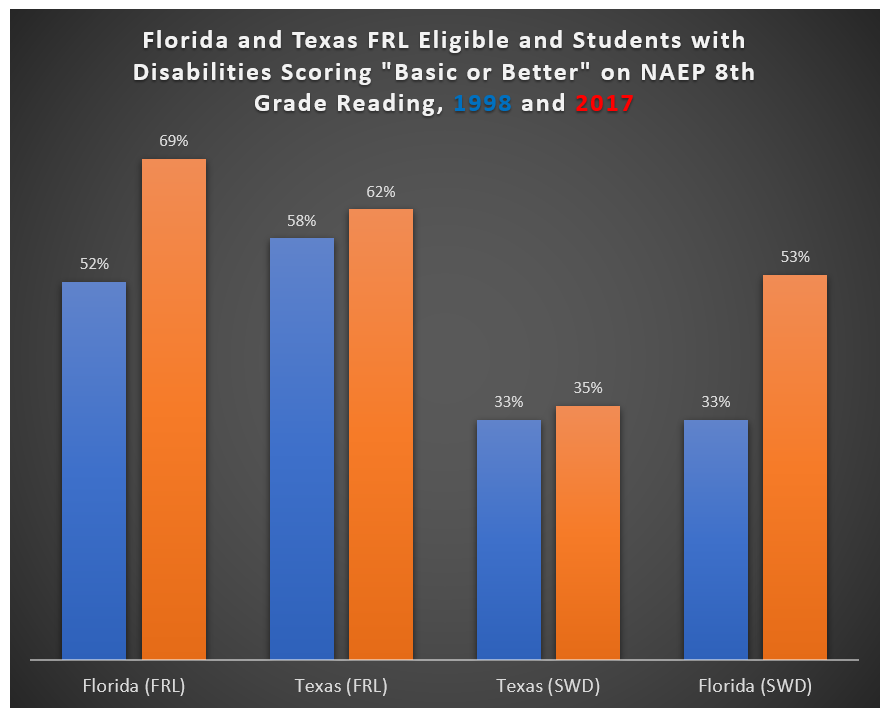 Back in 1998, before the advent of choice in Florida, Texas had a higher percentage of students eligible for free- and reduced-price lunch who scored Basic or Better on eighth-grade reading than Florida (58 percent compared to 52 percent). Both states had a dismal 33 percent of students with disabilities scoring Basic or Better on eighth-grade reading in 1998.
Based on the most recent National Assessment of Educational Progress "report card," however, Florida outshone Texas in regard to students eligible for free- or reduced-price lunch (69 percent to 62 percent Basic or Better) and even more so in regard to students with disabilities (53 percent to 35 percent Basic or Better). Policies and factors other than choice programs obviously influence these outcomes, but disadvantaged students in innovative Florida have seen substantially more progress than in the more status-quo oriented Texas.
Florida Gov. Ron DeSantis spearheaded the creation of a major new choice program for waitlisted students in 2019, while Texas lawmakers concluded their session once again standing pat on education choice. The South has long been a region containing visionary leaders of change, but also is shackled with laggards who cling too tightly to the past.