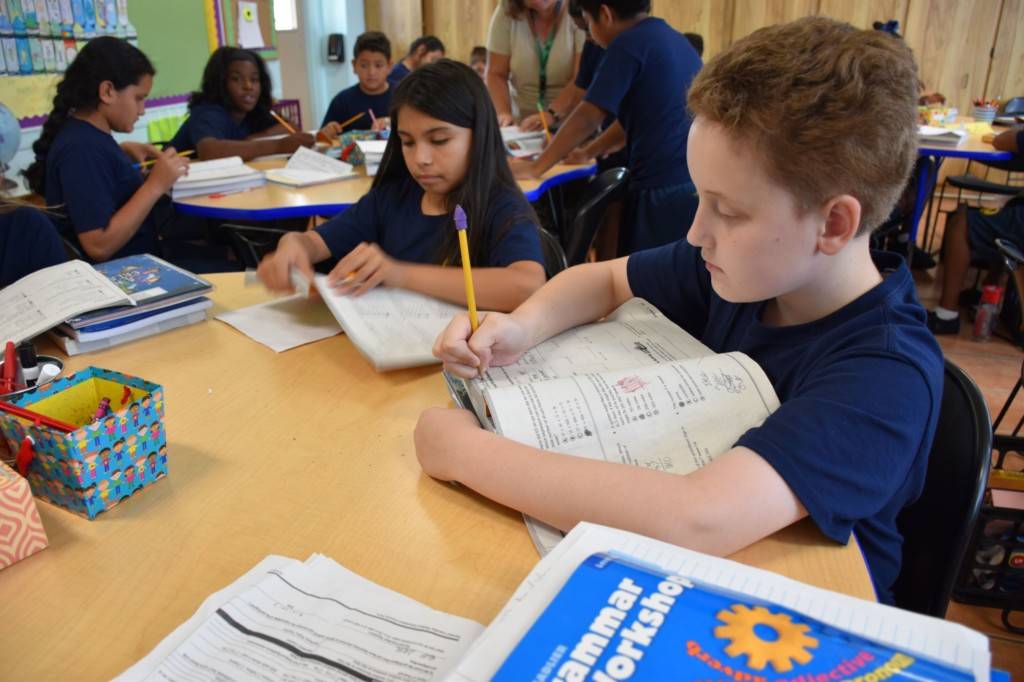 Editor's note: Throughout July, redefinED is revisiting stories that shine a light on extraordinary schools. Today's spotlight, first published in November 2018, focuses on the lengths to which one Catholic school was willing to go to serve students with special needs.  
The losses were small but concerning. On average each year, two students with learning needs were leaving Lourdes Academy in Daytona Beach.
Like many other Catholic schools, Lourdes simply did not have a full-time staff person to help meet the needs of those students. According to principal Stephen Dole, that deficit made it hard for the school to identify the students and the interventions they may need.
"When you think of 225 students you have and out of those 25 are struggling, that is a decent number you have to allocate resources to," he said.
When Dole learned of the Program for Inclusive Education (PIE) at the University of Notre Dame's Alliance for Catholic Education, he thought the program was just what the school needed. PIE trains teachers to identify students with specific learning needs or diagnosed disabilities and directs them in implementing evidence-based practices that have been proven effective for struggling learners. The 13-month program allows teachers to become certified in exceptional needs and mild intervention.
Lourdes was the first of three Catholic schools in the state to complete the program, which was founded in 2016. In total, 32 schools in 16 states have participated.
Now, there are two teachers certified at Lourdes to deal with mild to moderate interventions, one of whom is dedicated full-time to meet the needs of struggling students.
"We are hopeful to be able to retain the students," said Dole. "We want them to be on grade level before they graduate. We want to continue to meet the needs of as many students as possible."
According to the University of Notre Dame, 87 percent of dioceses surveyed report that schools do not have the capacity to meet the needs of students with learning differences. The National Center for Education Statistics also reported in 2017 that 78.4 percent of Catholic schools serve students with mild to moderate special needs.
Overall, 5.1 percent of students in Catholic schools have a diagnosed disability, according to the National Catholic Education Association.
Amy Matzke, director of student support at Lourdes Academy, said that prior to the PIE training the school struggled through trial and error to find the best interventions for those struggling students. Matzke said now she has evidence-based protocols that guide her through her curriculum-based measures that are targeted to each student's needs.
Matzke leads a team of paraprofessionals who can pinpoint struggling students and determine the best solution for them: intervention, another teacher in the classroom or a small group setting.
"We are able to look at an actual behavior or learning issue," Matzke said. "We are able to decide why this happened, what we need to do to fix it and implement it right away. "
Lourdes serves 225 students, of whom 145 use the Florida Tax Credit Scholarship for low-income students. That scholarship is administered by nonprofits like Step Up For Students, which publishes this blog.
The school was chosen as a National Blue Ribbon School in 2006 by the U.S. Department of Education. When the economy weakened in 2008, many parents pulled out their kids, said Dole.
When Dole became principal in 2016, he implemented a higher measure of accountability for students and parents. He brought on a full-time curriculum coordinator to strengthen the curriculum working directly with teachers to implement best practices. Personnel changes were also made.
The school currently includes students from all backgrounds: 50 percent are white; 25 percent Latino; 20 percent black; and 5 percent Asian or mixed race.
Since changes were implemented in the last three years, students have continued to make academic progress, scoring well above the national average of 50 percent on Iowa assessments, according to Dole.
Beyond Lourdes Academy, the mission of PIE is to equip Catholic schools with the culture, foundation and resources for educating all students inclusively while celebrating every student's diverse and exceptional characteristics, said Christie Bonfiglio, director of PIE and director of professional standards and graduate studies at Notre Dame.
"PIE advocates for empirically-validated instruction so teachers are implementing what works," Bonfiglio said. "In addition, we train teachers to collect valuable data and to make good decisions based on the evidence."
Historically, Catholic schools have been slow to open their doors to students with diagnosed learning needs, Bonfiglio added, but "now we are seeing more advocacy and a bigger push to serve academically diverse students in all schools."
Notre Dame began supporting the mission of inclusion through the Teaching Exceptional Children Program in the summer of 2010. The program was revised over the years to better meet the needs of struggling learners and students with disabilities.
"Nationally, academic diversity is prevalent in all schools," said Bonfiglio. "That is, there are struggling learners and students with disabilities (diagnosed or not) in the classrooms in Catholic schools across the country. It is our responsibility as Catholic educators to welcome these students and ensure that their needs are met."