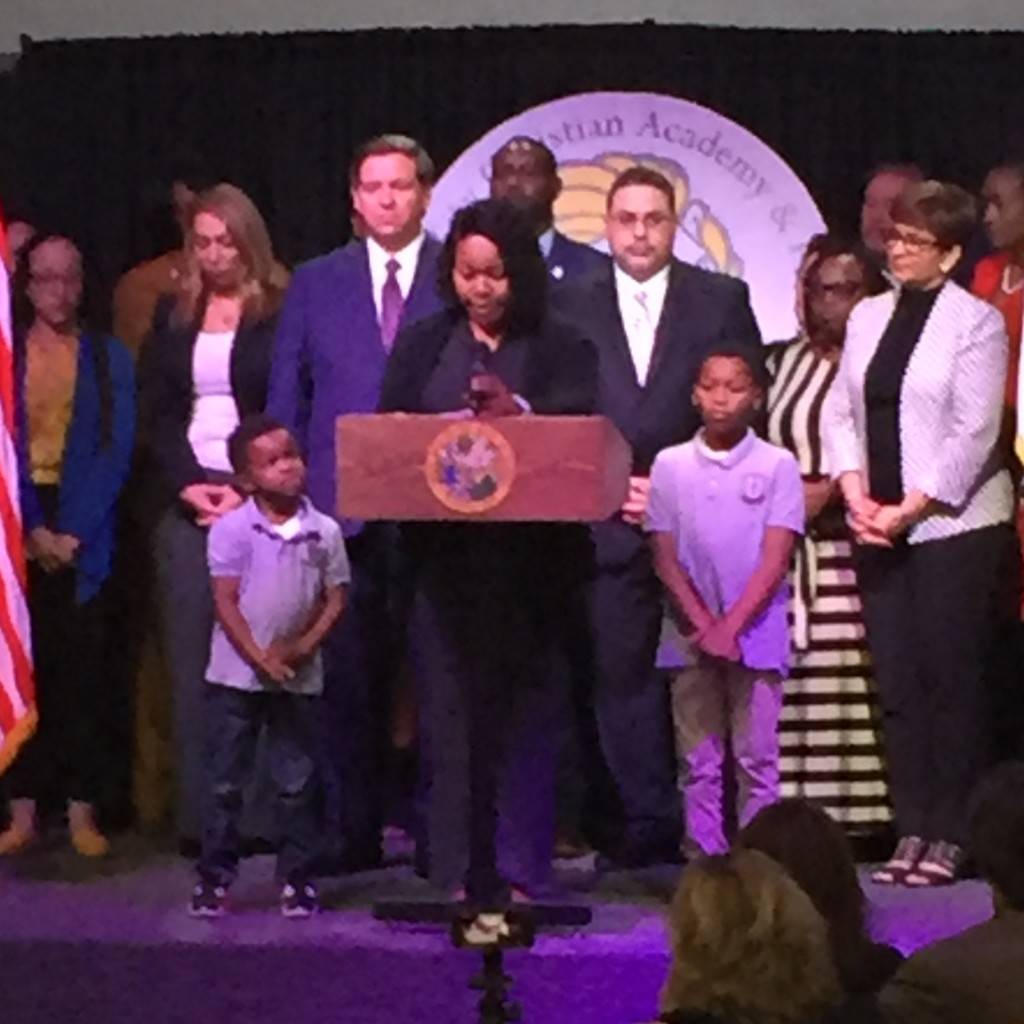 Editor's note: During this holiday season, redefinED is republishing our best articles of 2019 – those features and commentaries that deserve a second look. This is the transcript of a moving speech Orlando parent Shareka Wright gave at Gov. Ron DeSantis's Feb. 15 education scholarship event at Calvary City Christian Academy and Preschool.
Good morning. These are my two boys. This is Zion, he's 8. Jayden, he's 6.
I'm a single mother of three. I drive a garbage truck for the city of Orlando, usually working more than 60 hours a week. I'm doing it to send my two youngest sons to private school. We live paycheck to paycheck, and sometimes I have to choose between buying food and paying tuition.
I chose private school because Zion and Jayden were struggling so much in their public school last year. They were bringing home D's and F's. Zion had a substitute teacher for his entire second-grade year and fell way behind. Jayden was bullied in kindergarten by the very kids in his school and was afraid of having his lunch money taken every day.
I found Miracle Grace Academy here in Orlando, and I knew it was the right place for my boys. We applied for the Florida Tax Credit Scholarship, but sadly we were left on the waiting list. There isn't enough funding for all the families in Florida who need these scholarships. My boys are among almost 13,000 students on the waiting list this school year. There are 1,200 just in Orange County.
Miracle Grace is wonderful. Zion and Jayden have shown so much improvement. They're getting A's and B's now. They get along with everyone. They have learned discipline and spirituality. But I don't have the money to keep up with the tuition, and the school's patience can't last forever. That is why I'm calling on lawmakers to work with the governor, Ron DeSantis, to fund the scholarship program so that families like mine won't have to wait and suffer.
Being a single mom of three boys is hard, but I never want my kids to feel like they can't go to college, they can't get a better education, where they have to stay in school and be bullied or to stay in school and just have a different sub every 30 days. I do my best. I always tell my boys, "Be better than me. Don't be below me, don't stop where I stopped at on achievements. Go higher than me. Make goals. Anything you set your mind to you can do."
Being a single mom isn't easy. It's hard. I always do it because I remember I have three boys that depends on me. All they know is Mother makes the way.
I get up every morning, I thank God. I thank my supervisors. They have worked with me, they have been patient with me because it's stressful with me having all the stress on my back and operating a heavy garbage truck every day with no accidents, no fatalities. It's hard.
But to keep these two happy and to try to give them the best in life, and try to make them know that they can go to college, they can become doctors, lawyers, pastors, whatever they put their minds to be, I'll do it every day with smiles and no regrets.