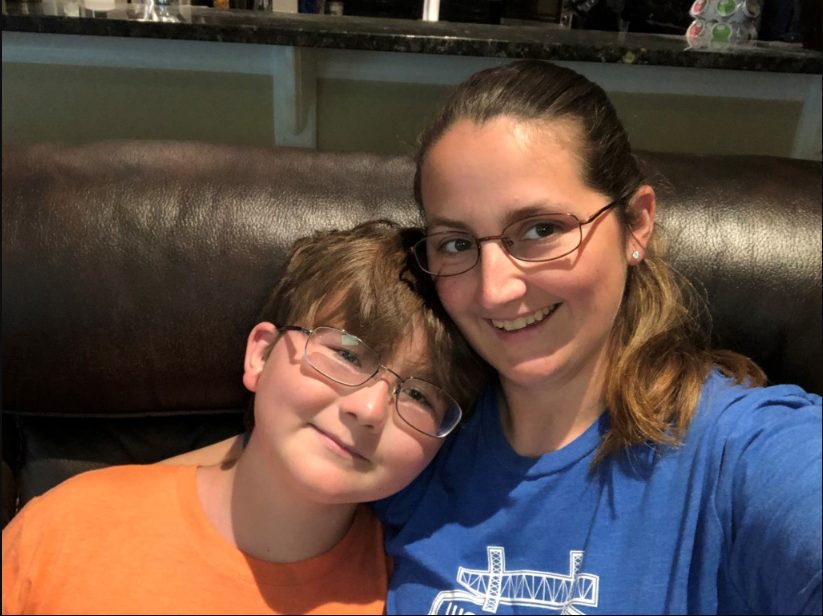 Every school day was a battle for Jared Wendlberger.
The 7-year-old would come home in tears after his backpack and lunch were stolen by his classmates.
Jared, who is on the autism spectrum, was placed in an emotional behavior disorder class in the second grade. Some of the students in the class were two years older and several of them were violent, his mother, Sandy Edwards, remembers.
Jared was bullied regularly and it affected him on many levels. He was self-conscious about everything and became withdrawn. He was unable to finish his school work and was performing poorly.
But the abuse did not happen just at school. He faced it with other adults in his life, in encounters that had to be handled in the court system. He was beaten and ended up with a major concussion.
Edwards moved Jared from three different public schools to a private school. But each school presented new challenges.
Jared found it hard to participate in a classroom setting. He was reluctant to finish his work and became argumentative with the teacher. He would say no to everything. Depending on the situation, he would either display zero emotion or every emotion. He would read something and burst into tears. These were traits, his mother says, that are common for children with high-functioning autism.
"We were in the midst of the trauma of behavior issues," Edwards said. "There were days when I did not know what I would do as a parent because there were times when the behavior was so bad that we were almost at our wit's end."
An administrator at her son's private school then told her about the Gardiner Scholarship, a state program that allows families with children with severe special needs to pay for therapy, school tuition and other education-related services of their choice. The scholarship afforded Edwards the ability to tailor education programs, high-end curriculum and therapies to suit her son's needs.
The Gardiner Scholarship is also unique in another way among the educational choice options that Florida provides: It provides scholarship support for parents who choose home education for their children. Last year, 1,615 students with autism were homeschooled with help from Gardiner.
Now in his fourth year as a homeschooled student, Jared is thriving, Edwards said. He is ahead in every class and is taking Algebra 1 as a seventh grader.
"When you talk about the power homeschooling has given me to provide him the best path, it doesn't get any better than this," Edwards said.
With the scholarship, Edwards can provide a full engineering curriculum for her son, who aspires to go to MIT. She ordered a Lego robotics kit and enrolled him in occupational therapy to help him work on hand-eye coordination and growth motor skills.
The Lego set has a programmable robotic brain, so he can create working prototypes. Next year, he will be old enough to join a robotics team. Within a homeschooling environment, he can work one-on-one with his mother figuring out problems. This makes it easier for him to grasp concepts.
Writing is his biggest challenge.
"It is not coming up with the words on paper," Edwards said. "It is the act of putting the words on paper. He is so self-conscious about his penmanship."
While in the school system, Jared worried so much about the penmanship he was paralyzed from writing anything coherent, Edwards said.
Now he is constantly working on his writing, overcoming his anxieties. He is performing above grade level.
Jared is in many ways your typical middle school child. Oftentimes, you will find him with a book, his mother says. Harry Potter and Lord of the Rings are his favorites. He also loves to build things.
To a great degree, Edwards credits the scholarship options. "Having my son, I have learned that these choices are so important for kids because no kid fits in the same box as another child," she said.
Other students with autism have also benefited from homeschooling with the help of the Gardiner scholarship.
Erin Voshell's son, Garrett, who also has autism, was bullied and struggled in traditional public schools.
Voshell said he couldn't complete 50 percent of the work in fifth grade.
The family looked for options and thought about enrolling him in a high-functioning autism private school. But administrators said he was too high-functioning, Voshell said.
Looking for a different option, Voshell learned about Gardiner, and like Edwards, found that coupling the program with homeschooling was the most beneficial option for her son.
Now he is enrolled in Classical Conversations, a worldwide homeschool curriculum focused on the classical method of teaching. He is taking Latin and Algebra. The 14-year-old is performing better than he did in the traditional public-school system, his mother says.
In public school, Garrett was timid and did not want to engage in much conversation. The scholarship provides Garrett with Applied Behavior Analysis, a therapeutic approach that helps students with autism improve their communication, social and academic skills.
As a result, he became more confident, Voshell said.
"You can see how lighthearted, fun and happy he is," said Voshell. "He loves school now. That is not something you hear out of a 14-year-old."
Garrett hopes to become a video game designer. The scholarship allowed Voshell to buy her son a computer that teaches him how to code for video game design.
"The (Gardiner) program has helped to give me my child back," she said.