THIS STORY WAS UPDATED AT 2 P.M.
TALLAHASSEE – Marsy Miller's son, Ian, struggled for years to keep up with his classmates. Mainstreamed at his district school, Ian, who is on the autism spectrum, needed behavioral therapy, one-on-one attention, tutoring, and a smaller classroom environment.
Miller was ready to give up on Ian's school by the time he reached fourth grade. But she never gave up on Ian.
Fortunately, neither did Florida lawmakers, who in 2014 approved the Gardiner Scholarship program to help Ian and other students with unique abilities.
"It opened up a world of opportunities for Ian," said Miller, who was among hundreds who attended a rally at Waller Park near the Capitol today to thank lawmakers for creating the scholarship and to ask for an expansion to help more students.
"The scholarship has changed Ian's life," Miller said, explaining that it enabled him to attend a private school that was better able to meet his needs and receive therapy that helped him become more independent.
Gov. Ron DeSantis welcomed rally attendees, including families, educators, education choice advocates and lawmakers, calling the Gardiner Scholarship "a lifeline for a lot of families in Florida."
"We're going to work on the wait list this year," he said. "We really believe all parents need to find the best school for their child."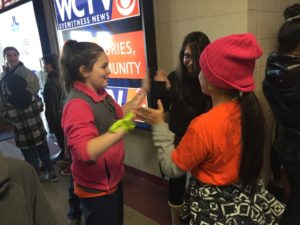 Created in 2014, the Gardiner scholarship serves more than 13,000 students with certain special needs, including autism, Down syndrome and spina bifida. The Florida Legislature appropriated an additional $23 million in funding for the Gardiner Scholarship program in 2019, pushing Gardiner funding to $147.9 million and allowing it to serve at least 2,000 more students.
Despite the expansion, more than 3,000 students remain on a waiting list.
A bill filed by Sen. Keith Perry, R-Gainesville, which passed the Senate Education Committee Jan. 13 by an 8-0 vote, would add a new category to the Gardiner Scholarship for art, music and theater classes or lessons, broadening the ability of Gardiner recipients to participate in these activities in addition to activities currently covered under the part-time tutoring category. It also would allow funds to be spent on educational summer and after-school programs not limited to programs specialized for students with unique abilities.
Additionally, it would allow students who turn 3 after Sept. 1 to apply and would give them the ability to be placed on a waiting list so they have priority after renewal students when scholarships are awarded the following year.
Senate President Bill Galvano assured rally attendees that the scholarship's future was secure.
"We will always support the Gardiner Scholarship," he said.
State Rep. James Bush III, D-District 109, one of six Democrats who voted in favor last year of the Family Empowerment Scholarship program, promised to remain a champion of education choice.
"I believe that one size does not fit all," he said. "If children are going to be successful, we need to empower parents. If we are going to save the next generation, parents must be included."
He added: "You have a friend here in the House. I stand forever with our children."
Sally Hazelip, principal of North Florida School of Special Education, introduced rally attendees to three students with unique abilities, one of whom is preparing to compete in basketball in the state Special Olympics.
"We set the bar high," she said. "We also believe our children should have the same opportunities that other kids do. Gardiner helps them financially. Gardiner offers them hope. I am grateful, and I ask the Legislature to please increase the funding."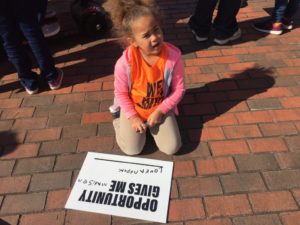 The Gardiner scholarship differs from other state scholarships in that it allows parents to personalize their child's education by directing money toward a combination of programs and approved providers. Approved expenses include tuition, therapy, curriculum, technology and a college savings account. Unspent money can roll over from year to year.
Gardiner Scholarship amounts vary according to grade and county. The average amount for most students in the 2019-20 school year is $10,400.
The rally was organized by Step Up For Students, the nonprofit that helps administer the Gardiner Scholarship and hosts this blog.