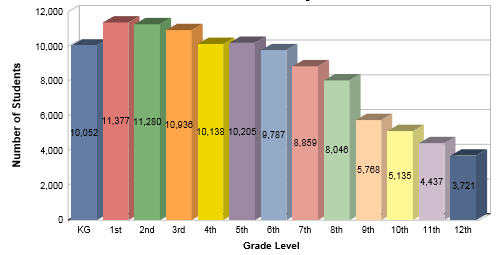 The Florida Tax Credit Scholarship program experienced a slight uptick in the number of students participating over the past quarter according to a report released by the Florida Department of Education.
Information compiled by the Office of Independent Education and Parental Choice indicates 109,741 students across the state's 67 school districts currently are being served by the program compared with 108,570 students tallied in the last quarterly report. Miami-Dade County remains the largest participating county with 25,185 – 22.6 percent – of its students taking advantage of the scholarship. Broward and Orange counties follow, with 10,511 students (9.6 percent) and 10,314 students (9.4 percent), respectively.
Miami-Dade also leads in the number of private schools that serve Florida Tax Credit Scholarship students with 433 schools participating.
Hispanic students make up 38 percent of those participating in the program. African American students represent 29.6 percent of the total, and 26.6 percent of participants are white.
Scholarship participation is slightly higher among girls, who make up 51.1 percent of the total. The largest concentration of scholarship students are in first, second and third grades.
The report indicates that among private schools participating in the scholarship program, 66 percent are religious schools.
Nearly 99 percent of Florida Tax Credit Scholarships are administered by Step Up For Students, which hosts this blog. The Florida Department of Education on Wednesday unanimously approved the renewal of an application from Step Up to continue administering the program for 2020-21.