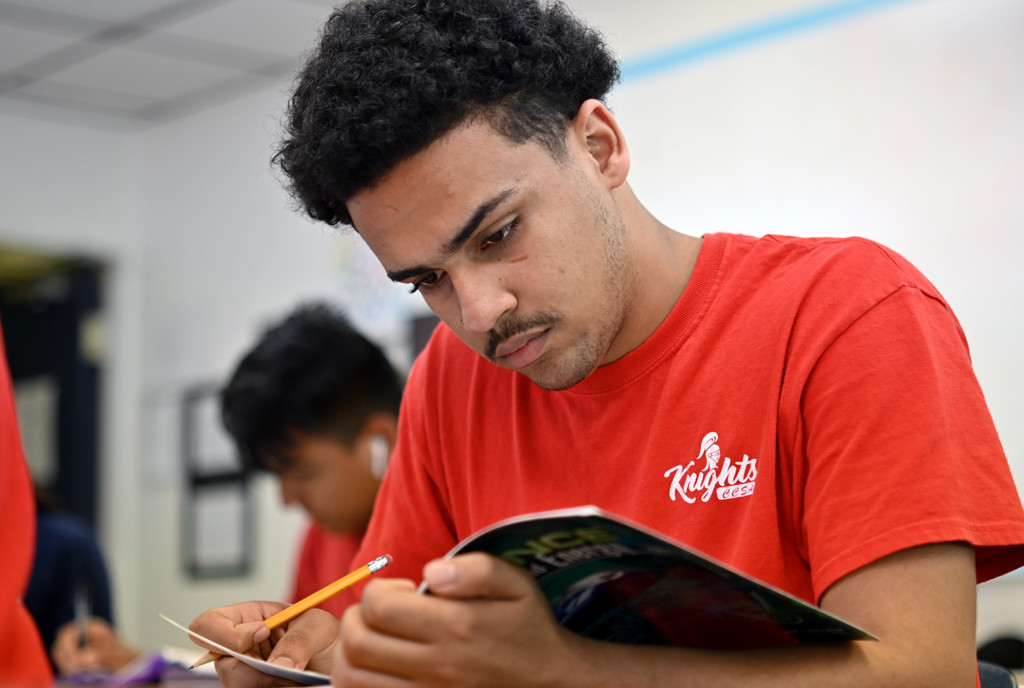 PINELLAS PARK, Fla. – Carlos Escobar, a popular and successful senior at Classical Christian School For The Arts, will be graduating in May. But his walk across the stage won't begin to describe the twisting road he traveled to get there.
Carlos was born in Puerto Rico and entered the U.S. as an infant in foster care. He was moved from home to home with his little brother and recalls feeling hopeless.
The two were finally adopted when Carlos was 4 years old and his brother just a year younger. But not long after, his parents dropped a bombshell on him: The family was moving to Florida, uprooting him from friends in Massachusetts. "I didn't like it at all," he says.
School didn't help either. He entered a public middle school where he says the classes were too big and too rowdy. He was unable to focus and do his work. He felt like the teachers didn't really care about him. The result was academic failure.
"It was horrible," says Carlos. "I was failing every class. I didn't want to be in Florida."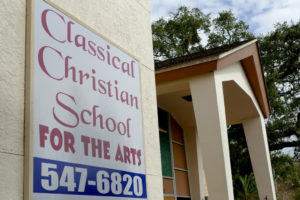 When the time for high school came around, Carlos and his mother were afraid things were only going to get worse. They knew he needed something new and different. So the family took a chance and scheduled a tour of the school at Classical Christian School For The Arts in Pinellas Park.
Kim Merrigan is the school's executive director and remembers the meeting well.
"They were concerned about the public school system and really wanted a private school education for their boys," says Merrigan.
The family knew they would need some kind of financial aid to make attendance possible, so they were pleased to learn about Step Up For Students and the Florida Tax Credit Scholarship for families with limited financial means. They anxiously applied and learned that both of their boys were eligible.
Carlos noticed a difference immediately. Even as a freshman, he started to improve his grades and his outlook on the future. But he was way behind in his subjects, and his challenge was enormous.
School director Merrigan was impressed with Carlos' ability to focus through his adversity, including some struggles at home.
"Because of the resources that were available to him here through the Step Up For Students program, he was able to reach out to the staff and his fellow students here at school, and get back on the right track," she says.
Francesko Cekrezi, the school's athletic director and Carlos' soccer coach and geography teacher, agrees. He saw Carlos push himself in the classroom and become a leader on the basketball court and the soccer field.
"I have seen him grow so much," says Cekrezi.
Slowly, after all the F's in middle school, Carlos' grades began turning to C's and B's. As a senior, he is tackling Algebra 2, English 4 and physics in the classroom, as well as pursuing online courses in economics and statistics.
Carlos gives credit to Classical Christian.
"Private school is different," he says. "The classes are smaller. There's not one teacher that doesn't care here, and I'm proud to say I'll be graduating in 2020."
In turn, Cekrezi gives credit to Carlos.
"His has been a wonderful journey. The journey has not been without road bumps, a lot of road bumps but a lot of joy, because when I see where he was and where he is right now, I feel pride on that because he worked so hard to achieve that."
After graduation, Carlos plans to stay close to home and go to a local or community college for his first two years. He hopes to continue playing basketball but also plans to study in the one field that he feels helped him most along his way.
He wants to become a teacher.