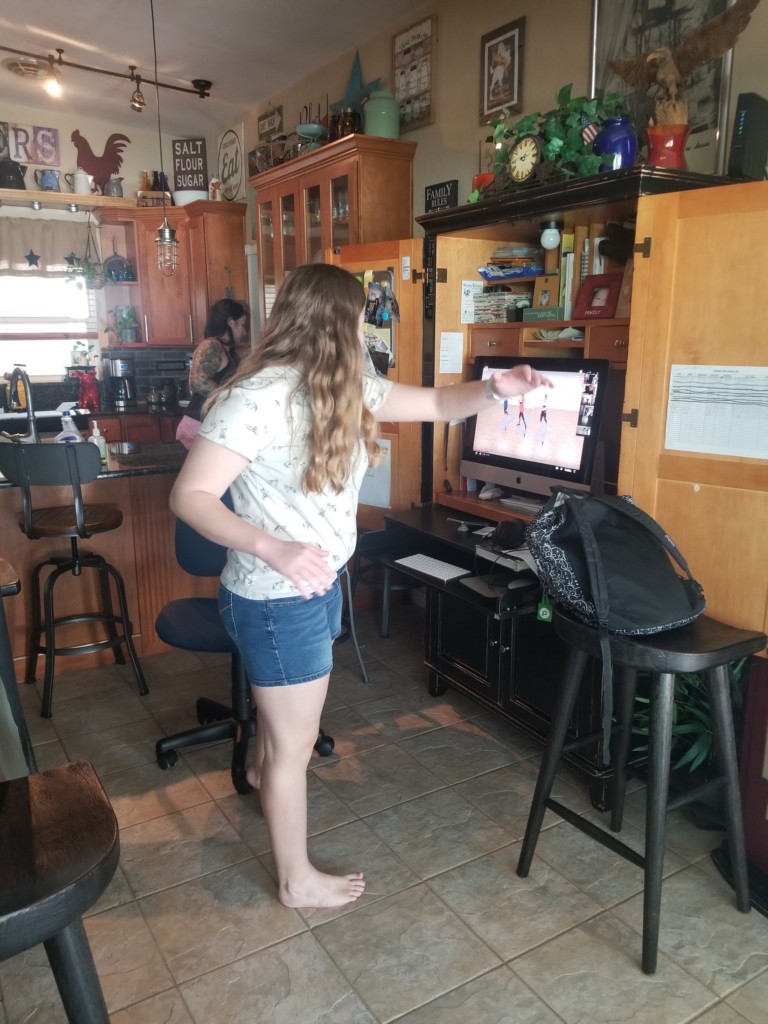 On the first day of virtual school, Raina Phenicie attended all her classes, including P.E.
"It just blew my mind," said her dad, Scott Phenicie. "Here's a kid in my kitchen doing jumping jacks and pushups. She was sweating and breathing and drinking water."
 When music time came, she was banging on pots and pans.
Raina, 16, was born with Velocardialfacial syndrome, a genetic condition characterized by a varying combination of medical issues. Among them are palatal differences, heart defects, difficulty fighting infection and low calcium levels. The condition often involves learning challenges.
Like many of her classmates with neurodiversities, Raina sometimes gets distracted. But Raina's school, LiFT Academy in Seminole, specializes in celebrating unique abilities. So, when the coronavirus pandemic forced schools to move online, it was business as usual for LiFT Academy teachers.
"We're masters of accommodation," said Kim Kuruzovich, executive director of the K-12 nonprofit private school that normally operates on two tree-lined church campuses about 25 miles west of Tampa. Ninety-six percent of the school's 140 students attend on private school scholarships. Of those, 48 participate in the Gardiner Scholarship Program for students with unique abilities. Two receive a Florida Tax Credit Scholarship. (Both scholarships programs are administered by Step Up For Students, which hosts this blog.)
Beyond 12th grade, the school offers LiFT University Transition Program, a four-year post-secondary opportunity for students to develop skills necessary for independent living.
Kuruzovich, a co-founder of LiFT Academy and the mother of a daughter with learning differences, says the key to academic success is the same whether students attend school onsite or online.
"It's about knowing each student well and providing accommodations so that education works for them," she said. 
Those accommodations could include allowing a child to stand in front of his or her workstation or sit on a balance ball to do schoolwork. Or it could mean building in more frequent breaks, especially for younger students, or encouraging a child to do pushups against the wall if he or she needs to release energy.
But even in the best-managed classrooms, behavior issues can crop up. Add the stress of an all-virtual classroom, and those challenges could escalate.
At LiFT, which stands for Learning Independence For Tomorrow, teachers have been successfully managing their virtual classrooms in recent weeks by employing a few strategies.  Administrators have all-access passes to Zoom classes to help deal with any academic or behavior issue that may arise. Kuruzovich keeps the door to her virtual office open all day in case a teacher needs a consultation.
Students are muted in live classes unless they have a question. Teachers enable the chat button only during the last five minutes of class. The opportunity to socialize is a reward for staying focused.
"Classroom management is a big focus at LiFT, as our student base is very unique, and so at times it can be tough during a regular day," said music teacher Damien Ward. "So, when students are home with their siblings around, TV, cell phones, etcetera, it can be hard to keep their full attention during a class period."
To maintain order, Ward has banned eating during class. He mutes all students while he's speaking. He's lightened some workloads and extended deadlines.
"Instead of work having to be finished in class, I have allowed a few students to simply make sure it is emailed to me by the next class period, as I know we have students who struggle with technology or who will panic under the pressure of completing work immediately," Ward said. "Thus far, it has been working out just fine."
 He's also become a fan of screen sharing.
"I can set my students a task and if I feel that they aren't concentrating fully or if they feel that they have something to share with me or the class, they can share their computer screen with me and can show me instantly," he said.
English teacher Meghan Flores has a group of "very active boys" in one class who often need help staying on track. Besides setting aside office hours when students can virtually visit with her if they have questions or need clarification on assignments, she's made it a point to get them moving during the school day.
"When I need to make accommodations, it is really simple to allow students to stand and stretch just outside of camera view so they are not a distraction to other students," she said.
Guidance from experienced online educators indicates LiFT is on the right track with its classroom management strategy. Florida Virtual School, the nation's largest online education platform, recommends that schools provide an accessible code of conduct and that they remind parents and students of expectations, maintain communication, make lessons engaging and fun, and be familiar with virtual classroom tools that can be used to prevent or correct discipline problems.
Phenicie is pleased that LiFT has made his daughter's transition to online learning seamless.
"She's more focused right now," said Phenicie, who built a makeshift tent around Raina's kitchen workstation to minimize background views. "In class, little things distract her. But now, she's got this computer screen to focus on. We watch her from a distance, and we're seeing independence."
Something Phenicie hopes LiFT and other schools will continue to keep front and center when they return to brick-and-mortar settings.