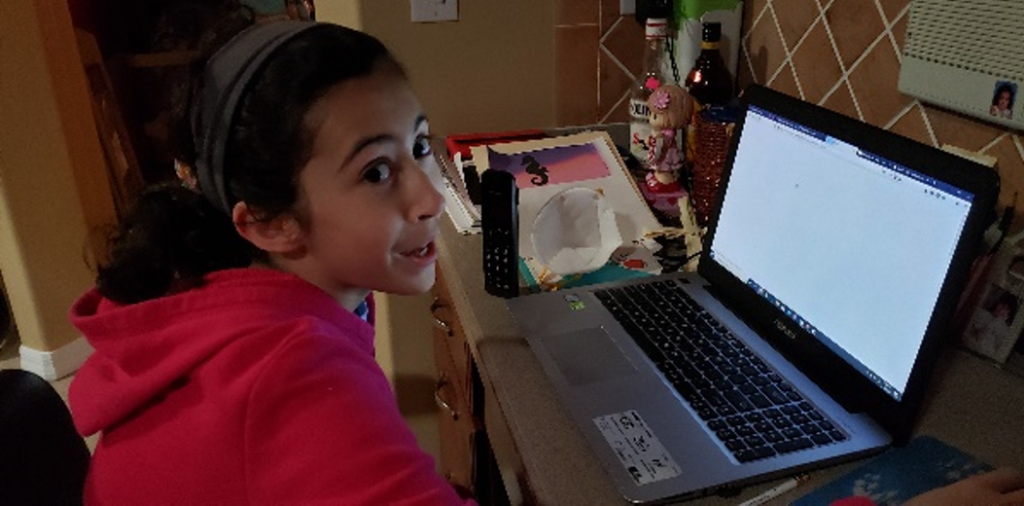 As schools continue to navigate their new reality in the face of coronavirus, a Catholic school in Port Richey is facing a challenge that goes beyond educating children and cuts to the heart of what it means to be a community.
On March 10, nearly a week before most brick-and-mortar schools closed, a parent at Bishop Larkin Catholic School tested positive for Covid-19. Administrators made the decision to shut the school down overnight, necessitating an immediate switch from in-person to online instruction.
"It was not a very difficult decision," said principal Stacy Cervone. "Our priority was the safety of our students, staff and families, and finding the best way to keep everyone safe."
Bishop Larkin Catholic School, accredited by the Florida Catholic Conference and a member of the National Catholic Education Association, serves 217 students in prekindergarten through eighth grade. Eighty-one students attend on a Florida Tax Credit Scholarship and two attend on a Gardiner Scholarship for students with unique abilities. (Step Up For Students, which hosts this blog, administers both scholarship programs.)
After receiving guidance from the Diocese of St. Petersburg, teachers began using an online platform called Educator Pages to post assignments. Students sign in each morning, then get started on four main assignments, which must be completed daily, covering core subjects like math and science that are presented as a live lesson, a recorded lesson or an interactive PowerPoint.
Students also engage in personal live learning time and choose one elective or resource class assignment to round out their day.
Cervone, a 22-year veteran educator who served as an assistant principal for Hillsborough County Public Schools before coming to Bishop Larkin a year ago, knew that her school needed to go above and beyond caring for students' safety and educational needs. She considered it part of the school's mission – working in partnership with parents and parish communities in a spirit of compassion, service and leadership – to aid the family directly affected by the virus.
Gene DellaSala, whose daughter, Berta, is a Bishop Larkin seventh grader, thought he was coming down with a cold in late February following a visit from a business associate who had recently traveled to China. In early March, Gene, 46, learned that his associate had tested positive for Covid-19.
Gene's doctor diagnosed him with a cold and sinus infection, but his symptoms – a bad cough, stomach cramps and chills – worsened. His wife, Bertha, contacted the Pasco County Department of Health on March 9, and his doctor arranged for him to be tested for coronavirus. The next day, test results confirmed that Gene was the first person in Pasco County to contract the virus.
Bertha knew she had to contact Cervone.
"I felt terrible knowing that BLCS had to be shut down since our kids love it and appreciate the one-on-one relationships they have with everyone," Bertha said. "But, on the other hand, we were relieved that no one else was going to be exposed to the virus and that they took the precautions to make sure (the school) was safe for everyone."
For the past three weeks, Bishop Larkin parents and staff have been bringing the family take-out restaurant meals. They've picked up medications from the pharmacy. They call and text every day to check in. One parent offered to stop by the school to pick up books for Berta and deliver them to the house.
Bertha said the school's support has been invaluable as Gene remains quarantined on one side of the house. She doesn't drive, so help with grocery delivery has been a huge help. An online replication of school spirit days has been a morale booster.
But most of all, Bertha said, she's appreciative her daughter has been able to continue learning. The educational continuity, in a virtual format, is helping Berta deal with her father's illness and cope with the fact that she can't be near him.
"She thrives on a routine, so it's been hard to keep her motivated and engaged," Bertha said, adding that the school counselor has called several times to make sure Berta is okay.
Meanwhile, Gene is recovering slowly but continues to test positive for coronavirus. Until he tests negative on two consecutive visits to the health department's parking lot, where he is swabbed by a technician, he must remain in quarantine.
The school community has pledged to stand by the family for the duration.