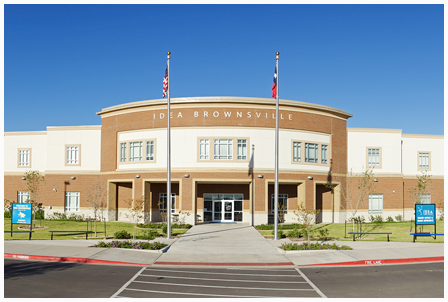 A not-for-profit Texas-based charter school company that plans to expand to Florida has received national recognition for 15 of its high schools.
IDEA Public Schools, which is scheduled to open four schools in Hillsborough County next year and four in Jacksonville in 2022, announced that 15 of its college preparatory schools were ranked among the top 1 percent of the most challenging high schools in the nation by the Jay Matthews Challenge Index high school rankings. The index ranks public and private high schools by their ratio of Advanced Placement, International Baccalaureate or Cambridge tests given in a school year, divided by the number of seniors who graduated that year. (The list is intended to rank schools that serve average students; those that serve elite students are ranked separately.)
The index included 11 IDEA schools among the top 25 of all high schools nationwide. Additionally, IDEA schools ranked in the top 25 percent of charter schools nationwide, with eight schools ranked among the top 10 in Texas. IDEA schools also ranked in the top 25 among Texas charter schools; IDEA College Preparatory McAllen was named the top high school in Texas and was ranked third in the nation.
The charter school company, which primarily serves students from low-income families, also was recognized by U.S. News & World Report's 2020 Best High Schools. Two of its schools were among the top 25 percent of charter schools nationally and nine were among the top 10 percent of high schools in Texas overall. The U.S. News rankings are based on college readiness, reading and math proficiency, reading and math performance, underserved student performance, college curriculum breadth and graduation rates.
"IDEA believes deeply that every child can and will succeed if given the opportunity, and we provide our students with an enriching, nurturing and high-expectations educational experience," said Adam Miller, vice president of advancement for the nonprofit company, which operates 96 schools in Texas and Louisiana. "We know that if we challenge our students with rigorous content delivered by exceptional teachers, our students will succeed."
IDEA schools require each student to take at least 11 Advanced Placement courses, a contributing factor, Miller says, in the schools' 100 percent college admission rate. Miller said the requirement also has helped boost IDEA graduates' rate of college completion. Fifty percent of the class of 2012 earned bachelor's degrees within six years, compared with 11 percent of low-income students nationwide who earn four-year degrees by age 24, according to the Pell Institute for the Study of Opportunity in Higher Education.
Nine out of 10 IDEA students are eligible for free or reduced-priced lunch, generally an indicator of poverty. The company typically operates campuses located near traditional schools rated as failing.
When governors in Texas and Louisiana closed school campuses due to the coronavirus pandemic, IDEA quickly pivoted to distance learning for its 52,000 students and distributed more than 12,000 laptops to students in need. IDEA also provided wireless routers and mobile hotspots. Teachers have kept students up to speed with a combination of live instruction, recorded instruction and work packets.
In addition, the company has provided mobile meals to students younger than 18 who live in communities where IDEA schools are located.
"While this has been a new experience for most of us, our students, teachers and families have risen to the challenge," Miller said.
The coronavirus hasn't delayed the company's plans to expand to Florida.
"IDEA is on track to open our first four schools in Tampa in 2021 and Jacksonville in 2022," Miller said.  "Over the next six years we will open 32 schools across Florida, creating 25,000 high-quality seats for kids in neighborhoods with persistently low-performing public schools."