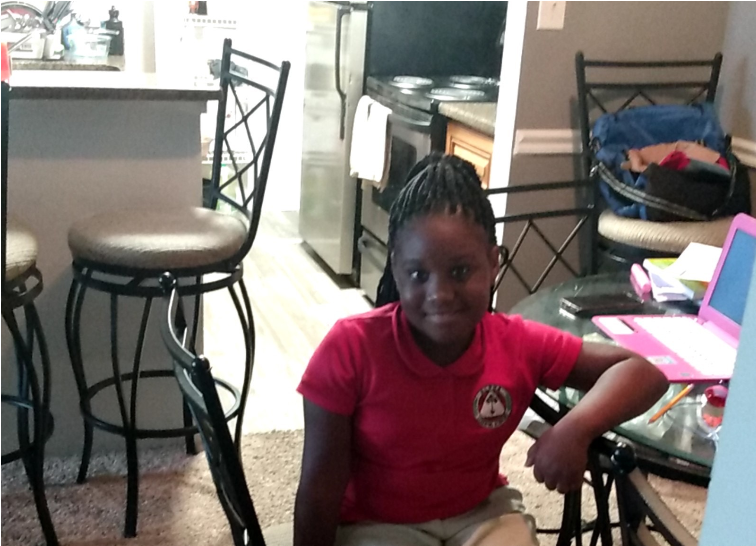 Shakelia Henderson found herself in a tough spot.
The principal of Alpha Learning Academy had planned for a brick-and-mortar school re-opening based on declining COVID-19 numbers at the start of the summer, bolstered by parent surveys indicating families wanted their children back on campus. She and her team were excitedly making plans to be one of five Florida schools chosen to participate in a research project that required the use of a new curriculum.
But then in July, the number of coronavirus cases started climbing. Alpha families worried about health risks to their children and began having second thoughts about sending them to class. Some teachers also expressed concern about the risks of face-to-face instruction.
Henderson had to step back and reconsider. Should she forge ahead, as many other schools around the state were doing, and hope for the best? Or should she reopen online and have faith that her staff would be able to embrace the new ways of teaching in a virtual scenario?
Once again, she turned to her families, asking them to participate in another survey. Based on the response, Alpha Learning Academy classes resumed Aug. 31, all online.
Looking back, says Henderson, an experienced administrator who plans to pursue a doctorate at the University of Central Florida, she and her staff made the right choice.
"Taking a look at where we were and ordering PPE materials, I know school building-wise and maintenance-wise we weren't ready," she said. "A lot of our children have grandparents living in the home. There were so many layers to the decision."
While parents elsewhere in the state and the nation staged protests and sued districts when their schools chose to reopen online, Alpha Learning Academy's families embraced the decision to hold off. Based on reports from some experts, race may have played a role.
Districts where the vast majority of students are white have been more than three times as likely to reopen in person as school districts that enroll mostly students of color according to an analysis conducted by the Associated Press and Chalkbeat. The analysis attributed those findings in part to the fact that the pandemic has hit minority communities disproportionately hard, prompting more parents there to favor online learning.
Meanwhile, a survey of parents by the advocacy group EdChoice showed that 26% of Black parents said they were "extremely likely" to choose remote learning in the fall compared with 20% of white and Hispanic parents. In a related poll, Education Next found Black and Hispanic parents were more satisfied than white parents with their e-learning experiences.
Henderson sees her school reflected in those statistics.
Alpha Learning Academy, launched nearly 25 years ago, is sponsored by a church with predominantly Black membership. Nearly all its students are Black. All 144 participate in state scholarship programs, with 62% receiving the Florida Tax Credit Scholarship, administered by Step Up For Students, host of this blog.
From the first day of the new school year, things have run smoothly, and enrollment has held steady, Henderson said.
"Bright-eyed and bushy-tailed, our students beamed with joy to have the interaction and learning experience," she said.
The transition to the new curriculum has gone smoothly as well.
"They are delivering it like a champ," she said of her teachers. "Parents are seeing a difference in their children's math and reading, and they really like the critical thinking skills they are seeing."
While the pandemic undeniably has been a source of stress, it's also been a motivator for the school, spurring creativity and innovation. Henderson has launched an online app called Group Me to organize her teachers and parents into collaborative groups for streamlined communication, recognition and celebration, a direct result of the need to move to online learning.
Henderson said she will reassess soon whether to reopen campus for the second quarter, which starts at the end of the month.
It won't be easy. The school's footprint is small, and common spaces such as the lobby are shared with the school's sponsor, St. Mark AME Church. Henderson is working on enhancing safety protocols such as having students remain in cohorts, having teachers rotate among classes to reduce student movement, and possibly using the church fellowship hall to allow for more social distancing.  
Henderson recognizes that choices are important, and she wants to offer as many as possible so that each family can decide what is best for their child.
"We are currently exploring if we want to provide more options for parents such as modified schedules and continuing distance learning," she said. "We are keeping a close eye on COVID-19 numbers and reports from the Department of Health to help us make the best decision."