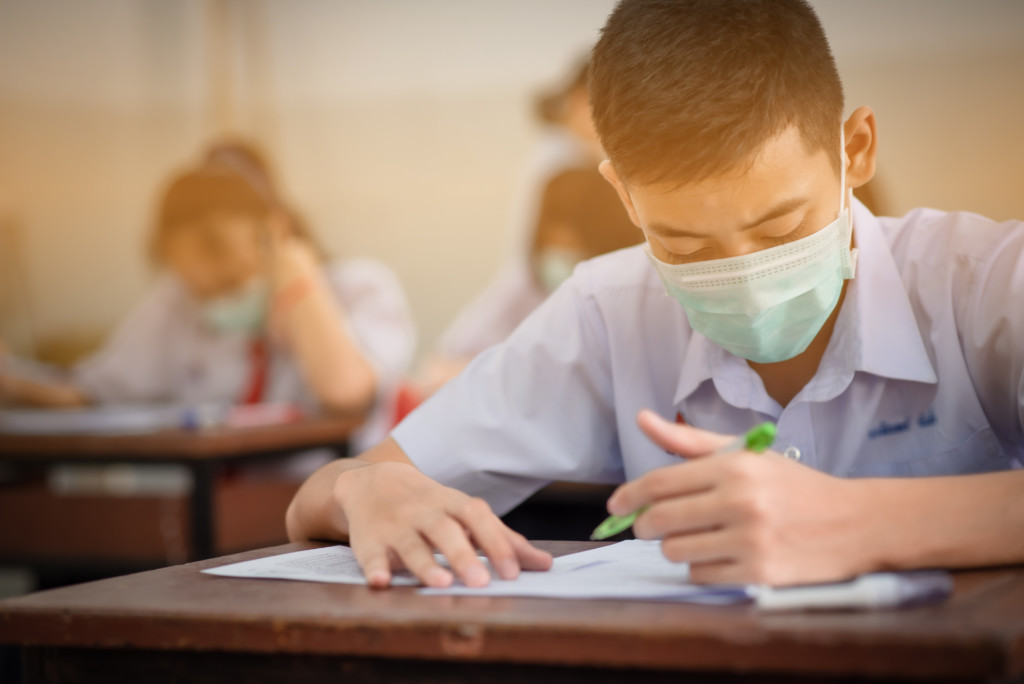 Nearly a year after the COVID-19 pandemic began and reshaped the nation's education system, parents of private and charter school students are more likely to be satisfied with their schools and less likely to report a negative effect on learning than their public school counterparts. That's a key finding in the latest survey from Education Next.
The survey was conducted by Michael B. Henderson of the University of Louisiana, and Martin West and Paul E. Peterson, both of Harvard University. The researchers surveyed 2,155 American parents with children in grades K-12 in December, examining parental satisfaction as well as the impacts of remote and hybrid learning on students since the pandemic started.
As with the last survey in September, parents expressed general satisfaction even as their children are learning less. Private school students continue to be more likely to receive in-person instruction, where parents are more likely to report lower levels of learning loss and lower negative impacts on the student's social, emotional and physical well-being. Overall, parents are generally satisfied with schools (71% district, 73% charter and 83% private). Private school parents are more likely to be very satisfied – 55% – compared to 35% for charter parents and 25% of district parents.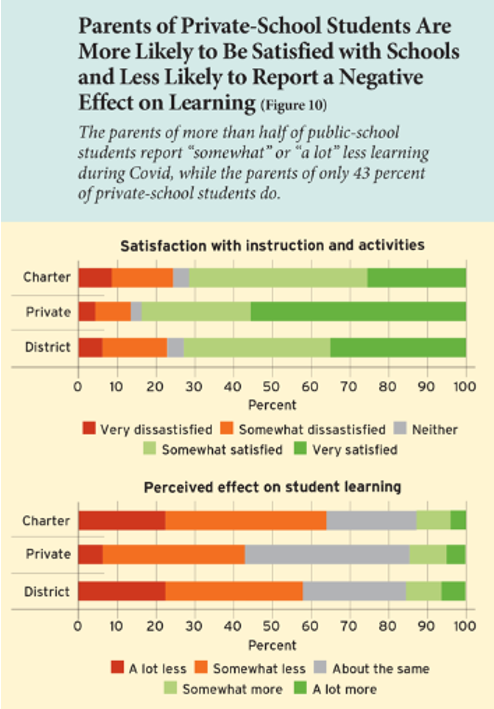 Just 18% of private school parents reported their children were learning remotely, compared to more than half for district and charter school students.
Despite this broad satisfaction across sectors, 60% believe their children are learning less than they did before. In-person learning was closely related to higher reported satisfaction and lower reported learning losses.
A small difference exists between sectors regarding impacts on "student's academic knowledge," with 38% of district parents reporting negative impacts to 30% of private school parents. A similar 8-point difference was observed for parents reporting negative effects on their child's emotional well-being.
Parents do report significantly higher negative impacts on their child's social relationships and physical fitness at district and charter schools compared to private ones.
Private schools offering remote learning do lag behind their counterparts for teachers meeting with the entire class, but there's little difference on one-on-one teacher student meetings. Remote private schools also lag behind on weekly homework assignments (84% of parents report weekly assignments) compared to district schools (93% of parents report weekly assignments).
The survey also makes several interesting observations.
While district enrollment fell 9 percentage points between the Spring and Fall of 2020, researchers found it had little to do with the school districts' response to the Covid pandemic.
Just 10% of new private school students and 14% of new charter school students switched due to dissatisfaction with their prior school's response to Covid. However, among new home school parents, 61% were dissatisfied with their prior school's response to Covid.
Meanwhile, 32% of private school parents and 19% of charter parents were dissatisfied with their prior school in some way. Parents were more likely to switch schools because of moving or because their prior school no longer offered the child's grade level.
Covid safety appears to be roughly similar across sectors. While private school students are far more likely to attend school in person, parents across all sectors report incidents of Covid infections at roughly the same rate. Parents also equally report their school sector is doing "about the right amount," when it comes to Covid safety measures.
Another discovery was the rate at which parents utilized in-person learning when compared to local Covid infection rates. Counties in highest quartile of infection rates offered more in-person learning options than counties with the lowest options.
Despite noting this "perverse result," researchers also state that the observed result does "not constitute evidence that greater use of in-person learning contributed to the spread of the virus across the United States."
Despite children learning less, parents are generally satisfied across all school sectors.