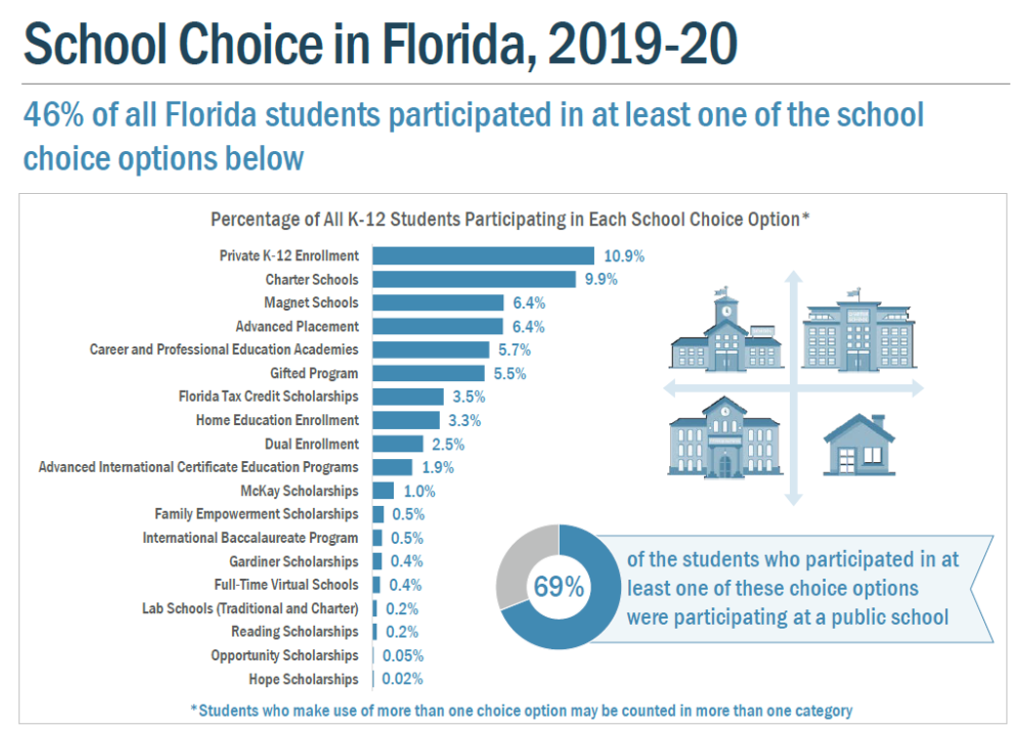 A research arm of the Florida Legislature on Wednesday presented to the state's Appropriations Subcommittee on Education a detailed 132-page report showing how Florida families are participating in education choice programs.
The report from the Office of Program Policy Analysis and Government Accountability (OPPAGA) expands upon the one-page summary produced for the past 12 years by Step Up For Students, the state-approved nonprofit funding organization that helps administer five scholarships for Florida schoolchildren.
OPPAGA reviewed 21 school choice programs, providing detailed descriptions of each program including the number and percentage of students participating. The report provides a county-by-county breakdown of students enrolled in choice programs throughout the state and provides demographic data for most of the choice programs.
According to OPPAGA, 86% of students attend public schools, 11% attend private schools, and 3% are educated at home. Of those public school students, 12% are enrolled in public charter schools.
Overall, 46% of all Florida K-12 students participated in a school choice option. Of the students exercising choice, 69% exercised a public school choice option.
Florida's public schools, including choice schools, enroll nearly 2.8 million students. Public schools have "grown incrementally" according to the authors, increasing by about 62,000, or 2.2%, over the last five years. Of public school students, 63% are nonwhite; 55% are eligible for free or reduced-price meals; 14% are students with disabilities; and 10% are English language learners.
Charter schools grew 22%, with enrollment growing by more than 58,000 students over the last five years. Of charter school students, 70% are nonwhite; 43% are eligible for free or reduced-price meals; 10% are students with disabilities; and 10% are English language learners.
Home education grew the fastest of the three education sectors, increasing by 27% over the last five years by adding nearly 23,000 students.
Meanwhile, private school enrollment increased by about 52,000 students, or nearly 18% over the last five years. Private schools overall are 50% nonwhite.
Fifty-six percent of students who participate in the Family Empowerment Scholarship program for low-income and working-class families are nonwhite. Forty-seven percent of special needs students who participate in the Gardiner Scholarship program and 55% who participate in the McKay Scholarship program are nonwhite.
The Florida Tax Credit Scholarship, which serves low-income students, is Florida's largest private K-12 scholarship program. That scholarship enrolled 113,120 students, up 41% over the last five years. About 73% of these scholarship students are nonwhite.
The public-school program enrolling the highest percentage of minorities is Jeb Bush's Opportunity Scholarship program, with 74% of students being nonwhite. The Opportunity Scholarship allows students in the lowest performing public schools to enroll in higher performing public schools. Prior to being struck down by the Florida Supreme Court in 2006, that program provided scholarships for students to attend private schools as well. At the time, 86% of the students were nonwhite.
The program with the fewest minorities is Florida Virtual School, with 42% of its students being nonwhite. FLVS is also one of the few choice programs that have been shrinking, with enrollment declining by 9% over the last five years.
Among the other interesting findings, OPPA noted that:
·       Charter schools are the most popular alternative public school enrolling 323,385 students
·       Specialized public school programs were the second most popular option with 208,644 students enrolled in magnet schools; 185,699 students enrolled in career and professional academies; and 178,162 students enrolled in admission selective programs for gifted children.
·       Accelerated programs such as Advanced Placement, Dual Enrollment, Advanced International Certificate Education and International Baccalaureate have grown to a combined 366,101 students, up 22% from 300,224 students just five years ago.
·       Miami-Dade County Public Schools has three times as many students attending magnet schools as the next highest county, Orange.